There's a pretty popular book called Purpose Driven Life by Rick Warren that delves into our purpose as God's children. You may have heard of it—I've lost count of how many millions of copies have been sold in umpteen languages. This book is popular because it deals with one of the most common questions people have, "What is my purpose in life?"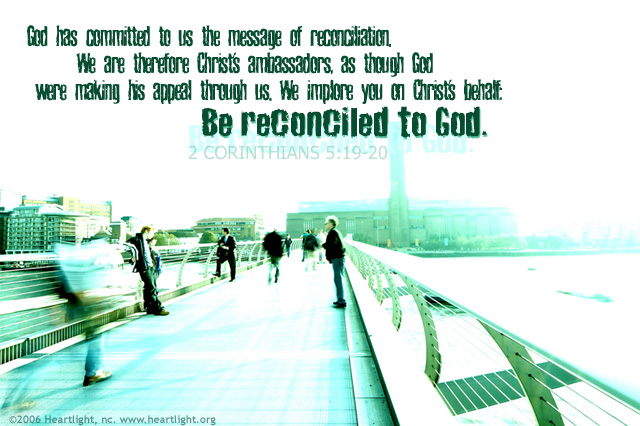 The apostle Paul, writing to the Corinthians, uses two doctrinal terms that are very important if we are to understand our purpose in life as believers: reconciliation and imputation.
 2 Corinthians 5:18-21 (NKJV)
18  Now all things are of God, who has reconciled us to Himself through Jesus Christ, and has given us the ministry of reconciliation,
19  that is, that God was in Christ reconciling the world to Himself, not imputing their trespasses to them, and has committed to us the word of reconciliation.
20  Now then, we are ambassadors for Christ, as though God were pleading through us: we implore you on Christ's behalf, be reconciled to God.
21  For He made Him who knew no sin to be sin for us, that we might become the righteousness of God in Him.
Reconciliation
Because of his rebellion, man was out of fellowship with God.
Reconcile means "to change thoroughly" and in this case refers to the relationship between God and a fallen world.
God does not need to be reconciled to man because that work was accomplished by Christ work on the Cross.
Man needs to be reconciled to God. This reconciliation cannot be achieved through man's works, but through Jesus Christ.
Imputation
Imputation means "to put to one's account."
When Jesus died on the cross all of our sins were imputed to Him or "put on his account."
Additionally, Christ's righteousness was imputed to us.
Application
What is our purpose? What on earth are we here for?
"We are ambassadors for Christ, as though God were pleading through us." We carry the message of reconciliation and imputation to the fallen world. This is the ministry that God has entrusted to us! What can you do today, this week, to engage in the ministry God has entrusted to you as one of His children?
Join the Conversation!
As always questions and comments are welcome.
Category: Personal Development | Purpose/Passion