Leaders have a choice. They can lead by exerting power or by empowering their organizations. The Bible contains examples of both leadership styles.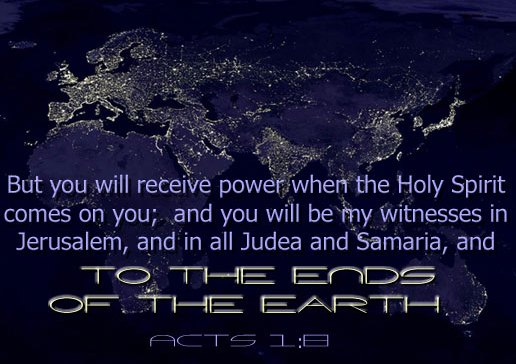 Leaders who empower their organizations tend to establish a vision and then get out of the way, trusting in the skills of their employees. This is the kind of leader Jesus was–an empowering leader. Jesus' last words to the disciples before He was taken up to heaven cast a vision for their work, a strategy for how the work was to be done, and a promise of power to accomplish the work.
"…you will receive power when the Holy Spirit has come upon you; and you shall be My witnesses both in Jerusalem, and in all Judea and Samaria, and even to the remotest part of the earth." Acts 1:8 (NASB).
The Vision. You will be my witnesses throughout the world.
The Strategy. A progression of ever wider circles starting in Jerusalem, moving on to Judea and Samaria, and finally to all the world. This can be interpreted several ways—commonly either geographically or culturally. Geographically, Jerusalem represents people in your own local area of influence—your town. Judea and Samaria represent your state or country, and the rest of the world represents all nations. Culturally, Jerusalem represents people like yourself, your own culture. Judea and Samaria are close cousins—people with whom you share elements of culture, and the rest of the world includes people of all cultures.
The Power. The power to complete this great work does not come from your own flesh, but from the Holy Spirit.
Application
Jesus gave the disciples exactly what they needed, the power, to fulfill their mission. But one thing Jesus did first is He spent three years with His disciples training and preparing them for the work that He knew lay ahead.
Employees may understand and believe in your vision. They may even understand and accept their role in the strategy. But if you do not do two other things you are most certainly doomed to failure as a leader.
As a leader, your first task is to train and develop people so that they are prepared for the work.
Leaders may not be able to literally supply the power people need, but they can and must empower them by creating conditions for success and supplying the resources needed.
As a leader, it is your job to recruit, develop, and deploy people in areas where they can maximize their impact. Next, you need to empower them, and this is important, then get out of their way!
 Join the Conversation
As always questions and comments are welcome. As a leader have you experienced the power of employee empowerment? As a leader have you been empowered the organization only to find yourself continuing to "get in the way"?
Category: Skills | Communicating Vision