Paul said the motivation demonstrated in our work was important for the Christian. He spoke of the importance of being a doer, doing it right, and doing it for the right reason.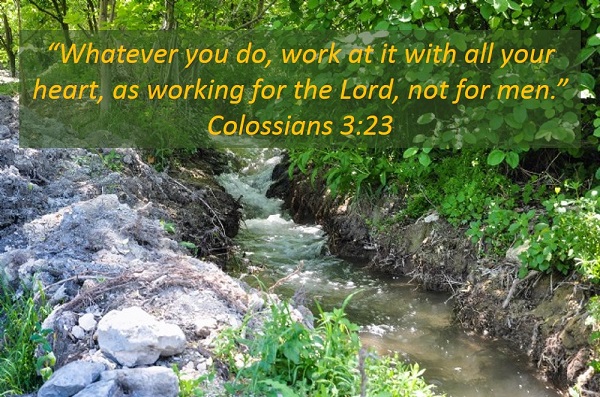 Writing to the Colossians Paul said,
Slaves, obey your earthly masters in everything; and do it, not only when their eye is on you and to win their favor, but with sincerity of heart and reverence for the Lord. Whatever you do, work at it with all your heart, as working for the Lord, not for men, since you know that you will receive an inheritance from the Lord as a reward. It is the Lord Christ you are serving. Anyone who does wrong will be repaid for his wrong, and there is no favoritism. Colossians 3:22-25 (NIV).
Slaves represented 35-40% of the population of the Roman Empire in Paul's day. Slaves were the workers who carried out the instructions of their masters. The relationship between slave and master is similar to the employer and employee relationship in today's world.
Paul is telling Christian slaves to obey their master's instructions whether the master is there watching over them or not. He also tells them to do their work with all their hearts as though working for the Lord. Why should slaves work in this manner? Paul says, because they are serving the Lord and they will receive their inheritance from Him as a reward.
If we accept the parallel between the employee/employer relationships a Christian in the marketplace should:
Obey your employer in everything, and do what they ask (as long as it is legal, ethical, and comports with Biblical principles).
Do the work requested even when you're working on your own, without supervision.
Do your work diligently, with all your heart, as though you are working for the Lord.
Application
We are to be a light unto the world (Matthew 5:14). The example we set for each other and for those we serve must demonstrate our dedication to our Lord. Imagine Jesus was standing next to you as you worked. Would you always be doing what was asked of you? Would you be a trustworthy worker? Would you be a diligent worker?
Our motivation for our work comes not through the remuneration we receive, but from the knowledge that the work we are doing, whatever it might be, is in service to our Lord.
Join the conversation!
How are you at being a doer? At being trustworthy? At being diligent? What do you struggle with the most? Which of these three do you think is most common in the workplace?
I'd love your help. This blog is read primarily because people like you share it with friends. Would you share it by pressing one of the share buttons below?
Category: Personal Development | Motivation