Are you feeling lower than a snake's belly in a wagon rut? Do you need someone to lift you out of that funk? Get up and go look in the mirror, because the solution to your need for encouragement is looking right back at you! That's right, if you need encouragement the answer just might be for you to be an encourager.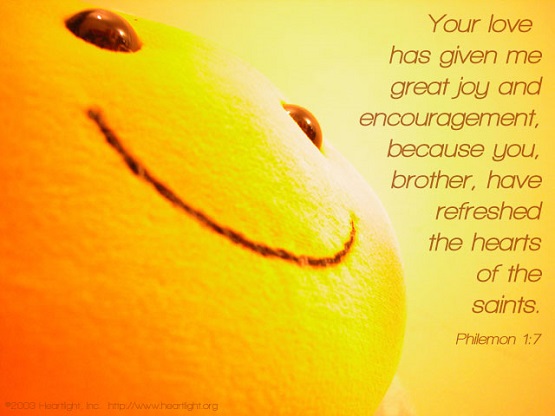 I found this to be true in my own life. There have been times when my usually sunny disposition was blocked by dark clouds of discouragement. But, when I've made the effort to encourage someone else I feel better. In fact, the more I encourage others, the better I feel. The dark clouds of discouragement begin to part, allowing my sunny disposition to reappear.
It turns out I am not the first one to experience the benefit of being an encourager. The apostle Paul did as well! Paul had spent 3-1/2 years establishing and building the church in Ephesus. During that time a wealthy man named Philemon heard Paul, and became a disciple of Christ. Philemon returned home to Colossae and in time, a church was established there meeting in Philemon's house. Onesimus, one of Philemon's slaves, ran away to Rome. Onesimus ended up meeting Paul and becoming a Christian himself. He no doubt told Paul about the church that met in his master Philemon's home, because in his letter back to Philemon Paul says:
I have indeed received much joy and encouragement from your love, because the hearts of the saints have been refreshed through you, my brother (Philemon 1:7 NRSV).
Is that incredible? Paul is sitting in a Roman prison, and he writes that he has received much joy and encouragement from hearing how the church in Philemon's home has been a benefit to the believers there. Paul is joyful and encouraged because others have been encouraged.
What a great lesson for us today. It is so easy to feel down and discouraged when everything doesn't go our way. But we can turn that discouragement into joy simply by encouraging others.
An anxious heart weighs a man down, but a kind word cheers him up (Proverbs 12:25).
The writer of Hebrews said we are to encourage one another daily (Hebrews 3:13). Let's all do that this year. Let this be the year of encouragement as believers we find ways to encourage one another daily!
Application:
Look for ways that you can be an encourager this week. Practice random acts of encouragement. This is especially important if you yourself are feeling a bit down. Remember, if you need encouragement, be an encourager!
Join the Conversation:
As always comments and questions are encouraged. What difference has it made in your life when someone encouraged you? What difference did you make in someone else's life when you provided the encouragement?
Category: Relationships | Encouragement