No executive would tell you they want a sub-optimized organization complete with poor morale, absentee employees, high turnover, and lousy quality control. If executives don't want a sub-optimized organization, why do we seem to have so many of them? Clearly the leadership approach of many executives is lacking in several key aspects.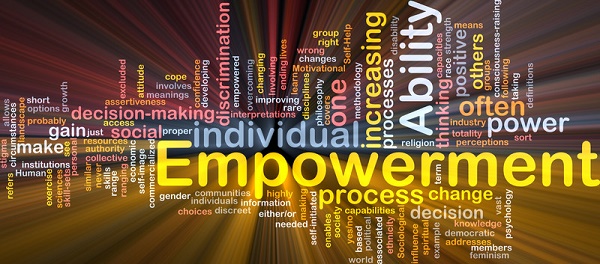 If you are an otherwise solid leader, employee empowerment might just be your ticket to creating an overachieving organization that will differentiate you from all others. There are three levels of employee empowerment and each one will bring you closer to the goal of having an overachieving, high-performance organization!
Good
A lot of high achievers start their careers thinking "if it is to be it is up to me." They want to do everything on their own and think most of the rest of the workforce is simply not up to their standard. Most good executives realize early on those employees working in groups accomplish more than each as individuals. There is a synergistic effect to strong employee work groups. Good executives provide opportunities for employees to work together as teams to advance the business.
Two are better than one because they have a good return for their labor (Ecclesiastes 4:9).
Better
Better executives understand that leveraging the ideas and skills of others is an important element contributing to their success. They recognize that God has created each of us unique, with specific skills and talents that enable us to contribute to the success of the organization.  Better executives work to place people in their areas of greatest strength, where their passion for the work is the greatest.
As each one has received a special gift, employ it in serving one another as good stewards of the manifold grace of God (1 Peter 4:10).
Best
The best executives, the most successful executives, take employee empowerment to the next level. This is where true high-performance empowerment is achieved. The most successful executives are those who empower their employees to make decisions on their own. You cannot have a truly empowered organization even if you hire smart people and train them well, but then shackle their creativity and productivity by not allowing them to make even simple decisions.
Jesus, speaking to the apostles, commissioned them for the work, gave them authority and sent them out on their own to proclaim the Gospel.
And He called the twelve together, and gave them power and authority over all the demons and to heal diseases. And He sent them out to proclaim the kingdom of God and to perform healing (Luke 9:1-2).
Shortly after, Jesus commissioned 70 disciples, sending them out with authority to proclaim the Gospel.
Now after this the Lord appointed seventy others, and sent them in pairs ahead of Him to every city and place where He Himself was going to come (Luke 10:10).

Behold, I have given you authority to tread on serpents and scorpions, and over all the power of the enemy, and nothing will injure you (Luke 10:19).
Jesus does not tell them exactly how they are to do the work. He does not give them a script to follow. Knowing they have already been trained, He simply says "you have the authority to do this, now go!"
Application
If you want your organization to be an overachieving, high-performance organization you need to empower people to do their best work, and then get out of the way!
Begin by realizing that you cannot do everything yourself. There are smart people in your organization who can do things better than you. Good executives bring these people together to work as teams.
Next, realize that everyone in your organization has a unique set of skills and talents and to sub-optimize their work by putting them in roles that they are not suited for results in a sub-optimized organization. Better executives break down role barriers and move people into roles where they can exercise their talents to the benefit of the organization!
Finally, real empowerment occurs when you give authority to employees to exercise their skills and talents. The best executives give employees the authority to solve problems and exercise their creativity without constant interference that damages morale and degrades performance.
Join the Conversation
As always questions and comments are welcome! Have you worked for organizations where you felt limited, restrained? What was the impact on your work? Have you worked for organizations where you truly felt empowered? What difference did that make?
Category: Skills | Leadership Development