Is turnover in your organization higher than it should be? Is morale low? Do people feel like their efforts are not appreciated? If so, you're in a sub-optimized organization that cannot compete in today's marketplace. You need to turn things around, pronto!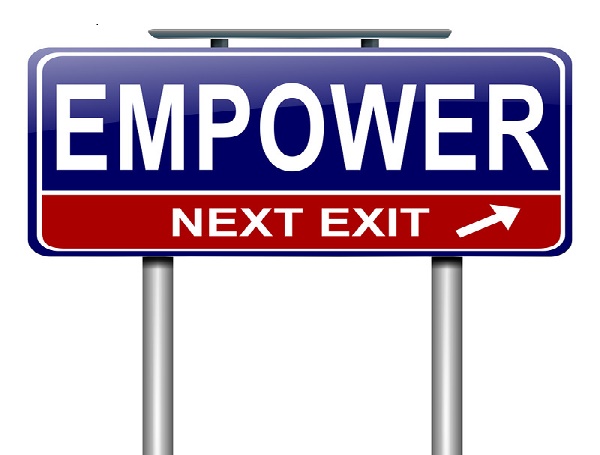 You need to develop an organization where every employee is empowered to excel. There is a catch. If developing an empowered high-performance organization was easy, everyone would be doing it. The fact is, this is hard work and requires constant attention on the part of every leader. However, if you want to set your organization apart, creating an environment where every employee feels empowered is a must.
Here are 10 tips to help you build an empowered organization:
1) Share Your Vision
Employees are desperate to feel a sense of greater purpose: to know that what they are doing is making a difference. Share your vision for the organization. Doing so will help your employees see how the work they do is contributing to the greater good.
2) Share Your Goals and Strategic Direction
Vision is great, but people also need to know what your specific goals are, and how you plan to achieve them. If you fail to establish goals and set a strategic direction for the organization how will people know what they are supposed to be focused on?
3) Value Employees
Employees need to know that their contributions are valued. They need to see it in your actions and hear it in your praise. Minimizing the importance of any role in the organization impacts how the entire organization views themselves. Demonstrating how you value every person in every role is absolutely necessary.
4) Trust Employees
Most people want to do the right thing for the right reason. They need guidance that comes from having a clear expectation, but they need to know that you trust them. When employees know that management trusts them they focus less on worrying and second guessing themselves, and more on being an empowered employee.
5) Provide Information
Empowered employees want to make good decisions, and to do that they need the best information available. It may be more work for you as their leader, but it is incumbent on you to share all appropriate information so that employees can make the best decisions for the organization.
6) Delegate Authority
You cannot have an empowered organization unless you delegate authority. If all you do is delegate work, you've missed the point. Employees want to have the authority to do work and solve problems their way. Delegating authority is a great way for employees to build their confidence and their skill sets.
7) Provide Feedback
Providing feedback seems straightforward enough but it is not. It takes practice, awareness, and sensitivity to do it right. Provide too much feedback and the employee will feel, rightly so, that they are being micromanaged. Provide too little feedback and the work could end up missing the mark entirely. Provide feedback that is too negative and the employee will shut down.
8) Focus on Solving Problems
As a leader, you need to stay focused on solving problems. Everyone makes mistakes, systems fail, conditions change, and solutions that used to work don't work anymore. Focus on solving the systemic issue, not on blaming employees.
9) Listen and Ask Questions
You were made with two ears and one mouth so that you could listen twice as much as you talk. A foundational element of an empowered organization is an atmosphere where open communication is the norm. Listen to employees as they tell you about a problem and solicit their opinions for solving the problem by asking questions. They will never grow to their potential if you step in immediately with your own solution. Besides, your solution might not be the best one!
10) Recognize and Reward Empowered Behavior
If you want employees who feel and act empowered to grow your business as though they were the owner, you need to recognize and reward their empowered behavior. Often times empowered behavior is a little risky, and employees who take that risk should be recognized
Application
Building a high-performance empowered organization takes work. Miss on any one of these ten tips and the impact of your efforts will be lessened. Miss on two or three and you will have wasted time and effort. Doing them all, and doing them consistently is the only way to build empowered organization!
In all your ways acknowledge Him, And He will make your paths straight (Proverbs 3:6).
Join the Conversation
As always questions and comments are welcome! Which of these 10 tips for building an empowered organization seems most difficult to do? Which is the most important to you? What others tips would you suggest?
Category: Skills | Empowerment