How should Christians behave in the marketplace? Should they be tolerant or intolerant? How about outside of the workplace?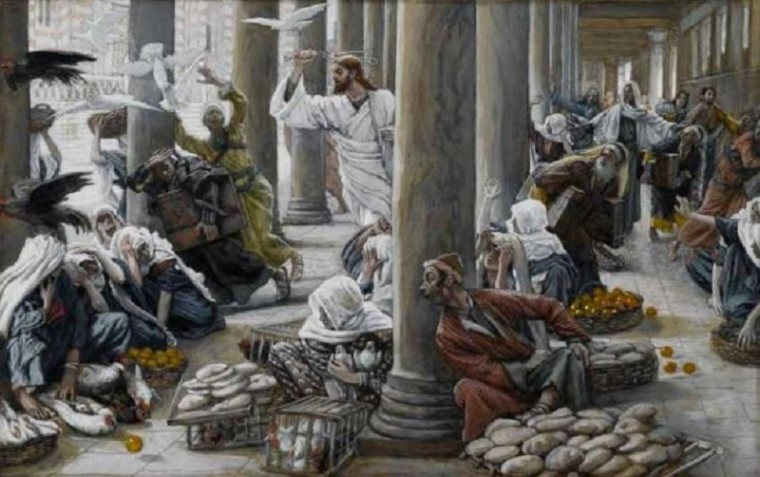 Note: This article is a follow-up to last week's article "Do you have morals, and believe in free speech? Get ready for the unemployment line!"
To begin our answer to these questions let's take a look at what Scripture says.
1) God wants us to be like His Son, Jesus. This process of sanctification, becoming like Jesus, is never finished this side of Heaven, but it something we Christians strive to attain.
And all of us, with unveiled faces, seeing the glory of the Lord as though reflected in a mirror, are being transformed into the same image from one degree of glory to another; for this comes from the Lord, the Spirit. 2 Corinthians 3:18 (NRSV)
2) What can we expect in the world? Scripture tells us clearly that in the world there will be those who turn away from God. There are those who are not content to merely reject His teaching, but teach the opposite!
Ah, you who call evil good and good evil, who put darkness for light and light for darkness, who put bitter for sweet and sweet for bitter! Ah, you who are wise in your own eyes, and shrewd in your own sight! Isaiah 5:20-21 (NRSV)
 The prophet Malachi even predicted that such things would happen 450 years before Christ!
You have wearied the LORD with your words. Yet you say, "How have we wearied him?" By saying, "All who do evil are good in the sight of the LORD, and he delights in them." Or by asking, "Where is the God of justice?" Malachi 2:17 (NRSV)
Jesus fulfilled Malachi's prophecy when he drove out the temple moneychangers.
Then he entered the temple and began to drive out those who were selling things there; and he said, "It is written, 'My house shall be a house of prayer'; but you have made it a den of robbers." Luke 19:45-46 (NRSV)
 3) Should Christians judge? We've heard some say to Christians, "You shouldn't judge." In logic this is known as self-defeating statement. By saying that you shouldn't judge, they are making a judgment themselves. Occasionally, Christians will be confronted with someone who quotes part of Matthew 7:1, saying, "doesn't the Bible tell you not to judge (Judge not lest you be judged)?" When the entire passage is examined in context it is clear that Jesus is not teaching that we should not judge. Rather, He is teaching us HOW we should judge.
"Do not judge, so that you may not be judged. For with the judgment you make you will be judged, and the measure you give will be the measure you get. Why do you see the speck in your neighbor's eye, but do not notice the log in your own eye? Or how can you say to your neighbor, 'Let me take the speck out of your eye,' while the log is in your own eye? You hypocrite, first take the log out of your own eye, and then you will see clearly to take the speck out of your neighbor's eye. Matthew 7:1-5 (NRSV)
 In the Gospel of John, Jesus told us we need to judge, but we need to judge in the right way!
Do not judge by appearances, but judge with right judgment." John 7:24 (NRSV)
4) Was Jesus tolerant? If we are commanded by God to be more like His Son, it raises the question, "Was Jesus tolerant?" Looking at scripture, we see Jesus was in fact, intolerant!
Jesus was intolerant of
thievery,
disrupting worship,
those with a self-righteous attitude,
those who would obscure the majesty of God with man's traditions,
leading people astray, and
sexual immorality.
5) How then should Christians behave—should we be tolerant or intolerant? Nowhere in Scripture does it say that Christians should be tolerant. Any suggestion that Christians should be tolerant would be diametrically opposed to the Jesus' own behavior. What the Scripture does say, and this is important, is that Christians should love one another. Jesus speaking to the disciples said,
I give you a new commandment, that you love one another. Just as I have loved you, you also should love one another. By this everyone will know that you are my disciples, if you have love for one another." John 13:34-35 (NRSV)
 6) Should Christians behave one way at work and another way at home? Scripture clearly tells us that double minded men are unstable in all they do (James 1:8). Be of one mind, both at work and at home. Consider Paul's admonition to the Corinthians,
Watch, stand fast in the faith, be brave, be strong. Let all that you do be done with love. 1 Corinthians 16:13-14 (NKJV)
 Conclusion
Tolerance of behavior that runs contrary to God's plan implies that we do not care enough about the individual to explain God's plan. Yet, we are commanded to love one another as a demonstration of God's love for us!  To the extent that we sit quietly on the sidelines, and allow a vocal minority to call evil good, and good evil, we are hypocrites; saying we believe God, but doing nothing to demonstrate our belief.
Join the conversation
As always questions and comments are welcome. What do you think? Should Christians be tolerant, or should we be ready to stand for God's principles? And, if we are to stand for God's principles, what should that look like?
Category: Personal Development | Character