Admiral McRaven's commencement address: "Find Courage to Change the World."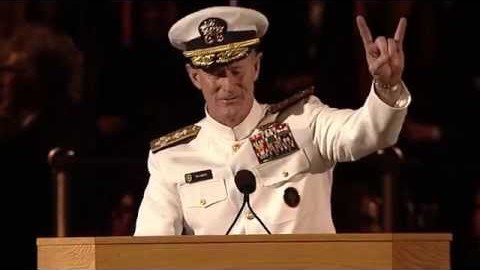 Admiral William McRaven is a four-star admiral and commander of U.S. Special Operations Command (SEALS). He graduated from the University of Texas at Austin in 1977 and immediately reported for SEAL training. A 36-year veteran of the Navy, Admiral McRaven knows a thing or two about leadership. His commencement speech to the graduating class at UT, entitled "Find Courage to Change the World," delivered on May 17, 2014, provides ten important lessons for every leader, regardless of their position.
His speech is well worth the few minutes it will take to read in its entirety.
Here are Admiral McRaven's ten leadership points (underlined), along with my interpretation:
If you want to change the world, start off by making your bed

. Little things in life matter. Starting each day with a successfully completed task sets you up for success during the day. "Therefore, we do not lose heart. Though outwardly we are wasting away, yet inwardly we are being renewed day by day." 2 Corinthians 4:16 (NIV) 

If you want to change the world, find someone to help you paddle

. Find someone to help you through life. Life is hard enough as is, but it is always made easier when you share the load with someone you trust. "Though one may be overpowered,

two can defend themselves.

A cord of three strands is not quickly broken."

 Ecclesiastes 4:12 (NIV) 

If you want to change the world, measure a person by the size of their heart, not the size of their flippers

. Respect everyone. Don't judge a book by its cover, and don't judge people based on their outward appearance. "Show proper respect to everyone: Love the brotherhood of believers, fear God, honor the king." 1 Peter 2:17 (NIV) 

If you want to change the world, get over being a sugar cookie and keep moving forward

. Know that life is not fair and that you will fail often. The key to success is to keep trying, to keep moving forward. "

I again saw under the sun that the race is not to the swift and the battle is not to the warriors, and neither is bread to the wise nor wealth to the discerning nor favor to men of ability; for time and chance overtake them all." Ecclesiastes 9:11

If you want to change the world, don't be afraid of the circuses

. You will face trials in life. Sometimes they will test you to your very core, but by persevering, by working through the trials you will become stronger. "Blessed is the man who perseveres under trial, because when he has stood the test, he will receive the crown of life that God has promised to those who love him."  James 1:12 (NIV) 

If you want to change the world, sometimes you have to slide down the obstacle head first

. Sometimes the greatest breakthroughs in life will come when you step-up and risk doing something differently than conventional wisdom dictates. 

"He replied, 'I tell you that to everyone who has, more will be given, but as for the one who has nothing, even what he has will be taken away."

 Luke 19:26 (NIV) 

If you want to change the world, don't back down from the sharks

. There are 'sharks' in this world, and sooner or later you are likely to be confronted by one. Victory over the sharks can come only if you are willing to stand your ground, to not back down. "Stand firm then, with the belt of truth buckled around your waist, with the breastplate of righteousness in place." Ephesians 6:14 (NIV) 

If you want to change the world, you must be your very best in the darkest moment

. When all seems lost, remember that the night is darkest just before the dawn. It is during the toughest moments in life that maintaining a calm head and summoning all your inner strength will make the difference between success and failure. "

Peace I leave with you; my peace I give you. I do not give to you as the world gives. Do not let your hearts be troubled and do not be afraid."

 John 14:27 (NIV) 

If you want to change the world, start singing when you're up to your neck in mud

. A positive attitude can make the difference between success and failure. Sometimes your positive attitude will lift someone else up to achieve success. "Therefore encourage one another and build each other up, just as in fact you are doing." 1 Thessalonians 5:11 (NIV) 

If you want to change the world, don't ever, ever ring the bell

. Don't ever give up. Success does not come to those who give up. "Let us not become weary in doing good, for at the proper time, we will reap a harvest if we do not give up." Galatians 6:9 (NIV)
Admiral McRaven concludes saying, "If you do these things, then next generation and the generations that follow will live in a world far better than the one we have today and—what started here will indeed have changed the world—for the better."
The world is in desperate need of better leaders. I think the Admiral is right. If we had a world of leaders that had the courage to apply these ten points throughout their lives we could indeed make the world a better place.
Join the Conversation
As always questions and comments are welcome. Do you agree with the Admiral's points? Which do you think most leaders struggle with the most?
Category: Skills | Leadership Development