Peace, in its broadest sense, describes a society where there is public order, security, and freedom from violence. In the Bible, we see three different societal models of peace.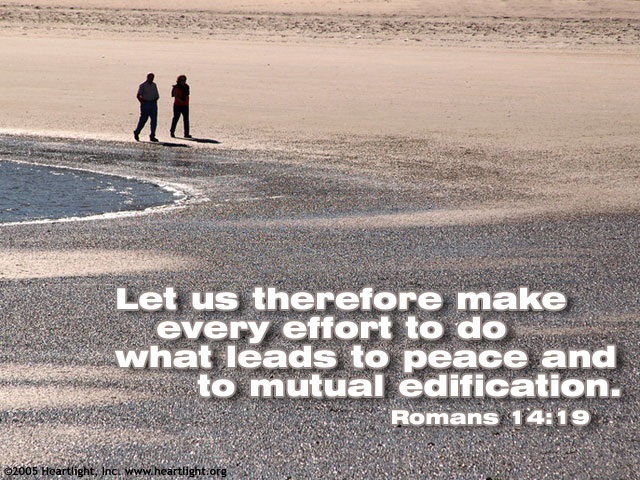 1. Pax Romana. Latin for 'Roman Peace' it was a period of some 200 years in which there was little military expansion of the empire. Peace was maintained by military force and intimidation.
2. Jewish Peace. During Biblical times, Jews looked for a peace like that during the reign of King David.
3. God's Peace. Jesus spoke of a different kind of peace, a peace that originated with God, residing in our hearts: "Peace I leave with you; my peace I give you. I do not give to you as the world gives. Do not let your hearts be troubled and do not be afraid" (John 14:27).
The first two types of peace originated with man, through man's control, while the peace that Jesus spoke of originated with God. The first two types of peace were subject to the desires of man and could easily be broken. The third type which originates from God, cannot be taken away because this peace lives in our hearts.
How Do We Get and Maintain God's Peace?
Paul, writing to the Romans, Colossians, and to Timothy, tells us how to get and maintain God's peace:
For to set the mind on the flesh is death, but to set the mind on the Spirit is life and peace. Romans 8:6
So then let us pursue what makes for peace and for mutual upbuilding. Romans 14:19
And let the peace of Christ rule in your hearts, to which indeed you were called in one body. And be thankful. Colossians 3:15
First of all, then, I urge that supplications, prayers, intercessions, and thanksgivings be made for all people, for kings and all who are in high positions, that we may lead a peaceful and quiet life, godly and dignified in every way. 1 Timothy 2:1-2
Don't look to man's law for peace, but to God through the power of the Holy Spirit,
Actively pursue God's peace,
Let God's peace rule your heart,
Be thankful that you are part of the body of Christ,
Pray for leaders to lead Godly, peaceful lives.
 Outward Signs of God's Peace
Paul, writing to the Romans, describes the outward signs of a person who has God's peace:
Repay no one evil for evil, but give thought to do what is honorable in the sight of all. If possible, so far as it depends on you, live peaceably with all. Beloved, never avenge yourselves, but leave it to the wrath of God, for it is written, "Vengeance is mine, I will repay, says the Lord." To the contrary, "if your enemy is hungry, feed him; if he is thirsty, give him something to drink; for by so doing you will heap burning coals on his head." Do not be overcome by evil, but overcome evil with good. Romans 12:17-21
They are not vengeful,
They are intentional in their thinking,
They do what is honorable,
They overcome evil by good works.
Result of God's Peace in Our Lives
Paul and James describe the result of living a life with God's peace:
And the peace of God, which surpasses all understanding, will guard your hearts and your minds in Christ Jesus. Philippians 4:7
And a harvest of righteousness is sown in peace by those who make peace. James 3:18
God's peace will guard your hearts and minds,
Those who sow peace will reap righteousness.
Application
We have probably all worked for, or at least know of, a leader whose leadership style was loud, belligerent, or even militant. This type of leader gets results by sheer force. Other leaders assume a more controlled, quiet demeanor. This type of leader achieves results by aligning people towards a goal. Man's peace is subject to outward conditions that require force, and intimidation to maintain. It can last for a while but ultimately will fall to a stronger adversary. God's peace is inward, within our hearts, and powered by the Holy Spirit. It is eternal and will not fail. So if the question before us today is, "Can a peaceful leader be strong enough to be an effective leader?" My answer is peaceful leaders are both stronger and more effective because they have the peace of God and the power of the Holy Spirit to guide them!
Join the Conversation
As always, questions and comments are welcome. What experience have you had with different leaders? How did their approach impact you?
I'd love your help. This blog is read primarily because people like you share it with friends. Would you share it by pressing one of the share buttons below?
Category: Personal Development | Character