OK, I'll admit it. I screen my calls using the caller ID. When the caller ID says "Private" I'm like, "No way! Maybe when sergeant calls, and of course if an officer calls, but private, nope, no way am I answering the phone."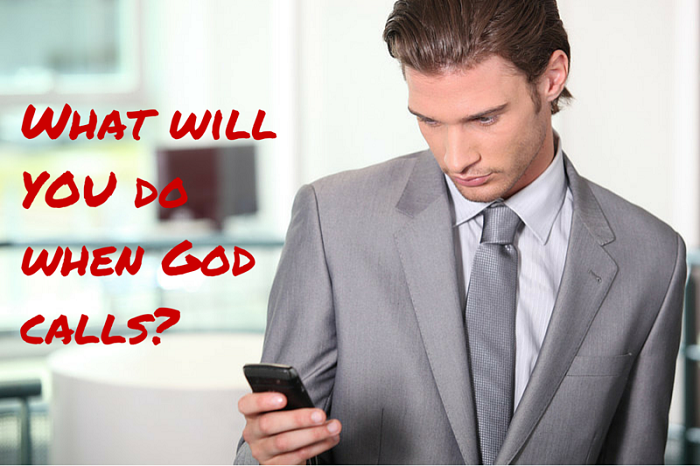 I bet, even though the conversation in your head might be different, that you do the same thing!
When I was a younger man, I answered the phone every time hoping it would be the boss asking me to take on some special assignment. As I grew a little older (and somewhat wiser), I realized that some of those phone calls were assignments that weren't really all that special. Other assignments were things I wasn't qualified to do, but my larger than life ego made me say 'yes.' In both cases, these were assignments I should have said 'no' to!
But what happens when God calls? I hate (really hate) to admit it, but there have been times when I treated God's call like the caller ID said 'private.' Oh sure, I had my excuses. There is the selfish excuse: "God, thanks for thinking of me, but I am pretty busy doing my stuff right now." There is the deflection excuse: "God, I think Mike over there would do a better job for you than me." There is the delay excuse: "God, I'm just not quite ready yet." But the truth is, all of these excuses of mine could be summed up in, "God, I'm afraid."
If you've read the Bible or listened to a few sermons, you've probably heard about someone that God called, who was either reluctant or downright fearful, to answer God's call. It's good to know that we are not alone!
One of my favorite Bible characters is Jeremiah. There are a lot of reasons I like Jeremiah, but one reason is that like me, Jeremiah was reluctant to answer God's call, but God used him anyway!
Jeremiah's Back-story
Jeremiah lived during a very difficult time in Judah's history. King Manasseh was the most evil king who had ruled over Judah. He had caused the people to reject God, and worship idols, to the point that God said they were worse than the people God had destroyed to bring the Israelites into the Promised Land!
When Manasseh died his son, Amon became king and he was worse than his father. He went so far as to make idol worship the official religion of Judah! Thankfully, Amon ruled only two years when his son, Josiah, became king. Josiah tried to turn things around by renewing the people's covenant with God. He ordered the idols removed, the temple to be repaired, and worship of God to be resumed. The people made outward changes, but their hearts remained hard. And that's when God called upon Jeremiah!
Jeremiah's Call from God
Jeremiah records God's words when God called Him to lead the nation as his prophet:
The word of the LORD came to me, saying, "Before I formed you in the womb I knew you, before you were born I set you apart; I appointed you as a prophet to the nations." Jeremiah 1:4-5
 Now here comes Jeremiah's excuses:
"Ah, Sovereign LORD," I said, "I do not know how to speak; I am only a child." Jeremiah 1:6
But, God's not buying these excuses:
But the LORD said to me, "Do not say, 'I am only a child.' You must go to everyone I send you to and say whatever I command you. Do not be afraid of them, for I am with you and will rescue you," declares the LORD. Then the LORD reached out his hand and touched my mouth and said to me, "Now, I have put my words in your mouth. See, today I appoint you over nations and kingdoms to uproot and tear down, to destroy and overthrow, to build and to plant." Jeremiah 1:7-10
 Lessons for Us from God's Call to Jeremiah
God is God, and we're not! Let's not forget, God is our creator. God knew us before He even formed us in the womb!
God set us apart. Before we were even born God set us apart. That phrase 'set apart' means to be holy, in service to God.
God appointed a work for us to do. God has a specific plan of service that he has appointed to each of His children.
God is not put off by our perceived weaknesses. Our perceived weaknesses, whatever they may be, are not a deal breaker to God (see point 1).
God's direction is specific. God has a specific plan in mind for the work we are called to do.
God equips where God leads. God equips us to do whatever work He has called us to do—whether we believe it or not!
God is with us always. God does not ask us to do the work alone—he is always with us, and because of His presence we need not be afraid.
Whatever work God has called us to do, rest assured that He called us because He knows everything about us. He created us, and He is more than capable of determining what we can do. God will equip us to do whatever He has called us to do! With God at our side, there is no reason to be afraid, success is assured.
Join the Conversation
As always questions and comments are welcome! Have you been reluctant to answer God's call on your life? What happened when you finally answered?