Raise your hand if you have you ever been hurt by someone. Perhaps a relative, close friend or a co-worker did you wrong. Did it make your blood boil, or tie your gut into knots? Did you lie awake at night tossing and turning plotting your revenge?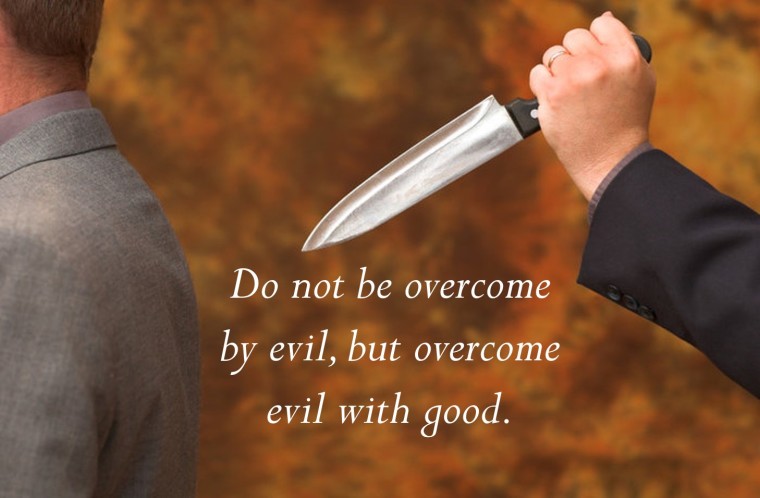 If so, you're in good company with most of the human race over 2 years old. If you are like me, you've been hurt by someone in ways that you never expected! Perhaps more than once!
What do you do? How do you respond? When I was a good bit younger and before I accepted Christ the answer was simple, plot my revenge. Yes, sweet revenge.
As I got a little older, and somewhat more mature, I realized we have three options when responding to someone who has done us wrong.
Nabal's Evil and Abigail's Good
As I was studying 1 Samuel 25 recently, I came across the somewhat familiar story of David and his encounter with Nabal and Abigail. But this time as I read, I saw something that I never noticed before; in this story are three options for how we can respond when someone has wronged us.
Let me set the scene.
David and 600 men with their families (some 2,400 people) had been on the run hiding from Saul for some time because Saul had vowed to kill David. The area they were in was plagued by invading armies and robbers. David and his army of 600 protected the people living in that part of the country.
David came to the area where Nabal, a very rich man lived. David sent men to inquire of Nabal for some provision for his men in return for their having protected Nabal and his property. Nabal's response was both arrogant and insulting.
When David heard it, he vowed to kill Nabal. When Abigail, Nabal's wife, heard how her husband had treated David's men she gathered a food offering together, took it to David, and implored him not to kill Nabal and bring bloodguilt on himself. David relented and vowed not to kill Nabal because of the kindness Abigail had shown him.
Three Possible Responses
We can return evil for good as Nabal did when he refused to return David's kindness.
We can return evil for evil as David considered when he swore to kill Nabal.
Or, we can return evil with good as David ultimately did when he accepted Abigail's offering and apology for her husband.
Do Not Be Overcome by Evil but Overcome Evil with Good
If you wonder which of the three responses is the one scripture supports, focus on option 3, "Do Not Be Overcome by Evil but Overcome Evil with Good."
Evil contaminates others. When you pay back good with evil it contaminates others. When evil exists it tends to grow in a family, a society, or a company. It becomes acceptable to be evil to those who are good.
Evil will never leave the house of one who pays back evil for good. Proverbs 17:13
Consider what is honorable. As Christians, we should be careful not to act in haste, but to carefully consider what course of action is honorable. We should always focus on doing what brings honor to our Lord and Savior.
Repay no one evil for evil, but give thought to do what is honorable in the sight of all. Romans 12:17
Do not be overcome by evil, but overcome evil with good. Romans 12:21
Repay evil with blessing. As Christians, we should not repay evil with evil or insult with insult. Rather, our example should be to repay evil with a blessing, because this is what we are called to do as Christians, and in so doing we will receive a blessing.
Do not repay evil with evil or insult with insult. On the contrary, repay evil with blessing, because to this you were called so that you may inherit a blessing. 1 Peter 3:9
Join the Conversation
As always questions and comments are welcome. Have there been times in your personal or business life when someone hurt you, wronged you? How did you respond? What was the result?
I'd love your help. This blog is read primarily because people like you share it with friends. Would you share it by pressing one of the share buttons below?
Category: Personal Development | Discipline