Whatever you did for one of the least of these brothers of Mine, you did for Me, said, Jesus, as he was teaching the disciples (Matthew 25:40).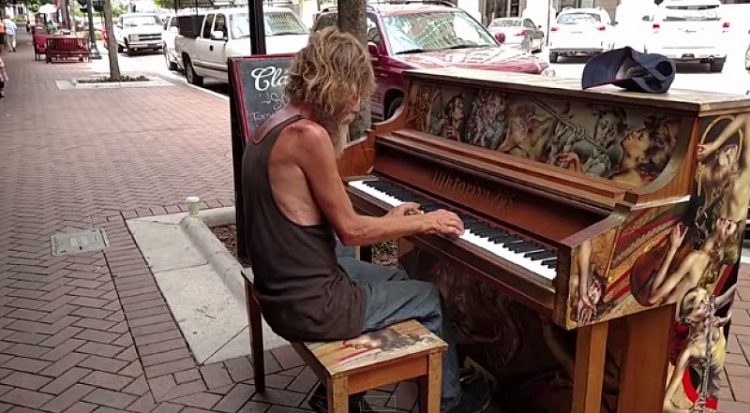 A sign that I am a follower of Christ is seen in my willingness to help my fellow man.
Jesus spoke a similar message in the parable of the Good Samaritan (Luke 10:25-37). In this parable a priest and a Levite passed by an injured man, and purposely avoided helping him by walking on the far side of the road. Then along came a Samaritan man who stopped and cared for the injured man. This, said Jesus, is the how the disciples should behave.
In today's world, the homeless people living on the streets are certainly "among the least of these." And I must admit on more than one occasion I have been like the priest or Levite, purposely avoiding the homeless so I won't have to stop to help them.
I was convicted of my pious attitude when I saw the YouTube video of the homeless man playing the piano on the street in Sarasota Florida. What I saw was a skinny, dirty, long-haired scruffy looking man.
But then I learned his story. His name is Donald Gould and he is 51-years old. Donald didn't always live on the streets. He served his country honorably as a U.S. Marine, went to college, and dreamed of teaching music the rest of his life.
That dream came to an end when his wife died. Substance abuse followed as he attempted to deal with his grief. His grief was compounded when he lost custody of his then 3-year old son. Donald has been living on the streets ever since.
The YouTube video of Donald playing Styx's "Come Sail Away" from memory went viral (Watch it here, it has over 7 million views at the time I am writing this). Producers from the TV show "Inside Edition" reached out to Donald and provided him with a spa treatment, a haircut, and a new wardrobe. A gofundme campaign was established for him in the hopes of raising enough money to get him off the streets, buy a car, and reunite him with his long-lost son.
I saw a skinny, dirty, scruffy looking homeless man in a video, but this man is one of God's precious children who suffered a great tragedy and needed someone to help lift him out of the pit he had fallen into.
A TV show provided the help. Great. But how many Christians passed by Donald as he played, and avoided him rather than extending the help he needed?
We cannot help everyone. Jesus said we will have the poor with us always (John 12:7). But when God puts someone who needs our help directly in our path how can we call ourselves followers of Jesus if we walk like the priest and the Levite to the other side of the road?
Join the Conversation
As always questions and comments are welcome. Have you experienced a time when you walked to the other side of the road to avoid encountering "one of the least of these"? Or have you been like the Samaritan who stopped to help?
I'd love your help. This blog is read primarily because people like you share it with friends. Would you share it by pressing one of the share buttons below?
Category: Personal Development | Humility