Are there times when we, as Christians, should stand against authority?  Let's consider a few examples.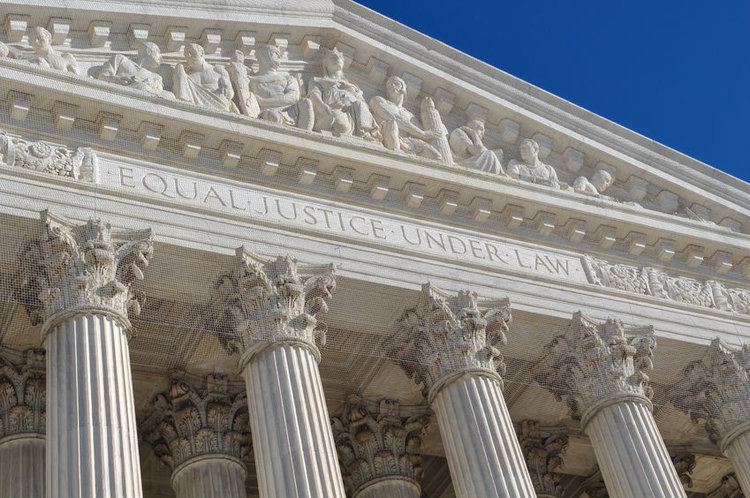 Should a Christian stand up for the life of the unborn against abortion? Most Christians believe that life begins at conception, that God created each of us unique with a special purpose in life.
For you created my inmost being; you knit me together in my mother's womb. Proverbs 139:13
Should a Christian stand up for racial equality and against discrimination? Most Christians believe that racial discrimination is inherently wrong.
There is neither Jew nor Gentile, neither slave nor free, nor is there male and female, for you are all one in Christ Jesus. Galatians 3:28
Should Christians stand up for Biblical truth against the World's truth? Most Christians believe that what God gives us in His Word, the Bible, is truth because He is truth.
Sanctify them by the truth; your word is truth. John 17:17
God is not human, that he should lie, not a human being, that he should change his mind. Does he speak and then not act? Does he promise and not fulfill? Numbers 23:19
Now it is this last one that causes heartburn for the majority of Christians. What does it mean to stand up for Biblical truth against the truth of the World?
Daniel and the Veggies
Let's look at two examples from one of my favorite Old Testament Bible characters. Daniel. Daniel was a teenager, perhaps about 15 years old, when he was exiled to Babylon along with some other young men. They were to enter a three-year training program and then be placed into the service of King Nebuchadnezzar.
The king provided rich foods and wine for all the trainees, but Daniel and his three friends did not want to defile themselves by eating the king's rich food. They wanted to obey the Law that God had given them regarding their diet.
So Daniel explained the situation to the chief steward and asked if he could be allowed to eat vegetables and drink water instead of wine. The chief steward was rightfully concerned that if Daniel didn't look healthy the king would have his head. So Daniel proposed a 10-day test and at the end of 10-days the chief steward could judge if he looked healthy. God blessed Daniel and his decision. At the end of 10 days he looked healthier than those who ate the king's food, so he and his friends were allowed to continue eating vegetables.
Daniel stood against authority when it would have been far easier and safer to just go along with the king's program.
Daniel and the Lion's Den
Most of us know the story of Daniel and the lion's den. Daniel, now an old man, was still in captivity in Babylon, which was under the rule of King Darius the Mede.
Daniel had risen in the ranks of government service. He was one of three provincial presidents over the kingdom. He reported directly to the king.
Jealous men conspired to discredit Daniel, but they could find nothing to discredit him because he was always honest. So they tricked the king into signing an edict forbidding prayer to any god or man other than king. The punishment for violating this edict was to be cast into the lion's den. The king signed the order making it a law for thirty days.
Daniel, knowing the edict had been signed, continued to pray to God by his open window facing the temple in Jerusalem three times a day. When the king was confronted with Daniel's actions he was beside himself realizing how he had been manipulated.
He carried out the demanded punishment and had Daniel thrown into the lion's den. The Lord sent an angel to protect Daniel that night. The following morning the king ran to the lion's den and was relieved to find Daniel still alive. He promoted Daniel and issued another law that no one was to speak against the Most High God whom Daniel served.
Daniel's Lessons in Standing against Authority
Here are four lessons we can take away from Daniel's stand against authority.
Daniel's heart was devoted to God. Even though he was young Daniel knew God's law and was fully devoted to God. Daniel 1:8 says Daniel resolved in his mind not to defile himself, because he did not want to violate God's law. Jesus said, "Love the Lord your God with all your heart and with all your soul and with all your mind and with all your strength" Mark 12:30
Daniel was gracious to the authorities. Daniel was not argumentative or mean spirited when stating his position. The Bible says, "When a man's ways please the LORD, he makes even his enemies to be at peace with him" Proverbs 16:7.
Daniel was prepared for the consequences. Daniel knew the king's edict prohibiting prayer had been signed, yet he kept his habit of praying to God, knowing what would happen. Paul wrote, "Do not be anxious about anything, but in everything, by prayer and petition, with thanksgiving, present your requests to God" Philippians 4:6.
Daniel trusted in God. Daniel fully trusted in God even at the moment of being lowered into the lion's den. Solomon wrote, "Trust in the LORD with all your heart and lean not on your own understanding" Proverbs 3:5.
If there is a situation in which you feel led to stand against an authority in order to remain true to God remember Daniel's example: be sure the motivation is a heart fully devoted to God, remain gracious to those in authority, be prepared for the consequences, and trust God that He will never abandon you.
Join the Conversation
What do you think? Are there situations occurring today where we, like Daniel, should stand against authority that conflicts with God's Law?
I'd love your help. This blog is read primarily because people like you share it with friends. Would you share it by pressing one of the share buttons below?
Category: Personal Development | Obedience to God