Here is the United States we are in the midst of the political campaigns to elect our next president in November of 2016. As far as I am concerned it cannot happen fast enough.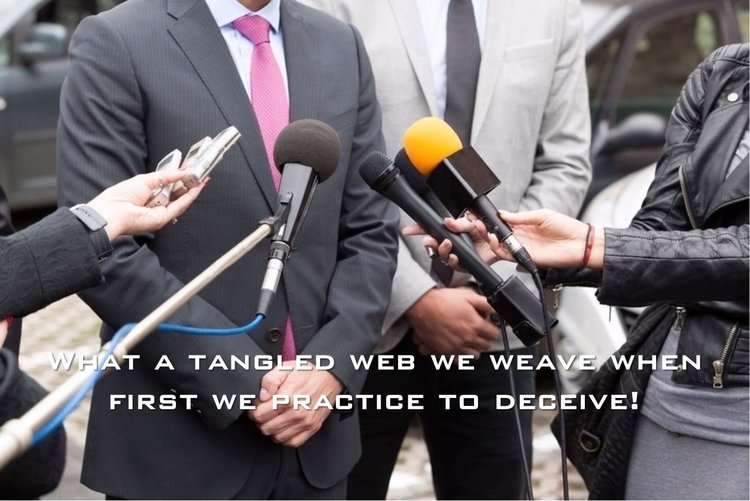 It seems politician's default communication is deception, if not outright lies.
But business people, don't be smug. Just Google "Volkswagen scandal." Then read about how Volkswagen executives knowing developed and installed software in the engines of their diesel cars to fool the US Environmental Protection Agency into thinking their emission met US standards. In fact, their emissions were 40 times higher than US standards allow!
It seems whatever sphere of life you consider there are those who weave tangled webs as they practice to deceive.
Unfortunately mankind has a propensity to deceive and to lie. The first example came in Genesis 3 when the serpent deceived Eve. A lie that caused the fall of mankind.
All through the scripture are warnings against being taken in by deceivers. King David felt so surrounded by liars he wrote:
"Everyone lies to his neighbor; their flattering lips speak with deception" Psalm 12:2.
How can we tell truth amidst those who deceive?
1) Does what they are saying align with God's Word? Both Paul (1 Thessalonians 5:21-22) and John (1 John 4:1) warn Christians to test what they hear against the Word of God. Anything that is in opposition to God's Word is a lie.
2) Pray for discernment. James writes that God will give us wisdom if we ask in faith.
"If any of you lacks wisdom, he should ask God, who gives generously to all without finding fault, and it will be given to him" James 1:5.
3) Verify. Get the facts. Research what people say to verify the truth. Luke, writing in Acts commended the Bereans because they searched the Scripture to see if what they heard was true.
"Now the Bereans were of more noble character than the Thessalonians, for they received the message with great eagerness and examined the Scriptures every day to see if what Paul said was true" Acts 17:11.
4) Ask yes or no questions. If you are lucky enough to be with the person rather than reading a news report or listen to a reporter ask questions. If someone is unwilling to answer yes or no questions directly they are likely attempting to deceive or lie outright. Jesus said,
"Simply let your 'Yes' be 'Yes,' and your 'No,' 'No'; anything beyond this comes from the evil one" Matthew 5:37.
The sad truth is mankind has suffered from deceivers and liars since Satan deceived Eve. To this day we are, as David said, surrounded by them. The best way to protect ourselves is check with Scripture, pray for discernment, and do some of our own research to verify facts.
Join the Conversation
Have you been deceived by someone you trusted? If so, what happened? What do you do to protect yourself from being deceived?
Aside for the writers and history buffs….Often attributed to Shakespeare the line, "What a tangled web we weave…when first we practice to deceive" was actually written by Walter Scott and published in 1808.
I'd love your help. This blog is read primarily because people like you share it with friends. Would you share it by pressing one of the share buttons below?
Category: Personal Development | Discernment