If you are anything like me when the day is done you turn off the computers and televisions, put the cellphone and the I-Pad on their chargers and head off to bed to get some much needed rest. But wait!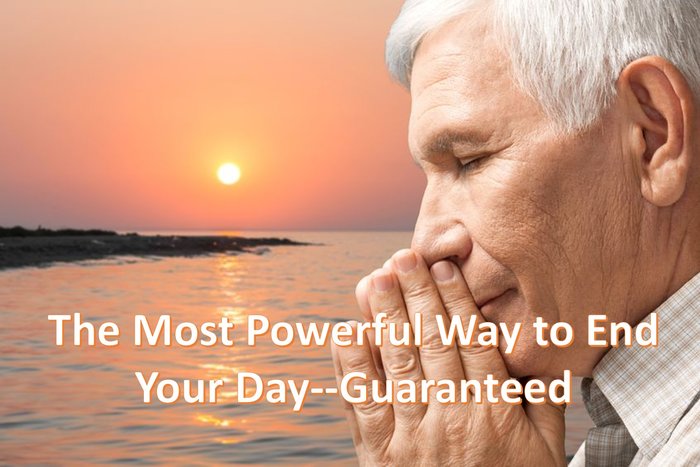 Before you close your eyes and drift off to never, never land I want you to do one more thing. It will only take a few minutes and it is without a doubt the most powerful way to end your day and set up tomorrow for success. Guaranteed!
If you read last week's blog I said the most powerful way to start your day was to pray the Prayers of Intentions before your feet hit the floor.
Guess what this week's recommendation is?! That's right, pray. But this time I want you to pray through what is called the Prayer of Examination at the end of your day.
Over 400 years ago St Ignatius Loyola began the practice at the end of every day of praying through the day.
Praying the Prayer of Examination
There is no single "best" or "right" way to review your day in prayer. What is most important is that you are honest with the Lord and open to the leading of the Holy Spirit.
Come into God's presence. Often our days are a confusing jumble of activities. Ask God to calm your heart, and open your mind to hear what the Holy Spirit has for you.
Give thanks. Review the events of the day with an attitude of gratitude. Every day is a gift from God. Give thanks to God that He is always with you!
Be sensitive to the emotions you felt throughout the day. As you review the events of the day consider what emotions you experienced. Were you angry, sad, joyful, bored, or energized? What situations contributed to these emotions?
Hone in on one event. Ask the Holy Spirit to bring to mind a single event during the day, whether it was positive or negative, and prayerfully consider if there is something you could have done better, a sin you need to confess, or someone you need to minister to.
Look toward tomorrow. As you consider what tomorrow might bring, ask God to give you His wisdom, His understanding, His strength, and His power!
Like the Prayer of Intentions if you'll commit to praying through the Prayer of Examinations every day for 30 days with an open and honest heart I guarantee you'll feel closer to the Lord, and wake up feeling more refreshed than ever before!
Join the Conversation
As always questions and comments are welcome. Have you engaged in some form of a prayer of examination at some point during your life? How did it make you feel? Did it make a difference in your life?
Category: Personal Development | Character