As leaders, we know to be successful in the business world we need to be adding value to our consumers if we expect them to beat a path to our door. More enlightened leaders recognize the importance of adding value to employees. But exactly how does a leader accomplish this goal of adding value to employees?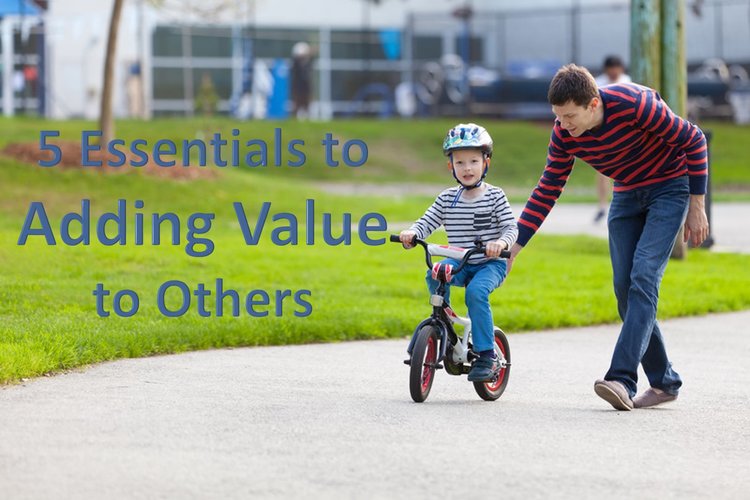 In his recent book, Intentional Living—Choosing a Life That Matters, author John Maxwell provides five essentials to adding value to others. Maxwell's focus is general; how we can add value to others, but I want to borrow his 5 essentials framework and apply the principles to leaders and employees.
To add value to employees I MUST:
1) Value Myself. As Maxwell says it is impossible to consistently value others if I do not value myself. In other words, my image of self controls my daily behavior. My self-image should be formed by how God views me, and He views me very highly.
Psalm 139:13-16 says God knitted us together in our mother's womb, and that we a fearfully and wonderfully made. God loves us and cares for us as His children more than we can possibly imagine.
2) Value Others. People need to know that they matter to others. Much of people's self-image is informed by the environment they live in. If they do not feel valued they will not act valued. What would happen if I demonstrate I value others the way God values them?
Philippians 2:13 says in humility we should value others above ourselves.
3) Value what others have done for me. If I am thankful for what others have done for me, that attitude of thankfulness will be apparent to others. Have you ever met a "negative Nancy"? Think of Eor, the donkey in Winnie the Pooh. Eor was eternally negative and pessimistic. That kind of negative attitude wears on people. If I am thankful for the many blessings I've gained from other people in my life it's an easy step to express that to others.
Ephesians 5:20 says we should give thanks always and in everything to God in Jesus' name.
4) Know and Relate to what others value. People naturally respond to people who show interest in them or take the time to get to know them. If I know what is important to someone (their faith, their family, their career, etc.) they know I care. If they know I know and care, they'll feel valued.
Matthew 7:12 Jesus says we should do unto others as we would have them do unto us (aka Golden Rule).
5) Make myself more valuable. I cannot add value to someone else unless and until I have something of value to give them. I need to keep growing in order to keep adding value to other people.
Proverbs 1:5 says wise men listen and add to their learning and the discerning obtain guidance.
So that's it; five essentials for leaders to add value to employees. It starts with us, we need to understand and accept how much God loves and values us. We need to let employees know how much we value them. We need to be thankful for all that others have done for us. We need to know and relate to what others value. And finally, we need to keep learning and growing so we can continue to add value to others.
I highly recommend John Maxwell's new book
Intentional Living—Choosing a Life That Matters.
For everyone who is a leader and for everyone who wants to be a leader, this is a must read. If you purchase it on Amazon though this link you'll pay the same price, but I will receive a small affiliate commission from Amazon. To purchase or learn more click
here
.
Join the Conversation
As always questions and comments are welcome. What do you think is essential to add value to others? Do you struggle with any of these?
I'd love your help. This blog is read primarily because people like you share it with friends. Would you share it by pressing one of the share buttons below?
Category: Relationships | Servant Leadership