I am the kind of singer that King David had in mind when he said, "Make a joyful noise unto the world" (Psalm 100). I cannot, as they say, "carry a note in a bucket." However, I am a joyful singer, and I am most joyful at Christmas time when I hear hymns like O Holy Night.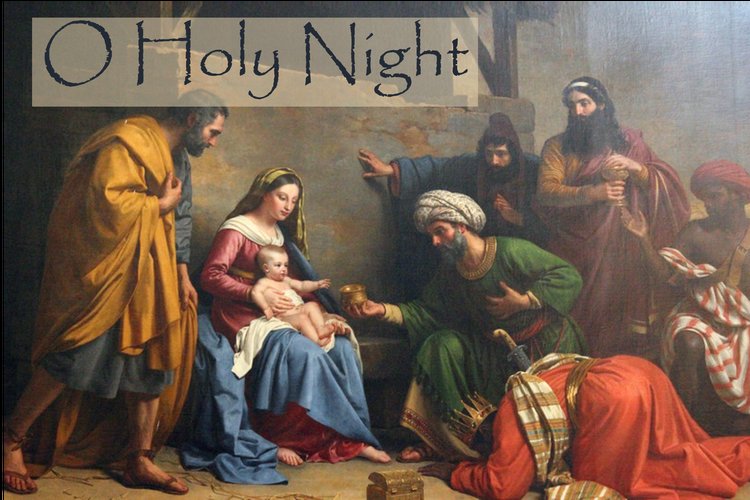 O Holy Night was written in 1843 as a poem by French atheist, Placide Cappeau, at the request of a local parish priest. In 1847 Adolphe Adam, a French composer, added a musical score to Cappeau's poem. It was later translated into English with some slightly different lyrics by John Sullivan, founder of the Harvard Music Society.
O Holy Night
O holy night, the stars are brightly shining,
It is the night of the dear Saviour's birth;
Long lay the world in sin and error pining,
'Till he appeared and the soul felt its worth.
A thrill of hope the weary world rejoices,
For yonder breaks a new and glorious morn;
Chorus
Fall on your knees, Oh hear the angel voices!
O night divine! O night when Christ was born.
O night, O holy night, O night divine.
Led by the light of Faith serenely beaming;
With glowing hearts by his cradle we stand:
So, led by light of a star sweetly gleaming,
Here come the wise men from Orient land,
The King of Kings lay thus in lowly manger,
In all our trials born to be our friend;
Chorus
He knows our need, To our weakness no stranger!
Behold your King! Before Him lowly bend!
Behold your King! your King! before him bend!
Truly He taught us to love one another;
His law is Love and His gospel is Peace;
Chains shall he break, for the slave is our brother,
And in his name all oppression shall cease,
Sweet hymns of joy in grateful Chorus raise we;
Let all within us praise his Holy name!
Chorus
Christ is the Lord, then ever! ever praise we!
His pow'r and glory, evermore proclaim!
His pow'r and glory, evermore proclaim!
O Holy Night–Verse 1
The first verse of O Holy Night describes the coming of Jesus. His coming should fill us with hope and joy. God loved us so much that he sent his Son, Jesus, that whomever might believe in him might not perish, but have eternal life (John 3:16).
The price of our redemption from sin was not gold or silver, but the precious blood of the spotless lamb, Jesus Christ (1 Peter 1:18-19). The fact the Father was willing to sacrifice His one and only Son on our behalf indicates how much He loves us.
O Holy Night—Verse 2
The second verse of O Holy Night reminds us the King of kings and Lord of Lords was born as a human infant and placed in a manger. The wise men followed a star and found the baby Jesus laying in a manger and they worshipped Him there.
The wise men worshipped at His feet in the manger. We worship Him at the foot of the Cross. Jesus bore all our sins so we might we might be adopted into God's family and cry out, "Abba, Father" (Galatians 4:6).
O Holy Night—Verse 3
The third verse of O Holy Night calls us to love one another, to set aside differences that separate us and become one in Christ. His law is love.  Teaching His disciples, Jesus said, "A new command I give you: Love one another. As I have loved you, so you must love one another" (John 13:34).
His Gospel is peace, praise His Holy name. Teaching the Philippians, Paul said, "Be anxious for nothing, but in everything by prayer and supplication, with thanksgiving, let your requests be made known to God; and the peace of God, which surpasses all understanding, will guard your hearts and minds through Christ Jesus" (Philippians 4:6-7).
As we celebrate this Christmas season, let us remember the reason for the season is a tiny baby who lay in a manger, who lived a sinless life to redeem us from our sins. At the foot of the cross we meet our Savior.
My Christmas prayer for you is that the love of God and His peace will be with you always.
In His Service,

Join the Conversation
Do you have any favorite Christmas hymns that hold special meaning to you? What are they?
Category: Personal Development |Dependence on God