Once upon a time in a land far, far away lived a handsome young farmer and his beautiful wife. They had a Perfect Boss, who had given them the responsibility and authority to care for the Boss's garden.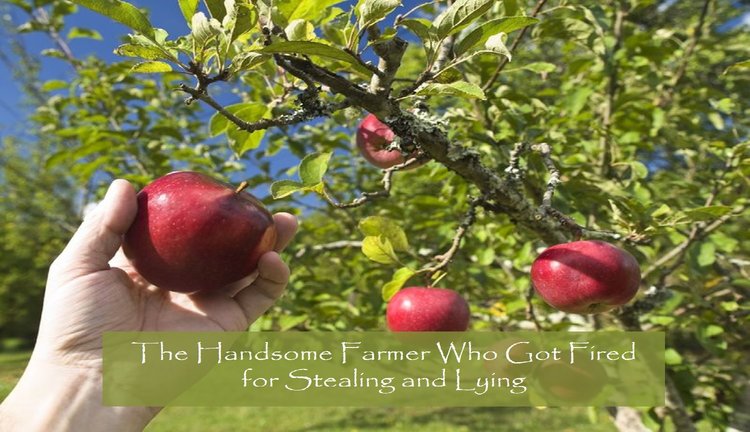 Until one fateful day when a particularly sneaky fellow came into the garden. This sneaky fellow was charming and charismatic. He convinced the young farmer and his wife that their Boss wasn't perfect; that He had deceived them.
This sneaky fellow caused them to doubt the word of their perfect Boss, and even to rebel against Him. The handsome farmer and his wife stole from their perfect Boss, and then when He confronted them about their actions they lied to Him.
When the Boss discovered their treachery, he cursed them, fired them, kicked them out of the garden, and even posted guards to make sure they didn't try to renter the garden.
The handsome young farmer's name was Adam, and his wife's name was Eve. Adam and Eve had a perfect deal going working for God, the Perfect Boss.
God had given them the responsibility and authority to care for His garden. They could eat any of the food from anywhere in the garden except they were not to eat from the Tree of Knowledge of Good and Evil.
Satan came along and tempted Adam and Eve. He caused them to doubt God's word. He twisted God's words and made them believe a lie about God. He made them think they, not God, knew what was best for them.
The sad result was they lost the intimate communion they had enjoyed with God. They lost the simple life of caring for the garden and having everything provided for them. Instead, they were cursed by God to work for their food, deliver children in pain, and condemned to die.
Breaking their covenant relationship with God was a costly decision made in a moment of temptation, that was based on a lie.
We don't enjoy the intimate relationship that Adam and Eve had with God as they walked together in the Garden. But we are not lacking for inspiration from God:
We have His Word. Studying God's Word provides His guidelines, His principles, and lots of examples for us to learn about Him.
We have the Holy Spirit. When Jesus went back to be with the Father, He sent the Holy Spirit to take up residency in our hearts, to be our guide helping us to lead God-honoring lives.
We have the power of prayer. Jesus sits at the right hand of the Father. He is our mediator, who longs to hear the prayers of His children.
Leaders, be mindful of the ease in which Adam and Eve listened to a lie. They rejected God's best and had to live with that fateful decision for the rest of their lives. It takes only a moment of weakness to cause a lifetime of heartache.
There are two ways of doing things: God's way, and our way. The closer we align our way to God's way the better off we will be.
Join the Conversation
As always questions and comments are welcome. As a leader, have you struggled with times when you were tempted to do things your way, knowing God's way was better? What was the result? How do you stay connected to God to insure your decisions align with God?
I'd love your help. This blog is read primarily because people like you share it with friends. Would you share it by pressing one of the share buttons below?
Category: Personal Development |Obedience to God