You may be familiar with the quote by Harry S. Truman, the 33rd president of the United States; "Not all readers are leaders, but all leaders are readers."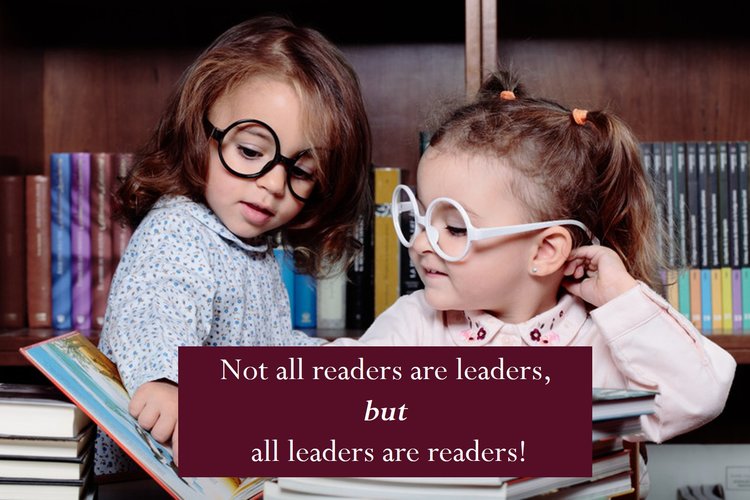 I like to read, but often my reading list gets pushed down on my to-do list. It doesn't seem like sitting and reading is actually "doing" anything. So I decided to do some research to see if reading really is important for leaders.
Of course, it took only seconds for Google to bring me an article from the Harvard Business Review that supports the thesis that leaders are readers. In this article, "For those Who Want to Lead, Read" author John Coleman, cites 10 purported benefits for leaders who are readers. Among them:
Reading can improve intelligence and lead to innovation and insight.
Reading builds your vocabulary.
Reading increases abstract reasoning skills.
Reading is an efficient way to acquire and assimilate new information.
Reading across fields is a good way to increase creativity.
Reading increases the likelihood that you will be innovative.
Reading can make you more effective in leading others.
Reading can increase your verbal intelligence making you a more adept and effective communicator.
Reading can improve your empathy and increase your organizational effectiveness.
Reading can help you relax, reduce stress, and improve your health.
I'm sold. Reading is important for leaders. Reading more will help me be a better leader. It seems what you read, in terms of genre, is not nearly as important as just reading!
I'm going public with my reading list for 2016. My goal is to read at least 10 books during the year. I've got 14 books on my list so far, and I hope to get some books recommended to me that I can add to my list:
"Turn the Ship Around—A True Story of Turning Followers into Leaders" by L. David Marquet. Marquet is a Navy submarine captain who tells how he turned one of the worst performing submarines in the fleet, into the best.
"The Obstacle is the Way—The Timeless Art of Turning Trials into Triumph" by Ryan Holiday. This book was recommended to me by a reader of this blog who leads every day in his role as a police chief (thanks, John!).
"Quarter Life Calling—How to Find Your Sweet Spot in Your Twenties" by Paul Sohn. OK. Full disclosure, I have already read this book twice. The first reading was Paul's draft. The second reading was the galley proofs. The finished print version released January 18, 2016 and I can't wait to read it again!
"Will it Fly—How to Test Your Next Business Idea so You Don't Waste Your Time and Money" by Pat Flynn. I am a Pat Flynn fan. He is a wonderful young man who is among the most successful internet business men around. The book will be released in February 2016.
"There's No Such Thing as Business Ethics" by John Maxwell. I admit, I am a Maxwell fan. I've read several of his books and enjoyed them all immensely. A book on ethics seems like an especially important read after some of the news this year.
"Marketplace Christianity" by Robert Fraser. I started this book some time ago, and for some reason set it aside so I'm going back to chapter 1 and starting over.
"Do Something—Make Your Life Count" by Miles McPherson. Miles delivered a powerful sermon as a guest pastor at our church. When I found out he had written a "motivational, get yourself in gear" kind of book I ordered it. Sometimes I need a little motivational kick in the backside!
"Leadership Beyond Reason—How Great Leaders Succeed by Harnessing the Power of their Values, Feeling, and Intuition" by Dr. John Townsend. I received this book as a gift after Dr. Townsend spoke at gathering of business people at our church. After hearing him speak I can't imagine this book will be anything short of fantastic.
"Business as Mission—The Power of Business in the Kingdom of God" by Michael R. Baer. Baer's premise is Christian businesses have an opportunity to impact the world for Christ in a remarkable way. I agree wholeheartedly and I want to learn what he thinks about how this can be achieved.
"The Gospel Goes to Work—God's Big Canvass of Calling and Renewal." by Dr. Stephen Graves. I'm not sure how I came to hear about this book, but since I am in the middle of rediscovering God's calling on my life I am looking forward to what I learn from this book.
"A Million Miles in a Thousand Years—How I Learned to Live a Better Story" by Donald Miller. I first learned about Donald Miller when I watched an interview Michael Hyatt did with him. The interview was fascinating and I expect the story he tells in this book will be exceptional.
"Essentialism—The Disciplined Pursuit of Less" by Greg McKeown. This book has been recommended to me by friends at least 4-5 times over the past year. Perhaps my friends are trying to tell me something! Anyway, this book comes with rave reviews so I am looking forward to reading it.
"Start with Why—How Great Leaders Inspire Everyone to Take Action" by Simon Sinek. This is another book that came to me via recommendations of friends. I watched Simon's TED talk, and I was enthralled like millions of others who have watched it on YouTube. A quick look at the jacket cover suggests this could be a life-changing read.
"Dance Until It Rains—Inspiring Stories of Everyday Persistence" by various authors. This book is a compilation of stories written by a variety of authors telling someone else's inspiring story. This could be a tear-jerker.
Well, that's it for now. My list of books to read in 2016. I suspect if this year is anything like last year, I will add several books to the list during the year. If I don't get them all read this year, they'll roll-over to next year. It's all about being a learning leader who reads.
If you have a favorite book that you've read recently let me know!
Join the Conversation
As always questions and comments are welcome. Never was that more true than this week. I'd love to hear about any books you've read recently that you really enjoyed.
I'd love your help. This blog is read primarily because people like you share it with friends. Would you share it by pressing one of the share buttons below?
Category: Skills | Leadership Development |