God sometimes calls on the most unlikely people to lead His people. Never was that more true than with Gideon, the youngest son of a farmer whose family was the weakest of his tribe.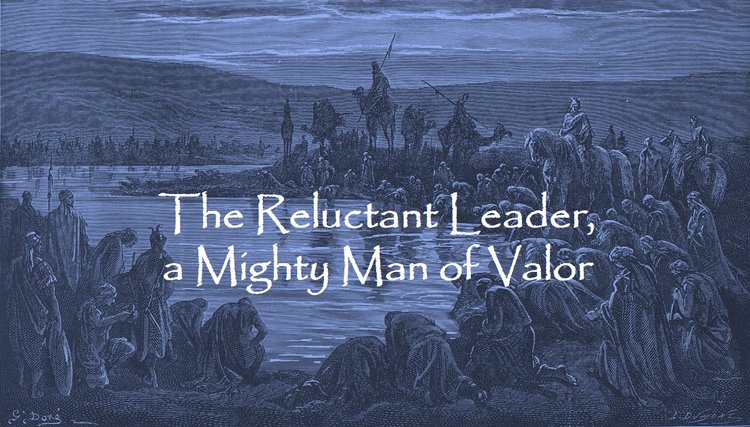 If you want to read his story, you'll find it in Judges 6-8.
In Gideon's time, the people of Israel had become evil and God allowed the Midianites to oppress them. The Midianites would invade the land every harvest and steal all the crops and animals, leaving almost nothing for the Israelites to live on.
Gideon struggled to believe that God was calling on him to lead the Israelites, but eventually he came to trust God, he delivered the Israelites from the Midianites and went on to judge the Israelite nation for 40 years.
God Called Gideon
God called Gideon out of obscurity. Gideon was threshing wheat for his father when God reached out and tapped Gideon for a leadership assignment that changed his life. God told him He wanted him to lead the Israelite army.
God Commissioned Gideon
At first, Gideon didn't believe God could possibly have meant to select him to lead an army since he was young, inexperienced, and from a family of farmers.
In answer to Gideon's reluctance the Lord reassured him saying, "The Lord is with you, mighty warrior." Gideon may not have thought of himself as a mighty warrior, but the Lord did!
God Developed Gideon
God didn't send Gideon out to take on an army right away. First, the Lord told Gideon to go tear down the Asherah poles and the altar to Baal in his father's house. So Gideon took ten of his servants out at night and did exactly what the Lord commanded. The townspeople were furious and wanted to kill Gideon, but his father defended him and changed his name to Jerubbaal, which means "Let Baal contend" (or let Baal fight for himself).
By obeying God's command, Gideon proved himself worthy. When Gideon was allowed to test God with the fleece, he finally came to trust God completely, knowing that God would do exactly as He promised.
God Equipped Gideon
When it was time to go to battle God wanted to make sure everyone would know that the battle was His to win. Gideon had assembled an army of 32,000 to go up against a Midianite army that numbered over 130,000 men. God told Gideon to tell everyone who didn't want to fight to go home. That left 10,000 men. God said that was still too many and he reduced Gideon's army to 300 men. That's over 400 Midianites to every one of Gideon's men.
The right 300 men plus God were all that Gideon needed to ensure victory for the Israelites.
God Led Gideon
God made sure Gideon knew victory was his, by having Gideon sneak into the camp of the Midianites at night. There Gideon overheard a Midianite tell of a dream he had and the man with him interpreted the dream saying, "This is nothing less than the sword of Gideon, son of Joash, the Israelite. God has handed the entire Midianite camp over to him" (Judges 7:14)
Imagine how Gideon felt when he heard his enemies talking about him and how God was on his side against them!
Full of confidence Gideon returned to camp divided his men into three companies and attacked. The Midianites were so confused by the attack some killed each other while a remnant fled pursued by the Israelites. God led Gideon and the Israelite army of 300 and gave them victory over an army over 400 times their size!
God called Gideon from obscurity, not because of who he was, but because of who God knew he could be. God commissioned Gideon to do a specific work. He developed Gideon and equipped him with exactly the right men to go into battle. Finally, God, just as He promised, led Gideon into battle and brought them the victory.
Through His experience with God, Gideon's faith grew and he came to fully trust the Word of God.
In the end, Gideon became the fifth judge over the nation of Israel where he guided the Israelites for 40 years. He even appears in the "Hall of Faith" in Hebrews 11:32 described as a man of faith who conquered nations and administered justice.
Join the Conversation
As always questions and comments are welcome. Have you been a reluctant leader like Gideon at some time in your life? If so, did you feel God's call and His commissioning you to a specific work? Looking back, do you see God's hand equipping you for the work, and leading you to complete the work He commissioned you to do?
I'd love your help. This blog is read primarily because people like you share it with friends. Would you share it by pressing one of the share buttons below?
Category: Personal Development | Dependence on God