Extraordinary leaders come in all shapes and sizes, but they all have one thing in common; they all understand the importance of give and take.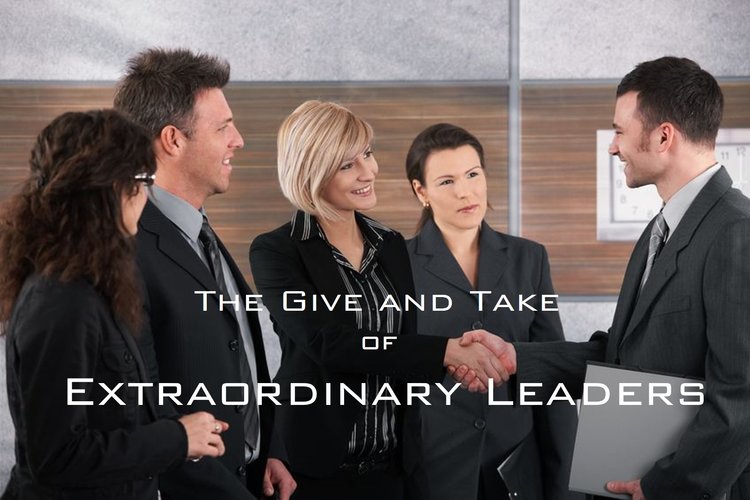 And by give and take, I am not talking about their ability to negotiate, or their ability to compromise!
No! I am talking about the ability to give credit and take responsibility!
Sadly, when I was a young leader in my early twenties, I was not very good at giving credit or taking responsibility.
If my team of salespeople did especially well in making a breakthrough sale, I made sure the boss knew their accomplishment was because of the superior training and leadership I had provided.
My team had an exceptional year and led the division in our most important sales metrics. When my boss and his boss asked what contributed to the success I talked at length about the training I had provided the team throughout the course of the year. Honestly, it never occurred to me to highlight the individual successes of my salespeople that contributed to our outstanding results.
If, on the other hand, one of my salespeople made a mistake that cost the company money I did my best to make sure the light of incompetency shined only on my employee.
We once had a particularly complicated promotion allowance. After carefully explaining how it worked, one of my sales representatives proceeded to misrepresent the offer to a number of customers. It cost the company several hundred dollars to make good on the sales rep's mistake. I threw my sales rep squarely under the bus as I explained to my boss how the mistake was the sales rep's alone. After all, the rest of the team got it right.
I am not sure exactly when it happened, but at some point after becoming a Christian, I recognized this propensity to take credit for other people's work and avoid responsibility for failures wasn't right. In fact, as a young Christian, I decided I would give other people credit whenever possible, and always take responsibility for issues within my team.
I started out small by encouraging my team members individually and privately. Then, as I saw how this built them up, I started publicizing their successes publically to other members of the team.  We were suddenly gaining significant traction as a group.
Next, I started telling my bosses how great my sales people were; how they had made great sales against all odds. And I left myself out of the story.
The first time something did go wrong, I stood quaking in front of my boss, and simply said, "I messed up, I'll fix it." I refused to throw anyone under the bus. To my great surprise (and relief) the boss just said, "Good. Take care of it." I found taking responsibility was actually easier than trying to make up excuses to cover myself.
That year was a transformative year for me as a leader. I went from taking credit and avoiding responsibility, to giving credit and taking responsibility.
Giving credit became a bit of a game to me. I would spot someone doing something extraordinary and brag about them. Then I started sending emails to my bosses, as high up as I could reach in the corporate hierarchy, letting them know what great results someone had achieved.
I stepped up my game a little further by starting to brag about the results of people who didn't even work for me. Anyone who I heard about doing something of note was fair game. I would fire off a memo to their bosses and bosses' boss to let them know how much they contributed to the organization.
Now here's the funny thing. I found two very important outcomes that derived from my new "giving credit" leadership philosophy:
The more bragging I did about others, the fewer things ever went wrong. I rarely had to stand in front of the boss and take responsibility for a project that went sideways because it almost never happened.
The more I gave credit to others, the more recognition I received from my bosses for being a good leader.
So in the end, the very thing I sought as a young leader; recognition and respect for my skills, was achieved not when I focused on myself, but when I focused on everyone else.
Paul had it right when he wrote to the Ephesians in 4:29, "Let no corrupting talk come out of your mouths, but only such as is good for building up, as fits the occasion, that it may give grace to those who hear."
Join the Conversation
As always questions and comments are welcome. Have you worked for leaders who gave credit and took responsibility? What was that like compared to those who took credit and avoided taking responsibility?
I'd love your help. This blog is read primarily because people like you share it with friends. Would you share it by pressing one of the share buttons below?
Category: Relationships | Encouragement