It seems like every day reading my news feed I see a story about some executive who acted impulsively and their actions led to disaster.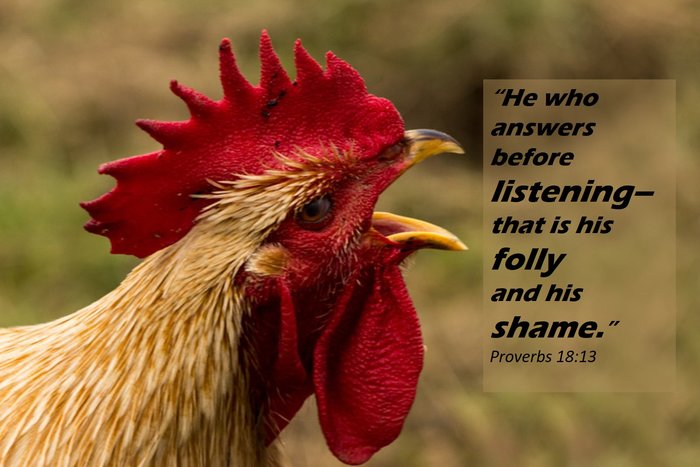 You know the type. They are the "Ready, Fire, Aim" guys. The "Shoot first and ask questions later guys."
It turns out this is not a new phenomenon among leaders.
While reading Joshua 22, I noticed how some "Ready, Fire, Aim" leaders combined with the unholy trinity of distrust, conjecture, and hasty action nearly led to civil war between the Israelites.
The Israelites had driven out the inhabitants of the Promised land over a period of several years. When they were done, the eastern tribes left the western tribes to journey back across the Jordan River to occupy their land.
The eastern tribes built a large altar after they crossed the Jordan and when the western tribes heard about it, they all assembled to go to war against their eastern tribe brothers.
They assumed that the eastern tribes were planning on making sacrifices at the altar. This was in direct violation of God's command to only offer sacrifices at the Tabernacle.
We're not told who, but someone decided to assemble a delegation of leaders from the ten western tribes and go talk to the leaders of the eastern tribes.
They immediately accused eastern tribes saying the altar they built was a sign of their rebellion against God. They assumed the altar was built to offer sacrifices in violation of God's command. They concluded that God would be angry and judge the entire nation of Israel because of their rebellion.
The eastern tribes explained the assumptions and conclusion reached by the leaders of the western tribes were all false. They built the altar, not for sacrifices, but as a witness between their people of their special relationship to God. It was to serve as a reminder to future generations how they shared in the great blessings of God.
The situation between the western and eastern tribes of Israel reveals the deadly nature of distrust, conjecture, and hasty actions, and how a decision to ask questions and listen avoided disaster:
No one sought God's counsel. The western tribes were greatly concerned when they thought the eastern tribes were rebelling against God. Nowhere though do we see that they sought God's counsel.
Distrust and conjecture are a dangerous combination. The western tribes had been fighting alongside their eastern brothers for several years, yet they immediately distrusted them when they heard about the altar and assumed the worst.
Based on incomplete information they hastily prepared for war. Having concluded the eastern tribes were rebelling against God, the western tribes prepared to go to war against their eastern brothers.
Cooler heads prevailed. A summit between the western and eastern leaders was held.
Someone finally listened. The western tribes immediately made their accusations. As the eastern tribes explained their reasoning behind building the altar, the western tribe leaders finally understood and returned home in peace.
A civil war was nearly fought between brothers all because of a lack of trust, wild conjecture that led to false assumptions and conclusions, followed by a hasty decision to act.
The wisdom of Proverbs 18:13 comes to mind, "He who answers before listening– that is his folly and his shame."
As Christians who bear the responsibility of leading, we should never assume we have all the facts in a given situation. Basing actions on incomplete information, assumptions, and conjecture will almost always be to our folly and shame.
Mr. Covey was right when he said, "Seek first to understand, then to be understood."
Join the Conversation
As always questions and comments are welcome. Have you encountered situations in which leaders made hasty decisions based on inaccurate or incomplete information? What impact did it have on the organization?
I'd love your help. This blog is read primarily because people like you share it with friends. Would you share it by pressing one of the share buttons below?
Category: Skills | Communication Skills