I am pretty sure Solomon had me in mind when he said, "A fool's mouth is his undoing, and his lips are a snare to his soul" (Proverbs 18:7).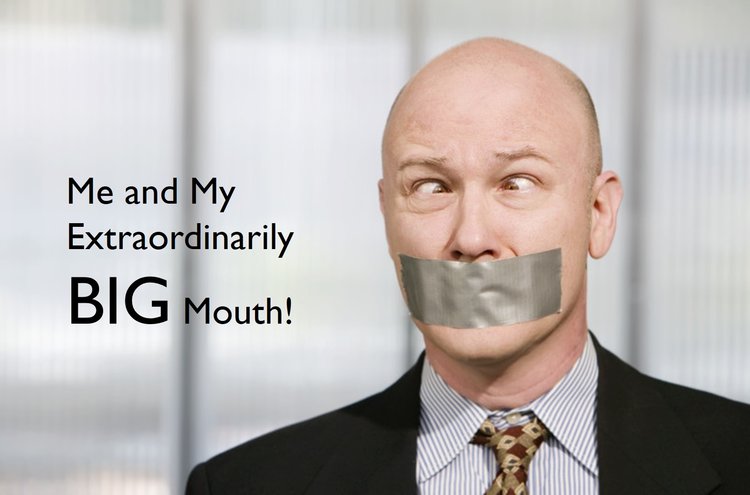 Early in my management career, but far enough into it that I should have known better, I made a huge mistake because I failed to keep my mouth shut!
I discovered a younger manager was mishandling company funds. I mentioned my concerns and the need to terminate the younger manager to a peer, ostensibly for his advice in handling the situation.
That evening my peer mentioned the situation to a peer of his who was a good friend of the younger manager about to get fired. The younger manager called my boss, irate that people were discussing his termination. All this transpired over a period of just three hours.
Needless to say, the next morning I endured a rather unpleasant meeting with my boss, who informed me of the potential issues caused by my breach of confidence.
Stupid, stupid, stupid!
I had no business discussing this employee's situation with anyone outside HR or my boss, but I just couldn't keep my extraordinarily big mouth shut.
That situation occurred over 30 years ago and I remember it like it was yesterday!
What is it that makes it so hard to control what we say?
James, the half-brother of Jesus, said any man who can control what he says is a perfect man (James 3:2). He uses three illustrations to make his point about how influential the small tongue can be (James 3:3-6):
He compares the tongue to a bit placed in a horse's mouth. A small bit placed in a horse's mouth is used to control the direction of the entire animal.
He likens the tongue to a rudder on a ship. The rudder is small but it directs the course of even the largest of ships. Similarly, the tongue is small but directs the whole man.
He also says the tongue is like a spark that sets a whole forest on fire. It corrupts the whole person and sets his life on fire.
Any questions? The tongue, yours and mine, are out of control. What can we do?
Recognize our speech can get us into trouble. King David exhorted the people to, "Keep your tongue from evil and your lips from speaking deceit" (Proverbs 34:13).
Focus on Godly speech. Paul writing to the Colossians instructed them to, "Let your speech always be gracious, seasoned with salt, so that you may know how you ought to answer each person" (Colossians 4:6).
Rely on the power of the Holy Spirit. Paul, this time writing to the Galatians said, "…walk by the Spirit, and you will not gratify the desires of the flesh" (Galatians 5:16).
Pray for the Lord to guide your speech. King David prayed to the Lord, "Let the words of my mouth and the meditation of my heart be acceptable in your sight, O Lord, my rock and my redeemer" Proverbs 19:14).
If we recognize that our speech can get us into trouble and that we have difficulty saying the right thing at the right time, then we know we need to shift our focus to Godly speech. But we will never be successful on our own. We must rely on the power of the Holy Spirit to direct us, and pray for the Lord to guide us!
Do these four things and you won't be the person Solomon referred to when he said, "A fool's mouth will be his undoing!"
Join the Conversation
As always questions and comments are welcome. Have you ever gotten yourself in trouble by something you said? What tips will you share that help you control what you say?
I'd love your help. This blog is read primarily because people like you share it with friends. Would you share it by pressing one of the share buttons below?
Category: Personal Development | Self-Discipline