When I was a young lad, perhaps 13-years old, I along with 30 other members of Boy Scout Troop 193, boarded a rented school bus and set off on a 6-week adventure.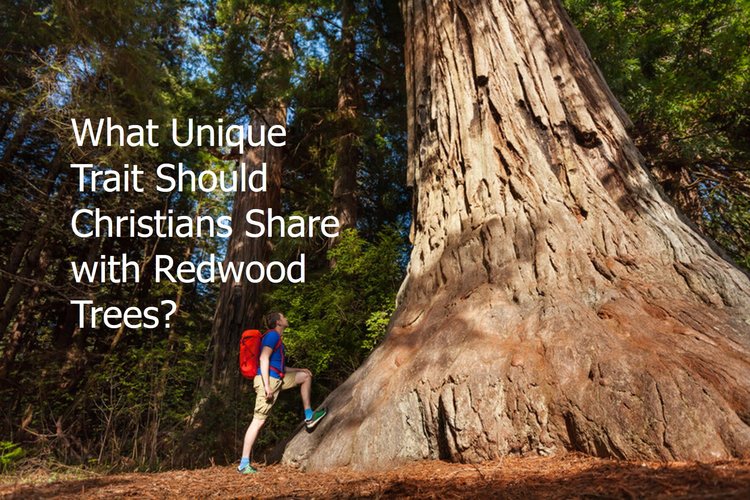 We left Spokane, Washington and camped our way down through Oregon, into southern California, up through Nevada, and back home.
Along the way, in northern California, we stopped in the Redwood State Park to see the Giant Redwood trees. They are the oldest and tallest trees in the world.
These redwoods are truly amazing. Some of them are over 2,200 years' old. They were already pretty good sized trees when Jesus was born! Now, however, they tower over 300 feet tall. Many are over 360 feet tall and 20 feet in diameter!
Despite their enormous girth and height, their roots are remarkably shallow reaching only 6-12 feet deep into the soil. What holds these majestic specimens up in the harsh winds of the coastal climate? Two things. Their roots stretch out fifty feet in all directions to give them stability. And they grow together in groves so their roots intertwine and support each other.
I've always thought this was an incredible picture of what it means to be in unity as a body of Christian believers. We are stronger together when our "roots" are spread out and intertwined. We are stronger together when we are united and support each other.
There are many Bible verses that speak to the importance of unity among the body of believers.
For example:
King David wrote how good and pleasant it was to God for believers to dwell together in unity:
"Behold, how good and how pleasant it is for brothers to dwell together in unity!" (Psalm 133:1).
The apostle Paul wrote extensively on the subject of unity among believers. Writing to the Ephesians and referring to the church, Paul said there is one body united by one Holy Spirit:
"There is one body and one Spirit, just as also you were called in one hope of your calling; one Lord, one faith, one baptism, one God and Father of all who is over all and through all and in all" (Ephesians 4:4-6).
Paul, again writing to the Ephesian believers compared the church to a body with every ligament supporting the rest:
"From him the whole body, joined and held together by every supporting ligament, grows and builds itself up in love, as each part does its work" (Ephesians 4:16).
Paul wrote to the Corinthian believers stressing their need to put aside divisions among them, to be united in mind and thought.
"I appeal to you, brothers and sisters, in the name of our Lord Jesus Christ, that all of you agree with one another in what you say and that there be no divisions among you, but that you be perfectly united in mind and thought" (1 Corinthians 1:10).
Writing to the Galatians, Paul taught we are all one in Christ. In the body of believers, there is no distinction between Jew and Greek, male and female, or slave and free. We are all one in Christ!
"For you are all sons of God through faith in Christ Jesus. For all of you who were baptized into Christ have clothed yourselves with Christ. There is neither Jew nor Greek, there is neither slave nor free man, there is neither male nor female; for you are all one in Christ Jesus" (Galatians 3:26-28).
And finally, writing to the Colossians Paul exhorted them to let Christ rule in their hearts, united in one body of believers.
"Let the peace of Christ rule in your hearts, to which indeed you were called in one body; and be thankful" (Colossians 3:15).
These are just a handful of verses that deal with the subject of unity among Christian believers. There is little doubt that the Lord's hope for us is that we, as a body of believers, will be united in our faith.
What concerns me is there is often more disunity among believers than there is unity. We argue over minor points of theology. We publically cast dispersions on other denominations because they hold to a different liturgy or sing different kinds of worship songs.
No wonder the outside world looks on Christians with confusion and downright skepticism!
I do not believe this is disunity and division among the body of believers is pleasing to the Lord. As a body, we should be like the giant redwood trees of northern California whose roots intertwine providing strength and unity to all.
Join the Conversation
As always questions and comments are welcome. What is your view of unity in the body of Christians believers? Is it important?
I'd love your help. This blog is read primarily because people like you share it with friends. Would you share it by pressing one of the share buttons below?
Category: Relationships | Interpersonal Relationships