Your values aren't your values unless they cost you something.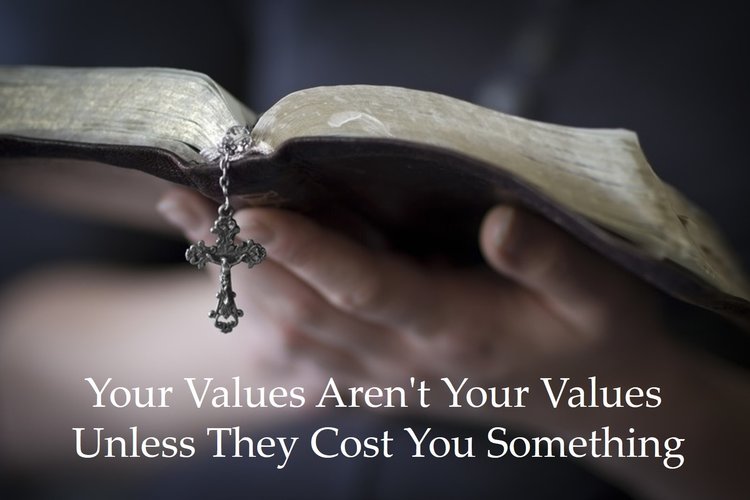 Consider this list of company values: Communication, Respect, Integrity, Excellence. Sounds pretty lofty, right? Any decent company would like to have these values. These "values" were listed in the Enron annual report from 2000. Based on their behavior, their stated values weren't their real values at all.
By contrast, in a letter to shareholders, Larry Merlo, CVS Caremark CEO, said, "CVS Caremark is committed to reinventing pharmacy to help people on their path to better health." Their tagline is "Health is Everything."
CVS put their money where their values were by suspending the sale of all tobacco products in 2014. That decision cost them an estimated $2B in tobacco product sales. Following the announcement, the public rewarded them by driving their stock price to a 34-year high.
CVS's decision to suspend tobacco sales was costly but the decision supported their stated values and it resonated with consumers. Their stated values were aligned with their behavior. On the other hand, how would it look if they said they valued better health for their customer when they still sold tobacco products?
In the best companies, a company's values reflect the core values of the leaders and employees in the company.
King David's 11 Core Values
King David was described as a man "after God's own heart" in Acts 13. David, like most of us, certainly had his shortcomings as a leader, but David wanted to be a man who honored God. At one point, he wondered what kind of values would a person have who would be allowed to worship the Lord in His sanctuary. His answer is recorded in Psalm 15:
1  LORD, who may dwell in your sanctuary? Who may live on your holy hill?
2  He whose walk is blameless and who does what is righteous, who speaks the truth from his heart
3  and has no slander on his tongue, who does his neighbor no wrong and casts no slur on his fellowman,
4  who despises a vile man but honors those who fear the LORD, who keeps his oath even when it hurts,
5  who lends his money without usury and does not accept a bribe against the innocent. He who does these things will never be shaken. Psalm 15:1-5 (NIV)
David begins by describing two general values (v. 2):
His walk is blameless. He is a man of integrity.
He does what is righteous. He has a clear conscience because he lives a righteous life.
David then details an additional nine values (vv. 3-5):
He speaks the truth. He speaks the truth in love from his heart.
He does not slander others. He does not tell lies or gossip about others.
He treats his neighbors well. He cares for, helps, and encourages his neighbor.
He does not speak ill of others. He does not say mean or spiteful things about others.
He despises evil men. He does not condone evil but stands up against evil men.
He honors those who fear God. He gives honor to those who are part of God's kingdom.
He always keeps his word. He is trustworthy. He will keep his word even if it costs him.
He lends money fairly. He does not take advantage of those he lends money to.
He does not accept bribes. He is a just man who will not take a bribe.
The result of these values, says David, is the man who lives this way will never be shaken!
When David refers to the person's "walk" he is referring to a pattern of behavior over time. A leader's effectiveness is directly related to their ability to demonstrate their core values over time.
It's easy to say you espouse certain values but unless they are demonstrated by the way you live they are meaningless words
As leaders, we are called to be salt and light to the world. We are to live in such a way that our example draws others to Christ. We can only do that if we are living out our core values every day—despite the cost.
Join the Conversation
As always, questions and comments are welcome. What Are Your Core Values? Has maintaining your core values cost you economically or relationally?
I'd love your help. This blog is read primarily because people like you share it with friends. Would you share it by pressing one of the share buttons below?
Category: Personal Development | Values