When I was a young lad in my first managerial assignment most of the senior business leaders I was exposed to were World War II veterans. They exhibited a command and control style of leadership.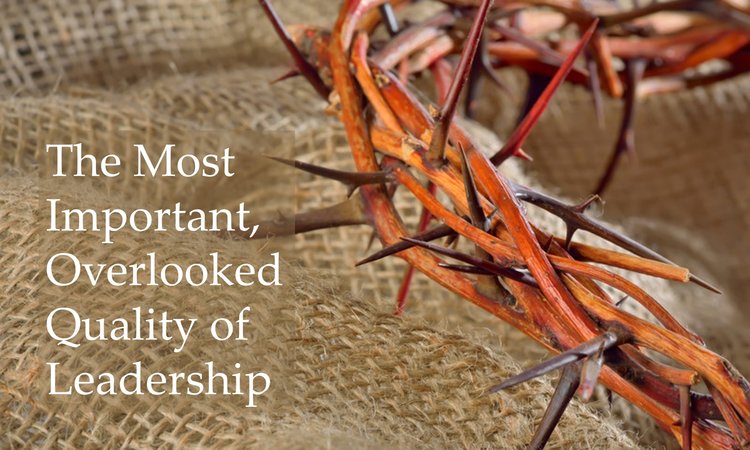 Many of my peers had been officers during the Vietnam war. They were also command and control leaders.
Their careers were advancing so I decided to emulate them and adopt this same strong command and control style of leadership. I expected my "troops" to follow my orders without question.
The driving force of my leadership style was very selfish. I wanted to make myself look good to my bosses regardless of the effect on those who reported to me. I was proud, arrogant, and more than a little cocky about my accomplishments.
When I became a Christian, I started reading the Scripture. I noted a lot of God's Word that seemed to suggest my style of leadership did not comport with God's design.
I noted a recurring theme in the Scripture that I realized was lacking in my own leadership style; humility!
In the world's view, being brash and arrogant was a sign of a strong leader. But in God's view, a strong leader was a humble, selfless leader.
I decided to turn away from the world's view of a strong leader in favor of becoming the kind of humble leader God wanted me to be.
There are many verses in the Bible that speak to being a leader. Here are seven that focus on how we, as leaders, should treat those who God gives us to shepherd:
Be sincerely devoted to those you lead
"Love one another with brotherly affection. Outdo one another in showing honor" (Romans 12:10 ESV).
Regard others as more important than myself
"Do nothing from selfishness or empty conceit, but with humility of mind regard one another as more important than yourselves" (Philippians 2:3 NASB).
Do not take advantage of others, but serve one another in love
"For you were called to freedom, brethren; only do not turn your freedom into an opportunity for the flesh, but through love serve one another" (Galatians 5:13 NASB).
Be self-sacrificing and lead by example
"If I then, the Lord and the Teacher, washed your feet, you also ought to wash one another's feet" (John 13:14 NASB).
Be willing to work with everyone—high or low
"Live in harmony with one another. Do not be proud, but be willing to associate with people of low position. Do not be conceited" (Romans 12:16 NIV).
Do not dominate others, but submit to and serve one another
"Submit to one another out of reverence for Christ" (Ephesians 5:21 NIV).
Be humble and submit to those in authority
"Young men, in the same way be submissive to those who are older. All of you, clothe yourselves with humility toward one another, because, "God opposes the proud but gives grace to the humble" (1 Peter 5:5 NIV).
The command and control style of leadership has become less prevalent as the concept of servant leadership has become more popular. And for that I am glad.
As Christian leaders, we must emulate the Great Shepherd and lead with humility. It may still be the most overlooked quality of a leader but in God's economy, it is the most important!
Join the Conversation
As always, questions and comments are welcome. Are you growing into the kind of leader God intends you to be? If so, what are you doing that is helpful?
I'd love your help. This blog is read primarily because people like you share it with friends. Would you share it by pressing one of the share buttons below?
Category: Personal Development | Leader Qualifications