Can tremendous results stem from small acts of faith? Do the little things we do in faith really make a difference?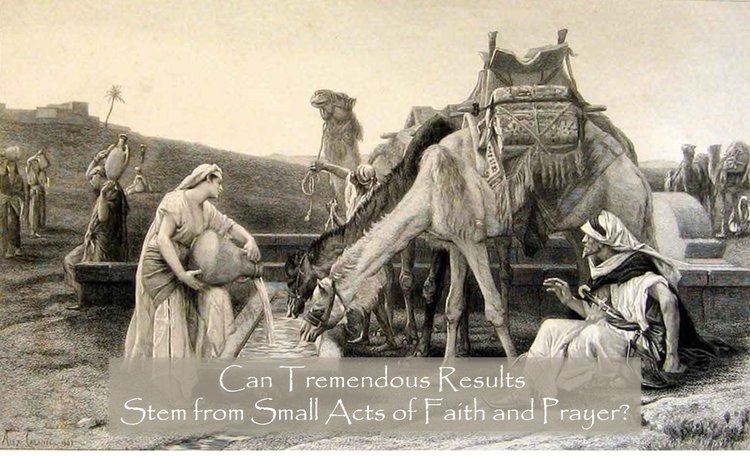 The Bible includes countless examples of men and women who relied on God's promises and stepped out in faith in a big way. But what about those little acts of faith? Can they have big consequences as well?
One of my favorite Bible stories of small acts of faith having enormous consequences is the story of Abraham and his chief servant, Eliezer (Genesis 15:2).
Thanks to Barbara P. for suggesting this month's character for "Leadership Lessons from the Lesser Known!"
The scene opens in Genesis 24. Abraham is 140-years old and has been blessed materially by the Lord. However, his son, Isaac, still does not have a wife to carry on the family name as God had promised (Genesis 15:18-21).
Abraham believed God's promise to make his descendants into a great nation, so he called for Eliezer. He had Eliezer swear an oath by God that he would not take a wife for Isaac from the local Canaanites but from Abraham's extended family.
The trouble is, Abraham's relatives lived 500 miles away, and the journey was treacherous. Abraham promised Eliezer that one of God's angels would accompany him on the trip. So Eliezer packed up ten camels with presents to pay a bride price for Issacs's bride and set off.
In the second scene, Eliezer had made it all the way to where Nahor, Abraham's brother, lived. Eliezer arrived outside the town by the water well in the evening. He prayed that God would grant him success in finding a bride for Isaac. He also asked God for a confirming sign that he had found the right young woman.
Before Eliezer had even finished praying, Rebekah, granddaughter of Nahor, arrived at the well. Her actions confirmed the sign Eliezer had asked of the Lord, proving she was the woman the Lord had sent. When he realized his journey was a success, Eliezer bowed down and worshiped the Lord, thanking God for His kindness to his master Abraham.
In the third and final scene, Eliezer met Rebekah's family, recounted how the Lord had protected him on the journey, his meeting with Rebekah, and Abraham's desire for a wife for his son Isaac.
Rebekah's family gave her permission to leave and marry Isaac. Immediately Eliezer bowed down and worshiped God. He gave gifts to Rebekah and her family, and they arranged to leave to return to Abraham's land.
Rebekah married Isaac and bore him children. Abraham's descendants became a great nation just as the Lord had promised, tracing all the way to the birth of Jesus (Matthew 1).
Small acts of faith and prayer had eternal consequences!
It began with Abraham's faith in God's promise. I doubt Eliezer had any sense of the role he played in the unfolding of God's plan.
Believed. Abraham believed God's promise to make him into a mighty nation and acted on that belief. Eliezer demonstrated his faith by loading ten camels with presents, assuming the Lord would bring him success.
Obeyed. Eliezer swore and oath to the Lord and obeyed his master, Abraham in faith.
Prayed. Eliezer prayed for God to give him success in his duties and even prayed for a sign of confirmation to be sure he was speaking to the right woman.
Worshiped. As soon as Eliezer realized God had granted him success and Rebekah was the right woman, he bowed down and worshiped the Lord. When all the arrangements were made, Eliezer bowed down and worshiped God again.
What could we accomplish as leaders in God's kingdom if we believed and held onto God's promises? If we obeyed Him in faith. If we prayed to the Lord for success and direction? And if we worshiped the Lord thanking Him for His grace in our lives?!
Small acts of faith and prayer will have eternal consequences in our lives as well. We may never know what difference a small act of faith and obedience will make this side of heaven. But let us be faithful in the small things so one day we will be rewarded with much!
Join the Conversation
As always, questions and comments are welcome. Have you seen the results of small acts of faith play out in your life or the lives of others?
I'd love your help. This blog is read primarily because people like you share it with friends. Would you share it by pressing one of the share buttons below?
Category: Personal Development | Obedience to God