There is a Chinese proverb that loosely translates, "You must look to where you have been to see where you are going." The proverb is about a man seated in a rowboat who looks where he has been to row the boat to where he wants to go.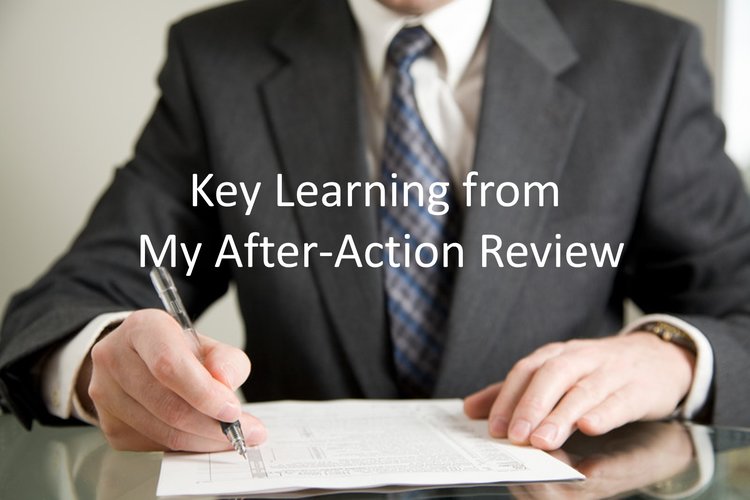 I love this image of looking where you've been as a guide where you are going.
The military calls a review of the past an "After-Action Review" (AAR). The purpose of an AAR is to analyze what happened, why it happened, and how it can be done better.
As the year ends, I began the After-Action Review for my 2016 goals.
Here are my original 6-goals for 2016
Achieve weight goal of 200 lbs. by 6/30/16. OK, so I got close on this one. I finally settled in bouncing between 205 and 208-lbs for the last 6-months. I made it through Halloween's candy fest, Thanksgiving, and Christmas without gaining weight, so that is a major win for me. Considering my exercise routine, I'm surprised more weight hasn't come off, but my clothes all fit better, so I'm happy about that. My diet during the day is very clean and well-balanced. What kills me is the evening primetime "snacking hours."
Take one long and two mini-vacations by 12/31/16. Man, I really missed on this one! My plan was to convince my bride to take a spring and fall vacation, but I'm not as good a salesman as I thought. She and I got away for just one vacation, and that wasn't until fall. I did manage to take time off work when my family came to visit on and off for about three weeks, but my real goal of getting away wasn't met.
Read through the Bible by 12/31/16. This was a no-brainer. I read through the Bible as I edited and expanded my Bible Study notes from last year. I completed the project by May, and my notes ended up at 908 pages. Can you call 908 pages "notes"? If you want to see what 908 pages of Bible study notes looks like visit my other website, http://biblestudydaily.org/ .
Read ten books by 12/31/16. I killed this one! I finished reading 21 books through the course of the year, and I am so glad I did! I am convinced reading helps keep my mind sharp, it helps me be a better writer, and I got a ton of ideas for my blog topics.
Attend 1-Day Business Breakthrough (Schedule TBD). This goal had to be modified. I never did hear about this conference being scheduled, so I opted for two other conferences. They were both outstanding! I attended the Willow Creek Leadership Summit in August, and the Faith@Work Summit in October. I'll attend both of them again if at all possible.
Develop Inspired Leadership Minute Video by 06/30/16. I nailed this one! My plan was to release one 2-3-minute video each week focused on a single Proverb from the Bible and how it relates to us as leaders. I batch produced these 13 at a time and hired an editor to produce the videos for me. They were released weekly during the July – September quarter. I did the same thing in September for the October-December quarter. I believe in the power of video, but I am not convinced I have found the right formula. I will take the first three months of 2017 off to evaluate and possibly develop a new format.
During the year, I made the decision to add one goal to my list:
Create a Genesis – Revelation Chronological Bible Study by 12/31/16. This goal is a multi-part effort. I had to rearrange all 908 pages of my Bible Study notes into chronological order. Each day's reading needed to be posted onto the http://biblestudydaily.org/ website and scheduled for release throughout the year. All the notes were rearranged in chronological order by July and uploaded to the website in December.
The Most Important Key Learning
Part of my frustration from 2015 was I set too many goals that required far too much time. I just couldn't do it all. Plus, I don't like saying "no," and that caused me to say "yes" to a couple of projects that distracted me from my main goals.
Overall, I feel much better about the goals I achieved this year. I didn't say "yes" to any new outside projects. I also had a much shorter list of goals in 2016. These two factors allowed me to be far more focused on the goals I did establish.
The final, and perhaps most important, piece of key learning this year is to understand the "why" of each goal. I answered the question, "Why is this goal important to me?" I found the closer I was connected to the "why" of a particular goal the more passionate I was in seeing it through to completion.
From this admission, you can probably ascertain that I was far less passionate about losing the last few pounds of weight than my other goals. I still want to work on losing more weight next year but it's clear to be successful I will need to be more focused on my "why"!
Join the Conversation
As always, questions and comments are welcome. Do you set annual goals for yourself? If so, how do you think about evaluating your progress?
I'd love your help. This blog is read primarily because people like you share it with friends. Would you share it by pressing one of the share buttons below?
Category: Personal Development | Priorities