Sometimes my life just does not go as I have planned. I can recall at least on a couple of occasions when things went terribly wrong, and I had no idea how to proceed.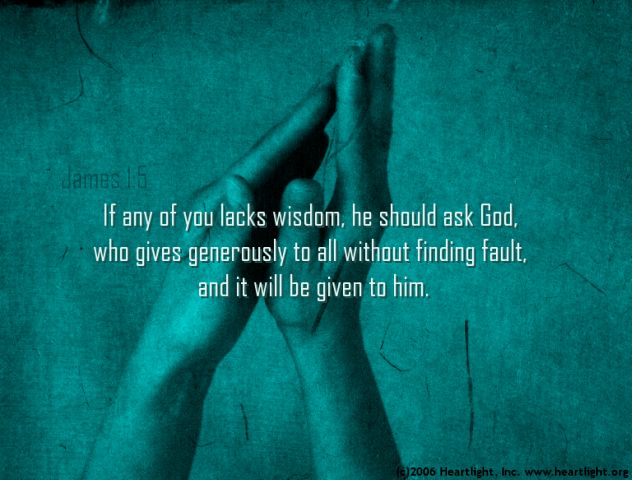 What I've needed at those desperate moments is a truckload of wisdom dumped at my office door. If you've ever felt that way, relax, you're in good company with the rest of us in the human race.
James, the half-brother of Jesus, and the leader of the church in Jerusalem, wrote a letter to the Jewish believers that had been dispersed throughout the Roman empire in which he deals with the subject of trials, and the need for wisdom.
2 Count it all joy, my brothers, when you meet trials of various kinds, 3 for you know that the testing of your faith produces steadfastness. 4 And let steadfastness have its full effect, that you may be perfect and complete, lacking in nothing. 5 If any of you lacks wisdom, let him ask God, who gives generously to all without reproach, and it will be given him. 6 But let him ask in faith, with no doubting, for the one who doubts is like a wave of the sea that is driven and tossed by the wind. (James 1:2-5)
The biggest challenge I face in my business and personal life is I want to take charge and fix things. I have a real tendency to run ahead of God—which as I have learned, is never a good idea. Now when I encounter a trial, I remind myself that I should face the trial with joy knowing that trials are an opportunity to strengthen my faith. Plus, I know that if I go to God and ask for His wisdom in faith I know that He will provide it.
This leads me to my second biggest challenge, and that is waiting and listening to God. It is one thing to ask God for wisdom, it is quite another to wait and listen for an answer! I'm still working on that one!
Application
Trials are a part of our Christian life, they are a test of our faith. We must remain steadfast in our faith as we face these trials. Wisdom from God is what carries us through these trials, and He will supply the wisdom we need if we will but ask.
 1)      Expect trials and be joyful when they come because we
2)      Understand they are an opportunity to strengthen our faith.
3)      Ask God for wisdom in
4)      Faith knowing that He will provide for us.
When you trust God your trials will work for you, not against you. They will strengthen you, and bring you closer to Him. And trust me, the closer you are to God, the wiser you will be!
Join the Conversation
As always questions and comments are welcome! Have there been times in your life when you've found it hard to let go, and let God? What did you learn from the experience?
Category: Personal Development | Dependence on God