What can we learn from a courageous slave girl with a simple message? As I've said before, I love studying lesser known characters in the Bible. Few of them are "lesser known" than the young woman described in 2 Kings 5:2-3: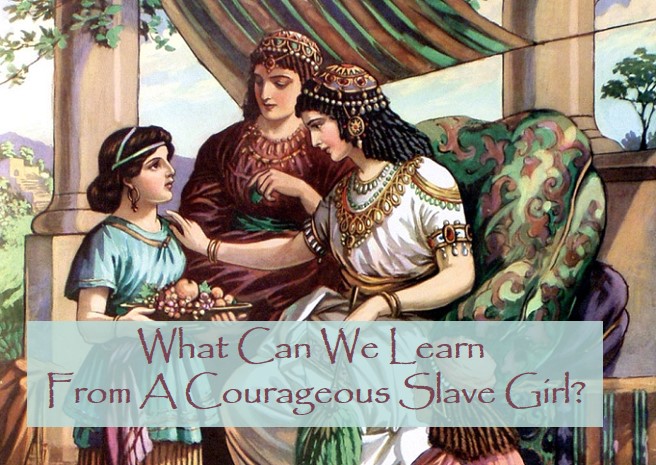 "Aram had gone on raids and brought back from the land of Israel a young girl who served Naaman's wife. She said to her mistress, 'If only my master would go to the prophet who is in Samaria, he would cure him of his skin disease.'"
Her place in history is short and not even marked with her name. We only know that she was a young Jewish girl taken captive in a Syrian army raid. She was forced to be the personal servant of the wife of Naaman, the Syrian army commander.
While Naaman was a highly-regarded military commander, he suffered from leprosy. Leprosy was incurable and made Naaman a societal outcast.
This young Jewish girl, serving as a slave to her mistress, boldly suggested that Naaman could be cured of his leprosy if only he would go and visit God's prophet (Elisha), who lived in Samaria.
4 Lessons from a Courageous Slave Girl
Despite her brief appearance in the pages of scripture, we can take four important lessons from this unnamed slave girl.
She accepted her situation without bitterness or rancor. We see no indication that being torn away from her family and forced to serve her captors made her bitter. In fact, this situation describes someone with a remarkably positive attitude.
She retained her faith in God. She does not curse God for placing her in this situation. Rather, her actions demonstrate a strong faith in God's power and grace.
She acted on her faith. When the opportunity to act on her faith arose she took it. Her faith did not remain hidden in a closet but was shared with her captors as she witnessed to them.
She wished her master would experience God's healing grace. You can sense caring, perhaps even love, in her plea for her master to be healed of his suffering.
2 Important Conclusions
This unnamed young girl didn't have much of an opportunity to serve the Lord, but when her opportunity arose, she laid ahold of it and acted. Without her courage, Naaman would have remained a leper the rest of his life.
How often do we allow an opportunity to serve the Lord slip away because we are afraid or we think the task is too small?
Along with courage, I see a young woman who was gracious. Despite her trials, she reflected God's love to her captors. She did not stop serving God, nor did she become bitter because of her circumstances.
How often do we look away from someone who is struggling because we think they deserve it? How often do we refuse to share God's love and mercy because someone disagrees with us?
Hurting people surround us in the workplace. As Christian leaders, we have the opportunity, no, the responsibility, to be courageous and gracious as we share God's love and compassion with those who need it most.
If not us, who will shine God's light on a darkened world?
Join the Conversation
As always, questions and comments are welcome. Have you been placed in difficult situations in which you were able to shine the light of God's love and grace to an unbeliever? What happened?
I'd love your help. This blog is read primarily because people like you share it with friends. Would you share it by pressing one of the share buttons below?
Category: Personal Development | Dependence on God