Have you ever been lost? You know where you want to end up, but you don't know where you are, and you're not sure how to get where you want to go?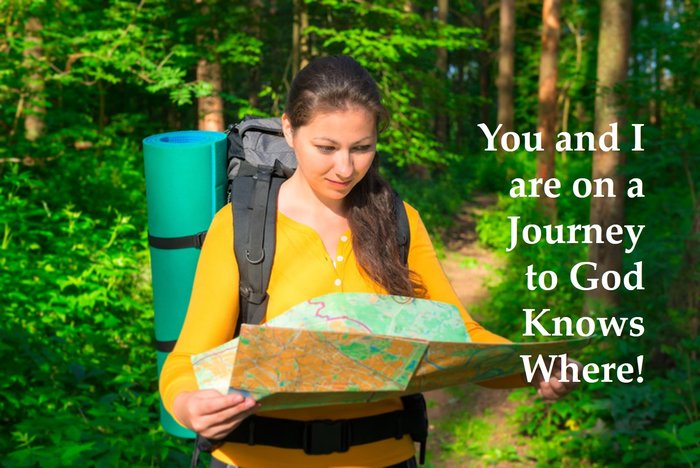 I've been that lost. Just a few years ago, before cars with GPS, I was driving to meet a co-worker early in the morning. The sun was up, but the fog was so thick it was nearly dark. I lost my sense of direction and got completely turned around. Instead of driving north to the meeting place, I had turned south. I didn't realize my error until I saw the Pacific Ocean in front of me!
When I was a young lad in Boy Scouts, I learned to hike a specific route through the woods out and back using a compass. I plotted a course out to the destination and followed the compass. After arriving at my destination, I plotted a course using the compass back to camp. With my compass, I never got lost. Without it, I would probably still be wandering around in the Idaho woods.
Life is like that. We make our plans. But then, like when I was lost in the fog, we get turned around and head off in the wrong direction. We plot our course. But without a compass (or a GPS) we get lost and wander about never reaching our destination.
There is good news. As pastor Kurt Johnston said in a sermon recently, "When you don't know where you're headed, God knows where He is taking you." We do not have to get lost on our journey through life. God has given us the ultimate compass; the Holy Spirit to guide our lives and His Word to direct our path.
Many thanks to Pastor Kurt Johnston of
Saddleback Church
for giving me permission to adapt his sermon to this blog article!
We Don't Know Where God is Taking Us
The challenge for us is we often don't know where God is taking us. That makes us nervous and sometimes scared to death. Humanity has always been like that.
Remember the story of Esther? God placed her in a position to become queen and save the people of Israel from extermination. She had no idea where her life was headed, or where she would end up, but God knew exactly where He was taking her.
Gideon was the least of his tribe, and his tribe was the smallest of all the Israelite tribes. Yet God called Gideon to lead their army to victory over their enemies (Judges 6-8). Gideon was so skeptical God was calling him, he asked God for proof—twice!
David was the youngest of his family when God called him to be king. Do you think David had any idea what lay ahead in his life? Fighting Goliath. Being befriended by King Saul then hunted by him? Traitors and insurrection arose from within his own family. Yet David was the king who united the tribes of Israel. David, the young shepherd boy, had no idea where the Lord was taking him.
We see this and similar scenarios repeated throughout the pages of scripture. Sometimes people question where they are going. Sometimes they head off in the wrong direction (Jonah). Sometimes they doubt God is calling them.
Through it all, God knows exactly where He is taking us.
How to Get to Where God Wants Us to Go
Pastor Kurt offered three tips for getting to where God wants us to go.
1) Embrace the ambiguity of life. We want to have all the answers. We crave the certainty of knowing what comes next. But God is perfectly comfortable leading us one step at a time because He knows that's all we can handle.
Jesus told the disciples not to worry but to seek God, saying "…do not worry, saying, 'What shall we eat?' or 'What shall we drink?' or 'What shall we wear?' For the pagans run after all these things, and your heavenly Father knows that you need them. But seek first his kingdom and his righteousness, and all these things will be given to you as well. Therefore, do not worry about tomorrow, for tomorrow will worry about itself. Each day has enough trouble of its own" (Matthew 6:31-34).
2) Persevere through adversity. Everyone faces adversity in their lives. Successful people persevere through adversity to achieve God's best.
Paul exhorted the Corinthians to persevere saying, "We are hard pressed on every side, but not crushed; perplexed, but not in despair; persecuted, but not abandoned; struck down, but not destroyed" (2 Corinthians 4:8-9).
3) Rest in His authority. There is no circumstance in this life that can derail God's plan.
When he finally recognized God's sovereignty "…Job replied to the LORD: I know that you can do all things; no plan of yours can be thwarted" (Job 42:1-2).
Our Journey as Leaders
Make no mistake. God has a plan for every one of us. We may not know where God is taking us, but He does.
As leaders, we must set an example for those who follow. We must embrace life's uncertainties knowing that God cares for us. We must persevere through any and all adversity knowing that God will never abandon us. And we must accept and rest in God's sovereign authority.
Remember, you and I are on a journey to God knows where! Even when we don't know where we're headed, God knows where He is taking us.
Join the Conversation
As always, questions and comments are welcome. Have you ever questioned where God was leading you? How did you feel at the time? Did you face adversity? Did you rest in the assurance of God's plan?
I'd love your help. This blog is read primarily because people like you share it with friends. Would you share it by pressing one of the share buttons below?
Category: Personal Development | Purpose/Passion