Is it true that ordinary people are made extraordinary by following God's purpose? The Bible is full of examples of God calling ordinary people who accomplished great things for the Kingdom.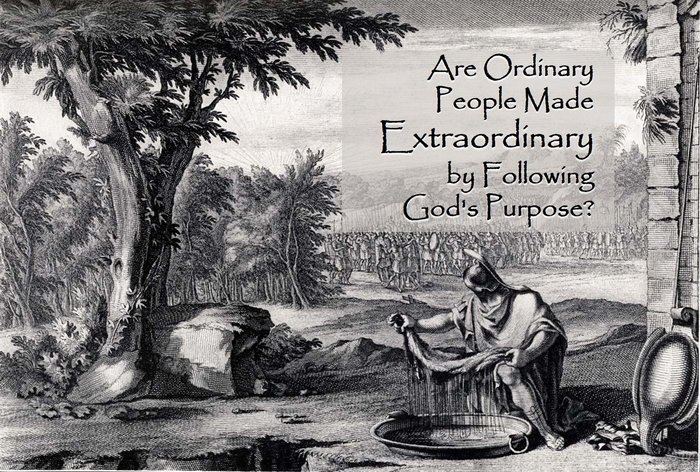 Take Gideon for example.
Gideon, the Poor Farmer
When God called Gideon, he was threshing wheat for his father. The Lord told Gideon to conquer the Midianites, but Gideon protested saying his family was the weakest in the entire land of Manasseh and he was the youngest in his family.
In faith, Gideon sent messengers throughout the land calling all the Israelites to battle, and 32,000 men showed up to fight. God reduced the size of Gideon's army to only 300 men. Those 300 men plus God defeated the Midianite army of 135,000 soldiers.
The Israelites enjoyed 40 years of peace during the lifetime of Gideon.
Gideon was an ordinary young man, the son of an ordinary man, with an ordinary family.
Ordinary Family
Gideon described his family as the weakest in the tribe of Manasseh. His parents had turned away from God and worshipped the idols Baal and Asherah. There were no nobles or powerful leaders in his family to show him the way.
Ordinary Trials
The first action the Lord demanded of Gideon was to tear down his parent's altar to Baal and their Asherah pole. He was to replace them with an altar to the Lord. Gideon did exactly as the Lord commanded.
Ordinary Fears
Gideon was so afraid of what his father and the men of the city would do when they found the altar to Baal destroyed, and the Asherah pole cut down; he did it at night. Gideon was afraid to attack the Midianite army, so God arranged for Gideon to overhear a Midianite's dream of being conquered.
Ordinary Difficulties
The Israelites had no army to wage war. Gideon sent messengers throughout the land calling Israelites from the tribes of Manasseh, Asher, Naphtali, and Zebulun, to join him in the battle.
Ordinary Doubts
To say Gideon had doubts about God's call on his life is putting it mildly. He asked God to confirm His call to attack the Midianites not once, but twice.
Ordinary People are made Extraordinary
There is a little bit of Gideon in all of us isn't there?
We view ourselves as ordinary. We come from quite ordinary families and are leading quite ordinary lives. Perhaps even the weakest, least qualified person we know to be called by God.
Yet God calls us to serve the Kingdom.
Perhaps the initial call on our life is a small step, like Gideon removing the altar of Baal and the Asherah pole.
Even so, we experience fear. What might happen if I step out in faith? Will I fail? Will I look foolish? What will others think of me?
Then we imagine the difficulties that may lie ahead if we follow God's call. The task seems insurmountable to us. We cannot possibly do what God is asking us to do. We forget that one plus God is always a majority.
Even with God's assurances, we doubt we can do what God has called us to do.
This is Why God Calls the Ordinary
It is because we are ordinary that God calls us to do the extraordinary. It is when we act in faith despite our insecurities, our fears, and our doubts that we demonstrate God's strength and His glory.
So, the next time you feel God's call on your life consider young Gideon, the youngest and weakest of his tribe. Who, despite his insecurities, fear, and doubts followed God's call on his life and became an extraordinary man of God.
Our world needs ordinary men and women to say "yes" to God and become extraordinary in the process!
Join the Conversation
As always, questions and comments are welcome. Are you ready to move from ordinary to extraordinary as you heed God's call on your life? If not, what is holding you back?
I'd love your help. This blog is read primarily because people like you share it with friends. Would you share it by pressing one of the share buttons below?
Category: Personal Development | Obedience to God