Thank goodness for bad bosses! I know that seems like an odd thing to proclaim, but it's true. I am thankful for bad bosses.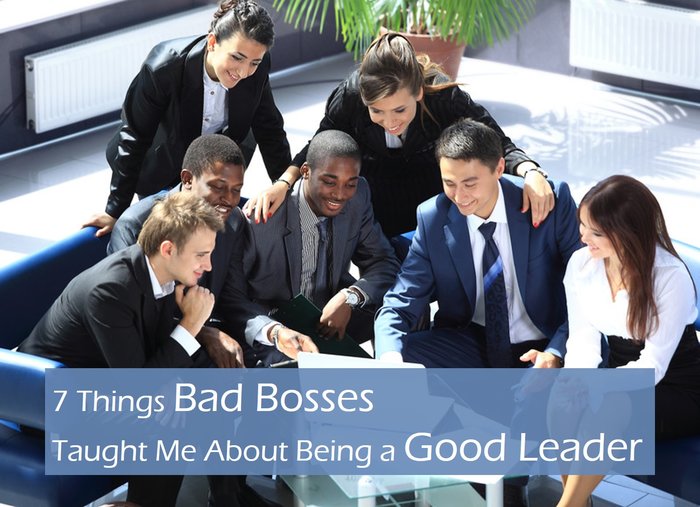 Why?
Because bad bosses can teach us a lot about being a good leader. If we learn something from the example of a bad boss then they are a fulfillment of Paul's proclamation in Romans 8:28, "…we know that for those who love God all things work together for good, for those who are called according to his purpose."
A bad boss may be miserable to work for today, but if you learn something from them that makes you a good leader, then it makes enduring them worthwhile.
Last week I wrote about two bad bosses in my life (you can read about them here). This week let's dig in and look at a few of the things I learned about being a good leader from these two bad bosses.
1. Lead by Example
All leaders lead by example. The issue is, are you setting a good example or a bad one? Peter, writing to the elders (1 Peter 5:1-4), admonished them to be willing, servant leaders not taking advantage of those they lead.
Paul writing to his young protégé, Timothy, said: "set the believers an example in speech, in conduct, in love, in faith, in purity" (Timothy 4:12). That's the kind of example good leaders set.
2. Trust Those You Lead
David wrote that it is better to trust in the Lord rather than in men (Psalm 118:8-9).
Yes, our ultimate trust must be in the Lord, but I have found that if people see that you trust them, they will return your trust. On the other hand, if people feel that you don't trust them they will become untrustworthy themselves.
3. Get Out of Their Way
One sign that you trust your people is that when you give them an assignment, you get out of their way and let them work. Being a micro-manager who hovers over your people makes you a poor supervisor, certainly not a leader.
General George Patton said, "Never tell people how to do things. Tell them what to do, and they will surprise you with their ingenuity."
It's been my experience the more you tell people what to do the more you restrict their creativity. The more you restrict someone's creativity, the less they have invested in your success.
4. Take Responsibility
Leaders take responsibility when things don't go according to plan. Solomon wrote, "Whoever conceals his transgressions will not prosper, but he who confesses and forsakes them will obtain mercy" (Proverbs 28:13).
If you are a good leader, you don't throw your people under the bus when results don't come in as expected. It was your job to lead. It was your job to anticipate and deal with problems. So, if things go haywire, it was your fault. Take responsibility.
5. Give Credit
When things go well good leaders know the results accrue to the hard work of the team and they give the team credit.
I learned early in my management career the quickest way to build morale in the organization is to build up the people who did great work. Shout their achievements from the rooftops. Let everyone know how great your team is.
Andrew Carnegie said, "No man will make a great leader who wants to do it all himself or get all the credit for doing it."
6. Don't Play Favorites
Good leaders do not play favorites. I know it's hard not to have favorites sometimes. There are some people you like more than others. Some are kindred spirits that you click with the minute you meet. Others make you tense up the minute they come into the room.
But good leaders avoid the temptation to play favorites. Solomon warned against playing favorites when he said, "To show partiality is not good" (Proverbs 28:21a).
James also warned against playing favorites when he said, "But if you show favoritism, you sin and are convicted by the law as lawbreakers" (James 2:9).
7. Listen for Understanding
One of the most valuable skills any leader can have is the ability to listen. Learn to listen, not just to hear, but to understand. Often understanding comes from comprehending that which is beyond what is said.
James exhorted fellow believers saying they "should be quick to listen, slow to speak and slow to become angry" (James 1:19). You cannot listen for understanding if you are readying your response while the other person is still talking.
These are just seven of the leadership traits of good bosses I learned from my bad bosses. If you are already a leader, make sure you exhibit each of these traits. If you are on the road to leadership, make sure you make each of these traits is part of your leadership character.
Join the Conversation
As always, questions and comments are welcome. If you've worked for a bad boss what did you learn from them about being a good leader? Are there any of these leadership traits you need to work on?
I'd love your help. This blog is read primarily because people like you share it with friends. Would you share it by pressing one of the share buttons below?
Category: Skills | Leadership Development