Have you ever been so discouraged you felt like giving up? You saw the light at the end of the tunnel and realized it was just another train about to mow you down.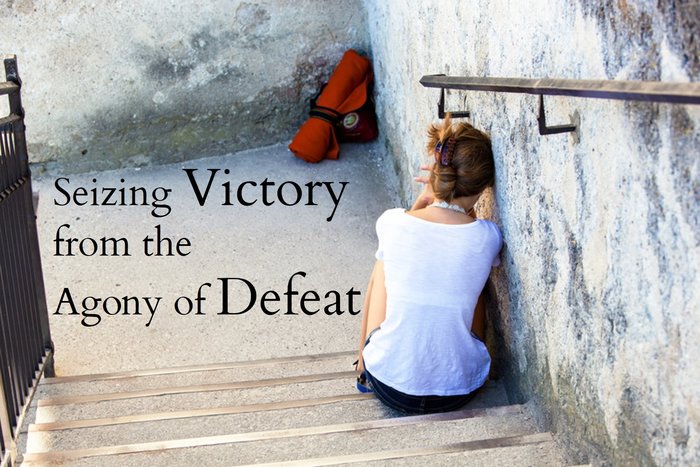 It seems there is an epidemic of discouragement and uncertainty in our world today. We live in most uncertain times. Economies around the world are experiencing turmoil. More people live in poverty than ever before. Millions and millions of people have become refugees fleeing their ancestral homes to avoid war.
On a more individual level, a decline in spiritual maturity has been met with moral decay. Marriages are failing at record rates. More children are being born into single-parent homes than ever before. Crime in our inner cities is out of control.
How are we to make sense of it all? How can we avoid the spirit of discouragement or defeat that has surrounded so many?
The answer lies in our faith. Let's look at a few Bible characters whose faith allowed them to seize victory from the agony of defeat, who were down but not defeated.
Joseph Endured Difficulties
Joseph was his father's favorite. He had a bright future, but his jealous brothers pretended he was dead and sold him into slavery. Things were looking up a little when he became the house manager for a powerful man but then he was falsely accused of rape and thrown into prison.
Job Experienced Adversity
Job was successful and wealthy with a large family. In a period of days his flocks, his herds, and even his family were all taken from him. In the midst of his despair, he was struck with painful boils all over his body.
Naaman was Ostracized
Naaman was a revered military commander. At some point in his life, he contracted leprosy and became a complete outcast from society and even his own family.
Daniel Faced Governmental Oppression
As a teenager, Daniel was taken prisoner by a conquering army. He was ripped away from his family and taken to a foreign land. He was ordered to worship the king, but Daniel refused, vowing to worship only the Lord God, even if it meant death.
Esther Faced Racism
Esther was a Jewish virgin who was taken to be part of the harem of the king of Persia. She found favor with the king who made her his queen. But Haman, a high-ranking official in the Persian government, hated Jews and hatched a plan to annihilate the entire Jewish population throughout the Persian empire.
Ruth was a Refugee
Ruth was a Moabite widow who left her homeland with Naomi, her mother-in-law to travel back to Naomi's homeland. She had no possessions and no money. She was forced to pick grain at the edge of the fields to survive.
Great Faith was Rewarded with Victory
Joseph, Job, Naaman, Daniel, Esther, and Ruth were all down but never defeated. Because of their great faith, they all rose above their persecution.
Joseph got out of prison and rose to second in command of the Egyptian empire. This put him in a position to save his father and brothers from starvation during a seven-year famine.
Job maintained his faith in God throughout all his trials. Because of his faith, God restored Job's wealth and granted him more children. He lived 140 more years and saw four more generations born to his children.
Naaman believed his Jewish servant girl who told him if he had faith the prophet of God could cure his leprosy. Naaman had faith, sought out Elisha the prophet, and was cured of his leprosy.
Daniel survived certain death in the lion's den because God protected him. The king was so happy that God had protected Daniel from the lions that the king wrote a letter declaring Daniel's God to be the living God who endures forever.
Esther became aware of Haman's plan to kill all the Jews, so she hatched her own plan to trap Haman. Her plan worked. Haman was hung, and the king issued an edict allowing the Jews to take revenge on all those who had threatened them.
Ruth followed the advice of Naomi her mother-in-law to seek out Boaz, her nearest relative. Boaz redeemed Ruth and became her husband. Their great-great grandchild was David, the king of Israel.
Paul said it well as he wrote to the Philippians when he proclaimed, "I can do all things through him who strengthens me" (Philippians 4:13).
We can do all things through Christ who strengthens us. We can experience victory. But we must have faith, and we must trust God when He says that He will work all things together for good for those who love Him and are called according to His purpose (Romans 8:28).
Join the Conversation
As always, questions and comments are welcome. Have you ever experienced difficulties persecution like Joseph, Job, Naaman, Daniel, Esther or Ruth? Has there ever been a time when God enabled you to seize victory from the jaws of defeat?  What happened?
I'd love your help. This blog is read primarily because people like you share it with friends. Would you share it by pressing one of the share buttons below?
Category: Personal Development | Dependence on God