Shakespeare was right. What a tangled web we weave when first we practice to deceive. Not only do we get caught up in the web of deceit but so do innocent bystanders.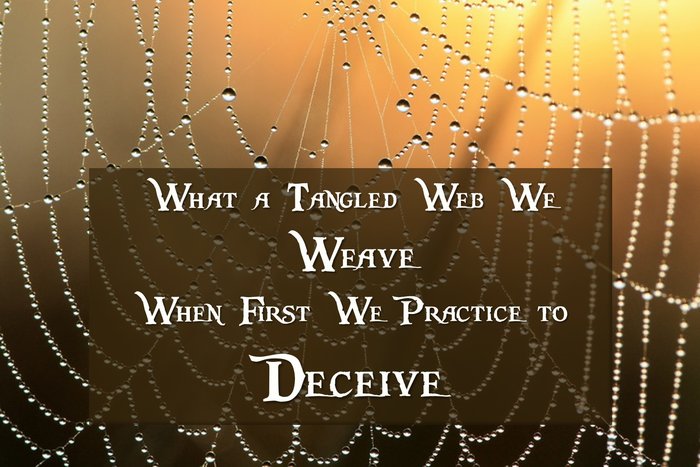 In this month's, Leadership Lessons from the Lesser Known we'll examine the story of a man named Achan (Joshua7).
The Backstory
Moses had just transferred responsibility for leading the people of Israel over to Joshua. The Lord commanded Joshua to circumcise all the people, renewing His covenant to take them into the Promised Land if they would only obey Him.
The first city in the Promised Land they were to conquer was the city of Jericho. The Lord commanded the people of Israel saying all the silver, gold, articles of bronze and iron were to be brought to the Lord's treasury, and everything else in the entire city itself was devoted to destruction.
The Deception
When the Israelites advanced on Jericho, Achan helped himself to a cloak, 200 shekels of silver, and a gold bar weighing 50 shekels and hid them in his tent.
Achan thought he got away with stealing the things that were to be given to the Lord's treasury, but God knew what Achan had done. He may have deceived everyone else, but he hadn't deceived God.
The Repercussions
Achan's stupid mistake had repercussions far beyond his own decision to steal from God.
The very next battle Joshua sent the Israelites into they were driven back and 36 men died because God was not with them.
When Joshua cried out to God, he learned that someone had violated the covenant to obey God already by stealing things devoted to the Lord's treasury. The people were brought before the Lord to be judged, and the judgment fell against Achan.
Achan finally admitted his deception saying he did it because the cloak was beautiful and he coveted the silver and gold.
Achan, his family, and all his animals were stoned to death as punishment, and they were all burned along with everything else he owned.
The Lessons
There are four important leadership lessons we learn from Achan's story of disobedience and deceit.
1) Temptation to Sin. Even in the midst of victory, we can be tempted to sin. In Achan's case, he valued the treasures of man more than he valued obedience to God.
2) Sin Impacts Others. We think our decisions have no consequences or perhaps only affect us but most often others are also affected. Achan's sin cost the lives of fellow Israelites in battle and the lives of his family.
3) Sin Brings Defeat. Achan knew what was right, but he deliberately disobeyed. His disobedience cause the army to be defeated, it brought disgrace to God, and Joshua, their commander, was disheartened.
4) Sin Cannot Be Hidden. Regardless of how well we might hide our sin from man, nothing is hidden from God. He knows our every sin. Achan managed to steal the cloak, the silver, and the gold and get it all the way back to his tent. Then he hid it in his tent thinking he had gotten away with his theft. But nothing is hidden from God.
As leaders, we are susceptible to the very same kind of temptations as Achan. We are tempted to sin; valuing man's treasure over God even when we are winning. We deceive ourselves thinking our actions affect no one else. Ultimately, our sin against God brings judgment because no sin against God remains hidden.
Join the Conversation
As always, questions and comments are welcome. Which of the four leadership lessons from Achan's story resonates most with you? Which do you think is most common in the business world today?
I'd love your help. This blog is read primarily because people like you share it with friends. Would you share it by pressing one of the share buttons below?
Category: Personal Development | Obedience to God