A recent survey of professing Christians found that 83% were either very careful about how they integrated their faith in the workplace, or rarely if ever, let anyone in the workplace know about their faith.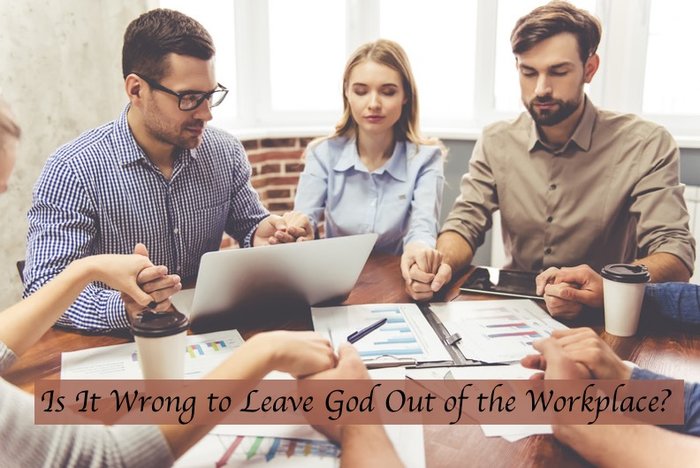 Respondents gave a number of reasons for their reluctance to let others know about their faith, but the root reason was fear. They were afraid of being judged, of being oppressed or persecuted, or of not being able to defend their faith.
If our work is to be in harmony with God's will then we cannot leave God out of the workplace!
I believe there are three reasons why we should not leave God out of the workplace: 1) work is Godly, and 2) work is our service to Jesus, and 3) work is our evangelism.
Work is Godly
Beginning with the creation account in Genesis, we see God is a worker. At each stage of creation, God paused to review His work and proclaimed that it was good.
In Genesis 2:15 God placed Adam in the garden of Eden to "work" it. Work was commanded by God, before the fall of man, and it was good. In fact, the word translated "work" in Hebrew is abad. The same word is translated elsewhere as "worship."
Work is Godly. It was ordained by God. Work is a form of worship to God!
Work is our Service
Numerous passages in the New Testament speak of the grandeur and unity of God's creation.
Paul, writing to his young protégé Timothy, said, "For everything God created is good, and nothing is to be rejected if it is received with thanksgiving, because it is consecrated by the word of God and prayer" (1 Timothy 4:4-5).
God created the concept of work, and here Paul says everything God created is good. Everything here includes work!
Paul, this time writing to the Colossians, says, "Whatever you do, work at it with all your heart, as working for the Lord, not for men…it is the Lord Christ you are serving" (Colossians 3:23-24).
Paul makes it very clear that work is one way we serve the Lord. Paul makes no distinction about the type of work that serves the Lord. There is no higher and lower plane. The person in the pulpit serves the Lord in his work just as much as the field worker, the fast food worker, the housekeeper, the office maintenance man, and everyone else does in his/her work.
The relevant question is, "Is this work in harmony with God's will? Is it of service to Christ?"
Work is our Evangelism
A lot of Christians I know don't think of themselves as evangelists. But trust me we all are! Whether we like it or not we are in the world, and the world sees Jesus through what they see in us.
Some folks abdicate their responsibility by saying evangelism is the role of the professionals; the pastors, and missionaries.
But that limits our ability to reach the world and does not align with Scripture.
First of all, our pastors have an hour or maybe a bit longer (depending on your denomination) to preach to people, who, for the most part, are already in the boat.
You and I, on the other hand, have 40, 50, or even more hours in the workplace where we have the opportunity to demonstrate the love of Christ to people who, for the most part, are not in the boat.
Secondly, all Christians have been given gifts for the express purpose of ministering to the body. Writing to the Ephesians Paul said the gifts were, "to equip the saints for the work of ministry, for building up the body of Christ" (Ephesians 4:12).
Third, Jesus commanded us to be salt and light to the world.
"You are the salt of the earth, but if salt has lost its taste, how shall its saltiness be restored? It is no longer good for anything except to be thrown out and trampled under people's feet. You are the light of the world. A city set on a hill cannot be hidden. Nor do people light a lamp and put it under a basket, but on a stand, and it gives light to all in the house. In the same way, let your light shine before others, so that they may see your good works and give glory to your Father who is in heaven" (Matthew 5:13-16).
Salt is a preservative, but if it becomes impure, it loses its ability to preserve. We are to be like pure salt that preserves the Lord's teaching. If we become impure by accepting a secular worldview our teaching is of no value to the Kingdom.
Light provides direction and enables you to walk securely without stumbling. If the light is hidden under a basket, it is of no use. A Christian who hides their faith is of no use in bringing light to others.
Christian leaders, we must be pure salt and a bright light in the workplace. We must use the gifts and opportunities God has given us to build up the Kingdom.
Join the Conversation
As always, questions and comments are welcome. Have you struggled to be pure salt and a bright light in the workplace?
I'd love your help. This blog is read primarily because people like you share it with friends. Would you share it by pressing one of the share buttons below?
Category: Personal Development | Courage/Risk-Taking