"Here's another nice mess you've gotten me into!" is a catch phrase popularized by Laurel and Hardy in nearly 20 of their movies that released in the 1930's and 40's. Laurel was continually getting the hapless pair into some kind of trouble and Hardy's response was always "Here's another nice mess you've gotten me into!"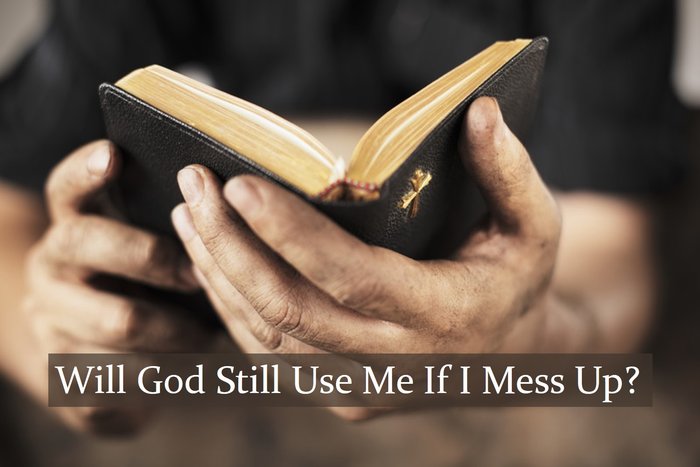 The times may have changed, but it seems we still manage to get ourselves and others into some kind of mess or another on a regular basis.
The question on the mind of many Christians, especially those in leadership positions, is, "Will God still use me even if I mess up?"
The apostle Paul wrestled with this very question. He said, "I do not understand what I do. For what I want to do I do not do, but what I hate I do…For what I do is not the good I want to do; no, the evil I do not want to do–this I keep on doing" (Romans 7:15, 19).
Will God Still Use Me?
Looking at some examples from the Old Testament it's clear that God is a God of second chances, continuing to use those who mess up while following Him.
Adam & Eve. There's that whole eating the apple issue against God's command (Genesis 3). While there were consequences to their actions, God still used them to populate the world.
Jacob. Jacob deceived his father and took advantage of his brother, but God still used him (Genesis 25). God made a covenant with Jacob and Jacob became the father of the twelve tribes of Israel (Genesis 28).
Moses. Moses killed an Egyptian and buried him in the desert (Exodus 2). Then there is the issue of not following God's command regarding speaking, not striking, the rock to get water (Numbers 20). Despite these transgressions, God used Moses to deliver His people out of Egypt to the Promised Land.
There are also several examples of God using people who messed up in the New Testament. Three of the most prominent examples are from Peter, James, and John, Jesus' own disciples.
Peter #1. Peter rashly cut off the ear of Malchus, the servant of the High Priest (John 18). Jesus rebuked Peter telling him to put away his sword and then healed Malchus' ear.
Peter #2. When Jesus warns the disciples they will all fall away from him that night; Peter declares that he will never deny Jesus. Peter goes so far as to say he will die with Jesus (Matthew 26). Then, as predicted, Peter denies Jesus three times before the next morning.
Peter #3, James & John. Jesus took Peter, James, and John with him into the Garden of Gethsemane and asked them to stay awake and keep watch while he prayed (Matthew 26). Three times Jesus checked on them, and three times they had failed to stay awake and keep watch.
These men were Jesus' disciples. They had been with him for the three years of his earthly ministry. They had been personally discipled by Jesus. They had witnessed His miracles. They had performed miracles themselves in the power of His name.
Despite sitting at the feet of the Lord, they messed up. They made mistakes. Yet, the Lord continued to use them.
An Ongoing Struggle
We can sense Paul's angst in the Romans 7 passage. He wants to do so much better, to be better as a follower of Christ. Yet, he struggled to do the good he knows he should do.
This same theme emerges again in Paul's letter to the Corinthians:
For I am the least of the apostles, unworthy to be called an apostle, because I persecuted the church of God. But by the grace of God I am what I am, and his grace toward me was not in vain. On the contrary, I worked harder than any of them, though it was not I, but the grace of God that is with me (1 Corinthians 15:9-10).
Despite all he has accomplished in the furtherance of the Kingdom, Paul says he is unworthy because of his past actions.
Yet, and this is most important, Paul realizes what has been done was done by God's grace and the Holy Spirit working through him.
Leaders, we will mess up. We will never be the powerful, inspired leaders God intends us to be until we come to grips with our weaknesses and failures. We must, as Paul says in 2 Corinthians 12:10, submit our weaknesses to God, then we are strong.
It is God's will that we are made holy, conformed to His image (2 Corinthians 3:18b).
God does not condone our failures; He redeems them when we submit to Him. Because, as Paul said, God began a good work in us, and He will continue this work in us until we are united with Christ once again (Philippians 1:6).
So, no matter what mess you've gotten yourself into, submit your messiness to the Lord, and humbly ask Him to continue the process of making you into His glorious image.
There is much work left to be done, and you and I have a part to play in the Kingdom.
Many thanks to Pastor Doug Fields who gave me permission to adapt his wonderful sermon into this blog post. If you liked the post it's because of him. If you didn't like it, it's all on me!
Join the Conversation
As always, questions and comments are welcome. Have you ever questioned how God could use you after you made a mess of things? Do you see how God can continue to use you when you submit to Him?
I'd love your help. This blog is read primarily because people like you share it with friends. Would you share it by pressing one of the share buttons below?
Category: Personal Development | Character