In the Back to the Future trilogy, Marty McFly travels back in time and then into the future using a time-traveling DeLorean. I loved that DeLorean. It was a great looking car, but more importantly, it enabled Marty to go back in time. Marty could see where his younger self went wrong and helped him straighten out his life.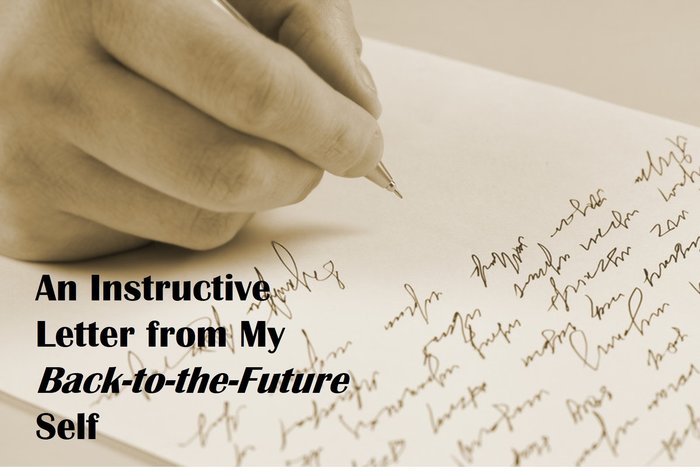 I don't have a DeLorean, much less the specially equipped version that enables time travel. But that doesn't mean I can't get advice from my older self.
And you can as well—that is, get advice from your older self.
I just finished reading David Green's (Hobby Lobby founder & CEO) book, Giving It All Away…And Getting It All Back Again. At the end of his book, Green suggests having your 80-year-old self, write your younger self an instructive, yet loving, letter explaining what it means to live a meaningful life.
What a great idea!
My Back to the Future Letter
It's a bit like traveling back in time to advise your younger self. My 80-year-old self wrote an instructive letter to my 40-year old self. This letter included five key points that frame what I consider important elements of living a meaningful life:
1) To have a great marriage that honors God. Barb and I stood before God in 1980 and made a promise to each other. The older I get, the more precious she is to me, and the more important that promise has become.
2) To raise my daughter to use her gifts and talents to serve God. I can't think of anything more important than raising a child who loves Christ and dedicates her life to serving Him.
3) To raise my special needs son in a way that helps him be all he can be. God entrusted this special boy's care to me. It is incumbent on me to reflect Gods love to him and help him grow into a loving and considerate young man.
4) To use my gifts and talents to serve God wherever He places me. Who knows where God will lead me over the span of years He has allotted to me? Wherever God leads, I will use the gifts and talents He has given me to serve Him.
5) To be a faithful steward of the resources the Lord provides. The resources the Lord has placed at my disposal need to be invested carefully and faithfully to advance the Great Commission.
My younger self's view of a meaningful life included different things like "be successful in business" and "save a lot of money to enjoy a comfortable retirement."
Mind you; there is nothing wrong with being successful in business or saving money for retirement. The Bible supports both (Proverbs 12:11, Proverbs 6:6-8).
But my 80-year-old self realizes there are fewer years ahead of him than behind him. From this perspective, being successful in business and saving money for retirement is just not as important.
It is far more important to raise children who live lives that honor God and for my own life to be a Godly example to them.
My life journey has been a long way from perfect. Looking back on my 66 years, I realize I've made a lot of mistakes along the way. I wish my 40-year old self had gotten this letter sooner. But if I take the advice of my 80-year old self now and focus on these five things I will one day stand before the Lord having lived a meaningful life.
Join the Conversation
As always, questions and comments are welcome. What advice would your older self give you? How would that advice change how you live your life today?
I'd love your help. This blog is read primarily because people like you share it with friends. Would you share it by pressing one of the share buttons below?
Category: Personal Development | Values