OK, I admit, maybe not everyone is talking about the Five Solas. But the Solas are pretty popular among nerdy theologians, seminary professors, and more than a few pastors.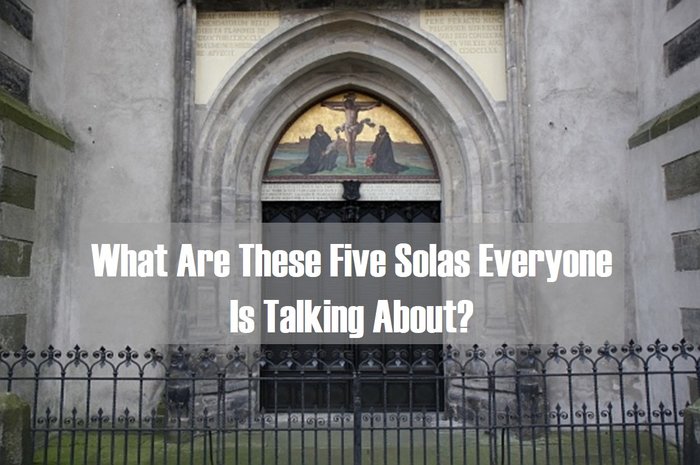 You see, 500 years ago, on October 31, 1517, Martin Luther hammered his 95 theses onto the door of a Wittenberg church. His disputations, as they are sometimes referred to, started the Reformation which led to the emergence of the Protestant denominations that exist today.
The Solas are doctrinal statements that evolved during the early days of the Reformation and on into the 20th century. The Reformers articulated Sola Fide (faith alone) and Sola Gratia (grace alone). In 1916, Sola Scriptura (scripture alone) was added. Then in 1934, Soli Deo Gloria (to the glory of God alone) was added. Rounding out the five Solas, Solo Christo (Christ alone) was added in 1965.
Sadly, many Christians have never heard of the Five Solas. They rarely get a mention in most pulpits on Sunday morning. It's a shame really because our salvation and the power of what we believe as Christians are contained in these five simple Latin phrases.
Here's a look at each of the Solas.
Sola Fide ("Faith Alone"). Salvation is a free gift available to all who accept it by faith. Faith in Christ's finished work on the cross is the only means by which we can stand justified before God.
"For God so loved the world, that He gave His only begotten Son, that whoever believes in Him shall not perish, but have eternal life" (John 3:16).
"Now that no one is justified by the Law before God is evident; for, 'THE RIGHTEOUS MAN SHALL LIVE BY FAITH'" (Galatians 3:11).
Sola Gratia ("Grace Alone"). We are all sinners and can do nothing to earn our salvation. No amount of good living cancels out the sin in our lives. Our salvation is a result of what God has done through His grace.
"For by grace you have been saved through faith; and that not of yourselves, it is the gift of God; not as a result of works, so that no one may boast" (Ephesians 2:8-9).
Sola Scriptura ("Scripture Alone"). The Scriptures are the sole source of divine authority. Man's religion is not. Man's traditions are not. The Scriptures are clear and contain all necessary teaching for faith and salvation.
"All Scripture is inspired by God and profitable for teaching, for reproof, for correction, for training in righteousness; so that the man of God may be adequate, equipped for every good work" (2 Timothy 3:15-17).
Solo Christo ("Christ Alone"). As our mediator and high priest, Christ alone intercedes on our behalf before the Father. His finished work on the cross assures our salvation through faith in Him.
"Jesus said to him, "I am the way, and the truth, and the life; no one comes to the Father but through Me" (John 14:6).
Soli Deo Gloria ("To the Glory of God Alone"). God alone is due the glory for our salvation, and the goal of our lives is to glorify God in all we do.
"Whether, then, you eat or drink or whatever you do, do all to the glory of God" (1 Corinthians 10:31).
"Whoever speaks, is to do so as one who is speaking the utterances of God; whoever serves is to do so as one who is serving by the strength which God supplies; so that in all things God may be glorified through Jesus Christ, to whom belongs the glory and dominion forever and ever. Amen" (1 Peter 4:11).
Summarizing the Five Solas, our salvation is according to Scripture alone, in Christ Jesus alone, by God's grace alone, through faith alone, for the glory of God alone.
Paul said, speaking of the Bereans, "…they received the word with great eagerness, examining the Scriptures daily to see whether these things were so" (Acts 17:11).
Let us all be like the Bereans, examining the Scriptures daily. This is how we will come to know the Father and how we will become more like Christ.
Thanks for bearing with me as we took a little bit of a departure from our usual focus on leadership this week to dive into some church history. I think it's important, especially for us as leaders, to have an appreciation for and understanding of that which we believe.
Join the Conversation
As always, questions and comments are welcome. What do the Five Solas mean to you?
I'd love your help. This blog is read primarily because people like you share it with friends. Would you share it by pressing one of the share buttons below?
Category: Personal Development | Dependence on God