Your business is crashing. Competitors have stolen your best customers. Your last product launch didn't deliver. Employees are stealing from you. Creditors are starting to call demanding payments you can't make.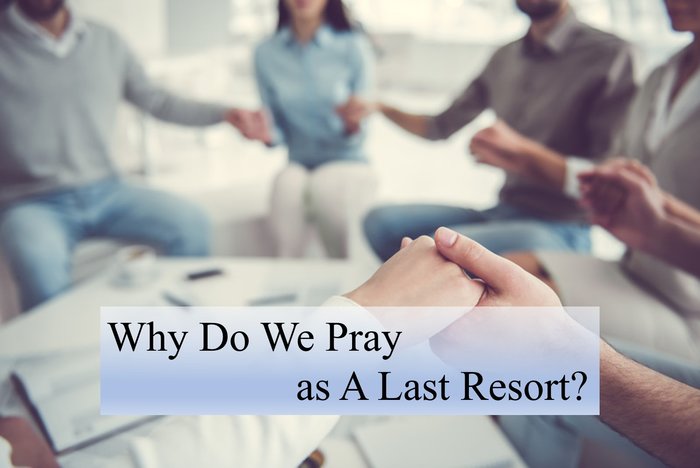 Finally, someone close to you says, "Well, all you can do now is pray."
The world as you know it is coming to an end. You've tried everything you can think of. Done everything humanly possible. And now all you can do is pray.
Really? Has it come to that?
Why is it we exhaust ourselves trying to solve worldly problems and only turn to God as a last resort?
I wish I knew! In my case, it's usually a combination of stubbornness and pride. I just want to fix everything on my own. For some reason, it's a sign of weakness to admit that I can't do everything myself and I need God.
But here's the thing. I know better! I know God stands beside me, ready to help in my moments of my greatest need. He's just waiting for me to ask!
I did a quick study of the New Testament and found seven instances where Jesus makes a promise to help us when we ask!
If you then, who are evil, know how to give good gifts to your children, how much more will your Father who is in heaven give good things to those who ask him! (Matthew 7:11 & Luke 11:13)
Again I say to you, if two of you agree on earth about anything they ask, it will be done for them by my Father in heaven. (Matthew 18:19)
And whatever you ask in prayer, you will receive, if you have faith. (Matthew 21:22)
If you ask me anything in my name, I will do it. (John 14:14)
If you abide in me, and my words abide in you, ask whatever you wish, and it will be done for you. (John 15:7)
In that day you will not question Me about anything. Truly, truly, I say to you, if you ask the Father for anything in My name, He will give it to you. (John 16:23)
If any of you lacks wisdom, let him ask God, who gives generously to all without reproach, and it will be given. (James 1:5)
Now let's be perfectly clear. God is not like a genie in a bottle that you rub and get three wishes.
Notice the qualifiers in these verses.
God gives us good things. Not everything we ask for is good. It may seem good to us, but in the grand scheme of eternity, many things we ask for are not good for us. We just don't realize it!
Ask in prayer, receive by faith. Coming to God in prayer is only the first step. We must have faith that God will answer our prayer.
Ask in Jesus' name. Jesus is our mediator representing us to the Father. Jesus is where the power of prayer lies.
Abide in me. My words abide in you. Abide is an unusual word in our vocabulary. Its' use here means to "stay in a given place, state, relation or expectancy." The sense here is we are staying in Christ and have His words staying in us.
We need to be close to God as we pray expectantly, by faith, in the power of Jesus' name.
So, don't wait until a situation becomes dire and someone says, "Well, all we can do now is pray."
Instead, make sure that as a leader, you have been praying for your work, your business, your ministry all along.
Join the Conversation
As always, questions and comments are welcome. Do you pray as a last resort or are you a leader who comes to the Lord in prayer on a regular basis? Have you committed your work/business/ministry/life to God in prayer?
I'd love your help. This blog is read primarily because people like you share it with friends. Would you share it by pressing one of the share buttons below?
Category: Personal Development | Character