I was 7 or 8 years old when I was down on the farm for the summer helping my grandfather.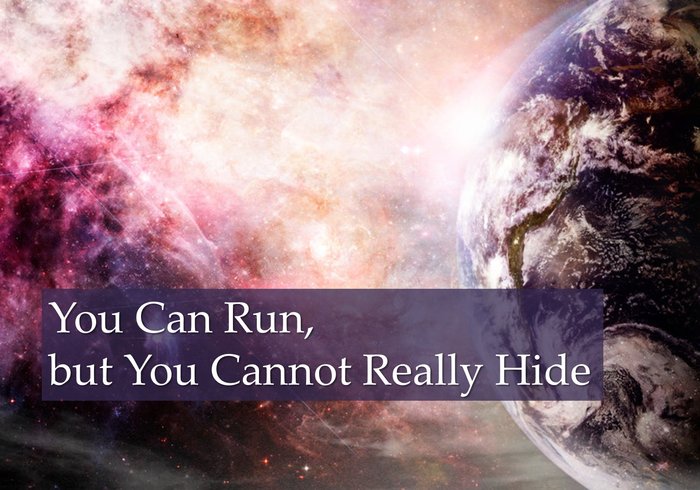 We had to move the cows into the barn to be fed. One of the young calves was being stubborn. Grandpa said to leave her in the pen while he took the rest of the cows up to the barn. But I decided I would be helpful and move the calf for him.
It's surprising how strong a young calf can be! She got away from me running all over the barnyard. I knew I was in trouble for disobeying grandpa.
I left the calf and ran into the house, past my grandmother cooking dinner, into my bedroom and under the covers I went.
When Grandpa finished his chores, he came inside wondering where I was. I'm pretty sure he could see the lump under the covers and knew where I was.
He never said a word about that calf or my disobeying him.
He loved me, and I suspect he knew I had learned my lesson.
Sometimes we do the same thing with God. We disobey and run away thinking we can hide from God. But can we really?
Adam and Eve Hid
Adam and Eve disobeyed God. Remember the "don't eat the apple" instruction (Genesis 3)? After they ate the apple, Adam and Eve were ashamed, and they tried to hide in the Garden of Eden. God called out to them, "Where are you." Just like my Grandpa, God already knew where they were. He knew they were hiding because they were ashamed.
Jonah Hid
Trying to hide didn't work out well for Jonah either (Jonah 1). God told Jonah to go to Nineveh and preach a message of repentance to the Ninevites. Jonah didn't like the Ninevites, so he didn't want to do what God told him to do. Instead, he ran the opposite direction and jumped on the nearest ship sailing as far away from Nineveh as he could get.
You know what happened to Jonah. Jonah had to spend three days in the belly of a fish before he finally repented and did what God asked him to do.
We Can Run but Can We Really Hide?
I thought I was hiding under the covers. Adam and Eve thought they were hiding in the Garden. Jonah thought he was hiding in the ship.
We think we are hiding but can we really hide from God? God is both omniscient (all-knowing) and omnipresent (present everywhere at the same time).
David wrote about our all-knowing, ever-present God in Psalm 139.
1 LORD, You have searched me and known me.
2  You know when I sit down and when I stand up; You understand my thoughts from far away.
3  You observe my travels and my rest; You are aware of all my ways.
4  Before a word is on my tongue, You know all about it, LORD.
5  You have encircled me; You have placed Your hand on me.
6  ⌊This⌋ extraordinary knowledge is beyond me. It is lofty; I am unable to ⌊reach⌋ it.
7  Where can I go to escape Your Spirit? Where can I flee from Your presence?
8  If I go up to heaven, You are there; if I make my bed in Sheol, You are there.
9  If I live at the eastern horizon ⌊or⌋ settle at the western limits,
10  even there Your hand will lead me; Your right hand will hold on to me.
11  If I say, "Surely the darkness will hide me, and the light around me will be night"—
12  even the darkness is not dark to You. The night shines like the day; darkness and light are alike to You.
13  For it was You who created my inward parts; You knit me together in my mother's womb.
14  I will praise You because I have been remarkably and wonderfully made. Your works are wonderful, and I know ⌊this⌋ very well. Psalm 139:1-14 (HCSB)
God knows where we are. He knows our thoughts. He knows what we are going to say before we even say it. There is nowhere we can go that we can escape the spirit of God. From the heights of heaven to the depths of hell. God is there.
Where Are You Hiding?
You and I are too old to hide under the covers. The forbidden fruit in the Garden of Eden is gone. No ships are sailing away from Nineveh.
But, there are still plenty of ways we try to hide from God today.
We try to hide at work. We avoid doing what God has called us to do because we are too busy advancing our careers.
We try to hide in our families. We use our families as an excuse not to make time for God.
We try to hide in our leisure time. We work hard, so we convince ourselves we deserve this extra leisure time. Surely God doesn't want me to stress out and work ALL the time!
We try to hide doing ministry work. Yes, we are super busy doing ministry work, but are we doing the work God has called us to do?
Leaders, let's examine our lives to ensure we are not hiding from God. God specifically called each and every one of us to do a specific work in the Kingdom. We might try to run, but we cannot really hide from God.
Join the Conversation
As always, questions and comments are welcome. Are you hiding from God in some area of your life?
I'd love your help. This blog is read primarily because people like you share it with friends. Would you share it by pressing one of the share buttons below?
Category: Personal Development | Obedience to God