True confession time, I failed miserably at achieving my goals for 2015.  As it turns out I am not alone.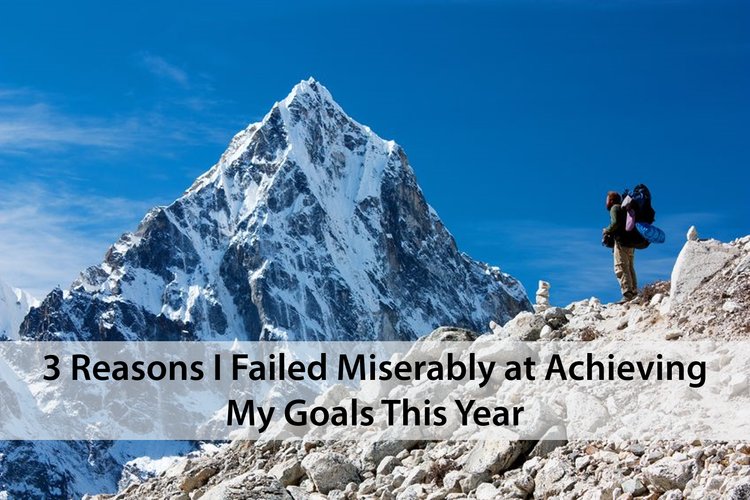 According to the University of Scranton Journal of Clinical Psychology , 62% of Americans make New Year's resolutions at least occasionally. How many are successful in achieving their resolution? A whopping, mid-blowing 8% succeed. That means 92% of people who make New Year's Resolutions fail to achieve their goal!
To make matters worse, 24% make the same resolutions over and over every year and never succeed—they fail every time!! It's the very definition of insanity—doing the same thing over and over and hoping for a different outcome!
As bad as that is, their research suggests that people who make resolutions are 10 times more likely to achieve their goals than people who don't make explicit resolutions! You kind of feel bad for the people who don't even make resolutions—they don't have much of a chance to achieve their goals!
My Goals Report Card
Actually I didn't fail completely, I did achieve some of my goals. I established nine goals for 2015. Here's my report card:
I achieved my personal development goal of reading through the Bible.
I achieved my relational goal by taking three vacations with my family.
I've almost completed my goal to read 12 books. I actually finished 11 and am part way through two others.
I failed miserably at my goal of losing the last 8 pounds I needed to lose, and instead gained back weight I lost earlier, so now I have twice as far to go this year!
I didn't achieve my goals to double website traffic, triple podcast traffic, or quadruple my blog subscribers, though I did make substantial progress on each.
I didn't complete a new lead magnet for my website.
I cancelled one goal about developing products for sale on the website.
The analytical part of me doesn't celebrate the victory of a goal completed as long as there are goals that didn't get completed. I naturally look at the 'fails' to see what went wrong.
What went wrong
First, there is a lack of focus. Having nine goals across personal, relational, and vocational spheres was too much. I can't focus on that many goals with competing demands at once.
Second, while the effort to achieve each individual goal was reasonable enough, the combined workload was beyond my capacity. My eyes, as grandma used to say, were bigger than my stomach.
Third, I made the mistake of taking on another piece of work early in the year without thinking about how it would impact my ability to achieve the goals I had already established. This extra work took several hours a day seven days a week all year long. Once the commitment was made this work superseded work on all my other goals.
What I'll do differently this next year
As I consider each individual goal I will estimate the amount of time each will take so that I don't exceed my capacity. I couldn't have finished all the work in these nine goals if I had worked twice as many hours!
I will leave a significant margin in my work plan for unexpected opportunities. I had overbooked my capacity so much there was no margin.
I will limit the number of goals I establish to the ones that will make the biggest difference.
I will evaluate my progress more frequently, and make needed course corrections. This year I established my written goals, but didn't look at them frequently enough to ensure I was staying on track.
I will be more disciplined in evaluating the opportunities that arise during the year. If they don't align what God has called me to do the answer is an easy, "no." If they don't contribute to the completion of an existing goal, the answer again is "no." Saying "yes" to good things that didn't help me accomplish my goals is what got me into a deep hole this year that I couldn't climb out of.
Join the Conversation
As always questions and comments are welcome. Do you establish written goals? If you are achieving your goals what are you doing that makes you successful? Do you have any other advice/tips to help me as I consider establishing goals for next year?
Category: Personal Development | Priorities