Whenever I see a list of important women in the Bible these two women's names are never listed. Their near anonymity is not surprising since their names are listed only once in the Bible, and their entire story takes up only six verses in Exodus (Exodus 1:15-20).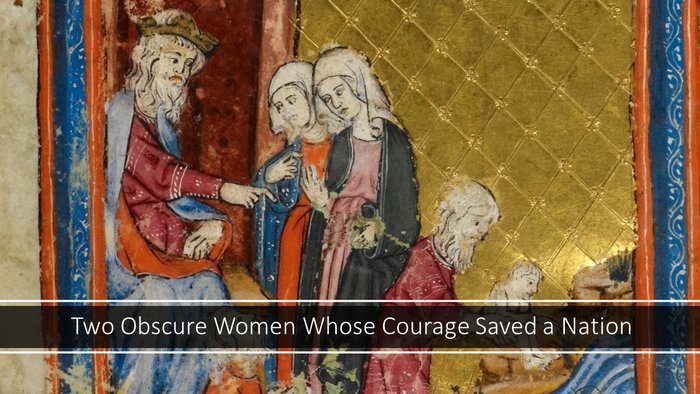 But the nation of Israel owes them a great debt.
Israelites in Egypt
Back when the Israelites were in Egypt they enjoyed relative prosperity while Joseph was alive. But after Joseph died, a new Pharaoh came along who didn't know Joseph, and he was intimidated by the size of the Israelite community.
To solve the problem of the growing Israelite population, Pharaoh enslaved the Israelites committing them to hard labor. But their population continued to swell.
Frustrated by his failed attempt to control the Israelite population, Pharaoh called in the two head Israelite midwives, Shiphrah and Puah. He ordered them to kill the Hebrew baby boys as they were born (Exodus 1:16).
But Shiphrah and Puah feared God and did not do what Pharaoh had ordered them to do (Exodus 1:17).
Shiphrah and Puah were probably not the only two midwives serving the entire Israelite nation. I think they were the leaders of the midwives' union and used their influence to convince the other midwives to go along with their plan to disobey Pharaoh and allow the Hebrew boys to live.
When Pharaoh called Shiphrah and Puah in to explain why the Hebrew boys were allowed to live they explained that the Hebrew women gave birth before the midwives could arrive (Exodus 1:19).
God approved of the action of Shiphrah and Puah. He caused the Israelite population to grow even more, and because Shiphrah and Puah feared God, He gave them families of their own (Exodus 1:20-21).
Courage and Conviction
Shiphrah and Puah feared God more than Pharaoh. As a result, they had the courage and conviction to do what was right no matter the cost.
They understood that in this specific case, God's law superseded man's law. They knew that killing innocent Hebrew babies was a sin against God. Pharaoh could have easily ordered their execution, but Shiphrah and Puah preferred to be right with God.
Peter encountered a similar situation when the apostles were brought before the Sanhedrin and accused of violating the order not to preach about Jesus. Peter and the other apostles answered, "We must obey God rather than men" (Acts 5:29).
Peter and the apostles also displayed courage and conviction in refusing to obey man's law when it violated God's law.
Must We Obey Man's Law Regardless?
Paul, writing to the Romans, said: "Everyone must submit himself to the governing authorities, for there is no authority except that which God has established" (Romans 13:1).
So, as Christians, are we to submit to authority, as Paul directed, or are we to observe the example of Shiphrah, Puah, Peter, and the Apostles?
The answer, it seems, is to submit to man's law as long as it does not conflict with God's law.
Killing innocent babies is a sin against God. Regardless of what Pharaoh commanded, it was wrong. So, Shiphrah and Puah defied man's law to be obedient to God's law.
Christian leaders, we need to be guided in our actions by the Holy Spirit. We need to be filled with courage and conviction and follow the example of two obscure Hebrew midwives to obey God no matter the cost.
Join the Conversation
As always, questions and comments are welcome. Have you encountered situations when you had to decide between following man's law or God's law? Do you think Christians should follow man's law even if it conflicts with God's law?
I'd love your help. This blog is read primarily because people like you share it with friends. Would you share it by pressing one of the share buttons below?
Category: Personal Development | Courage/Risk-Taking