Happy New Year! 2017 is in our rear-view mirror. 2018 lies ahead, all shiny and new, ready to be explored.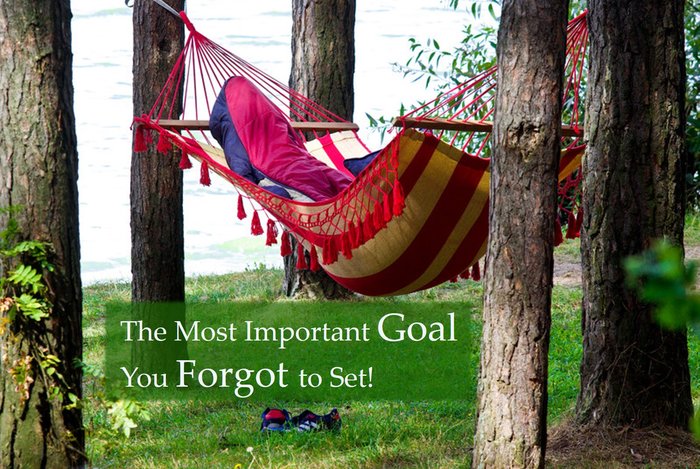 It is the time of year when many of us obsessive-compulsives set new goals for ourselves. Our goals have us reaching higher, climbing faster, and going where no man has gone before. We set goals for our careers, our relationships, our physical fitness, and a plethora of other things.
But most of us forget to set one important goal. And this goal is critical. Because failing at this goal almost always causes us to fail at the career goals, the relationship goals, the fitness goals, and all the others.
Here's How Things Usually Go
We spend a few minutes reflecting on the year just past. We determine to make the next year the best year ever by setting new goals that represent all our dreams and aspirations. Once the goals are memorialized in our new productivity planners, we put our heads down and get to work. We charge ahead. We give every goal 110% effort.
We reach higher. Climb faster. And go where no man has gone before.
And then suddenly, without warning, we're lost. We're exhausted and completed stressed out. Amidst a forest of competing demands, we can no longer see the goal off in the distance. We may not even remember why we set the goal in the first place!
We give up and commit to doing better with our goals next year! And all this happens by the end of January!
What happened?
We forgot to set the most important goal!
The Most Important Goal
When God finished the work of creation what did He do? He rested! This theme of rest occurs throughout the Scripture. God ordained special celebrations when His people were to abstain from all work to rest and worship Him. Even the land was allowed to rest a full year every seven years!
As we jump to the New Testament Jesus continues to underscore the importance of rest. Preaching to the crowds, Jesus said,
"Come to me, all you who are weary and burdened, and I will give you rest. Take my yoke upon you and learn from me, for I am gentle and humble in heart, and you will find rest for your souls" (Matthew 11:28-29).
Who, these days, is not weary and burdened? Jesus invited all us who are weary and burdened to come to Him, and in Him, He promised rest for our souls.
Easy to say, quite a bit harder to live out in our daily lives. We don't have rest training in school, and our employers certainly don't offer weekend seminars on resting!
But if we want to be the people God designed us to be, we need to do what He has designed us to do.
I love the way author Gwen Smith defines the acronym R.E.S.T. in her article, "God's Best Requires Rest."
Reflect
Engage
Surrender
Trust
Reflect
Gwen says, "When you reflect on God, you better reflect God." The truth of the matter is, most of us are so busy we don't spend much time outside of church reflecting on the magnificence of our Creator!
Engage
Engage with God on a personal level. Pray. Meditate on God's Word. Paul said if we tell God about everything, then He will give us peace (Philippians 4:6-7).
Surrender
Surrender your will to God's will. Remember what Jesus said as He prayed in the Garden of Eden? He said, "…not my will but thy will be done (Luke 22:42)! On His way to the cross, Jesus remained completely surrendered to the Father's will.
Trust
Trust God. Life can be messy, dangerous, disappointing, and terrifying. But we must trust God's promise, "…we know that all things work together for good to those who love God, to those who are the called according to His purpose (Romans 8:28).
Establish Your R.E.S.T. Goal
Get out your planner, or wherever you have your goals written down, and add a R.E.S.T. goal.
And just to get you pointed in the right direction consider the following:
Daily: 30 minutes of rest. I know this one is hard. You're not used to doing it. You tell yourself you don't have time. But you need to make time! Take 30 minutes every day to rest. Go for a walk in a park or at the beach. Spend some time thinking about God's grace in your life. Decompress from all the other stress in your life!
Weekly: Sabbath of rest. I checked, and Commandment number 4 is still in the Bible (Exodus 20:8). So, take one day a week and rest in the Lord. Keep the day Holy to the Lord. Don't trade company email, major housework, or remodeling projects for rest. R.E.S.T. one day. It's part of God's plan for us.
Quarterly: Two days of rest. Plan a weekend away. No work. Shut off all your electronic devices. Take your Bible and maybe a notepad. Or maybe a good Christian book. Practice R.E.S.T.
Annually: A full week of rest. Schedule it. Make it happen. Go somewhere. Explore God's magnificent creation. Go on walks. Get away from work and the stresses that surround you at home. Reflect. Engage. Surrender. Trust.
Join the Conversation
As always, questions and comments are welcome. How do you practice R.E.S.T.? What ideas can you share that have worked for you?
I'd love your help. This blog is read primarily because people like you share it with friends. Would you share it by pressing one of the share buttons below?
Category: Personal Development | Priorities