The searing hot sun beat down us relentlessly that August, but we didn't care because we were on a boyhood adventure.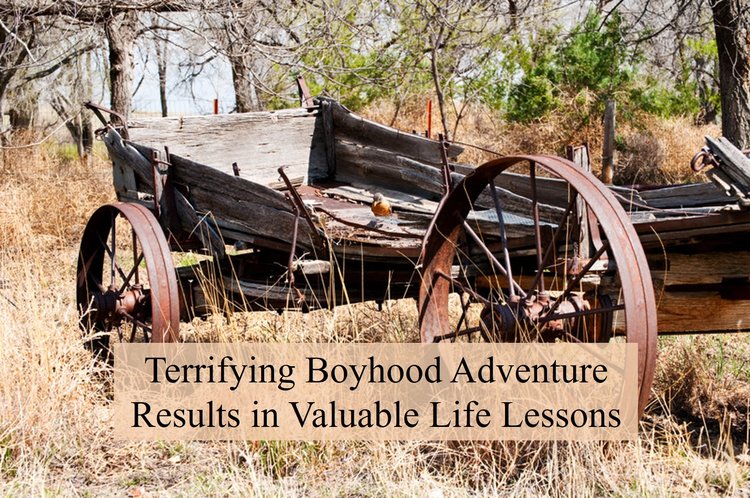 August in eastern Washington, where I grew up, is time for farmers to begin the wheat harvest. But for my cousins, Rick and Mike, and I it was two weeks of carefree fun exploring and playing on grandpa's farm.
I was 10-years old, which means Rick and Mike at 11 were older and wiser when the adventure began.
We knew Grandpa had a graveyard of old farm implements down in the gulley about a half mile away from the main house so off we went. Grandpa's graveyard of old farm tools was a veritable treasure chest for three boys on an adventure.
Our first find was two sets of iron wheels. We were thrilled to find they rotated freely on their axles. The wheels themselves were open-spoke steel and at four feet high were about as tall as we were.
We attached a rope to the first pair of wheels and slowly pulled them uphill through the soft farm dirt to the main barnyard. Returning in the afternoon, we repeated the process to retrieve the second pair of wheels.
With scavenged pieces of wood, we crafted a magnificent chariot! It was about eight feet long, five feet wide, and set about two feet off the ground.
It was time for a test ride!
We pushed our chariot out of the barnyard and down the gravel road that ran in front of grandpa's farm. With some effort, we pushed it all the way to the top of the tallest hill on the road. We climbed aboard and off we went. Gravity did its job. We picked up speed and soon we were flying down the hill on the ride of our lives.
It was at that point that I realized our chariot had no steering mechanism.
It didn't have brakes either!
No matter these design deficiencies. At this point, we were fully committed!
Unfortunately, our chariot started to veer to the side of the road as we approached the bottom of the hill at top speed.
To make matters worse, there was a gully on the side of the road with a ten-foot drop to the field below.
There was no escaping; our chariot was about to become an airplane with a glide path of a rock.
Jumping off our chariot onto a gravel road didn't seem like a practical solution to our dilemma, so we held on as we went airborne off the side of the road.
Happily, we landed right-side up, still on our chariot, and the soft dirt of the farm land brought us to a slow stop.
What a grand adventure! Being boys we were ready to repeat the ride but wisely determined to make some modifications to our chariot before attempting a second test run.
We pushed our chariot all the way back to the farm planning to make the needed modifications the next day.
At dinner, Rick, Mike, and I regaled grandma, grandpa, and my uncle Dick with the story of our grand adventure of our chariot turned airplane. For some reason, they failed to appreciate the wonder and excitement of our adventure.
The adults expressed, in no uncertain terms, that no further test runs would be allowed. Our chariot was to be hauled back down to the implement graveyard the next day.
Important Life Lessons
A lot of valuable life lessons occur in our formative years. Here are five lessons I took away from my boyhood adventure that hot August week on grandpa's' farm.
Life is an Adventure. Our day began as an adventure. We didn't know what we would find or what we would do. Not having everything determined in advance made the adventure all the more fun. Kids seem to know how to experience the joy of adventure, but as adults, many of us have forgotten how to experience daily life as an adventure.
Create Alignment Around a Vision. As soon as we found those wheels we all envisioned our magnificent chariot. Most truly breakthrough discoveries are the result of a team of people aligned to a shared vision.
Live your Passion. If we hadn't been passionate about the prospects of riding our chariot down the hill, we would have found a million excuses for why we wouldn't be successful. That negativity would have doomed us before we even got started.
Determination. We would never have struggled to pull those wheels up through the dirt, build the chariot, or get it out on the road for a test ride if we had not been determined as a group to see the work to completion.
Courage/Risk-Taking. You never know how things will turn out when you're doing something you've never done before. Living life as an adventure takes courage and the willingness to risk failure.
Join the Conversation
As always, questions and comments are welcome. What life lessons have you learned through childhood adventures?
I'd love your help. This blog is read primarily because people like you share it with friends. Would you share it by pressing one of the share buttons below?
Category: Personal Development | Vision