A friend who I have known for 30 plus years called me out of the blue just recently and taught me a lesson about the importance of friendship. He was calling because he knew I had gone through some difficult situations in the last few weeks, and he just wanted to know how I was doing.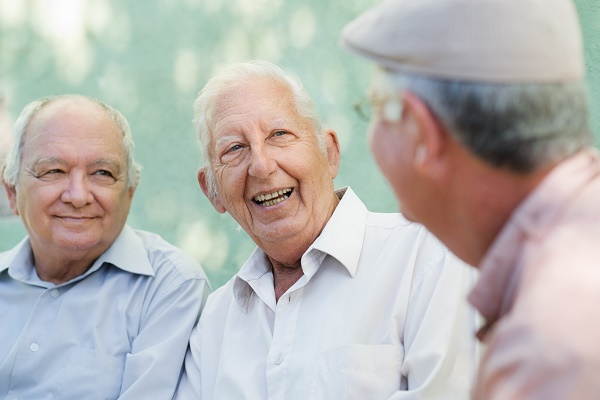 We talked for a full hour, 60 minutes. I know the ladies out there are shrugging their shoulders going "so, big deal," but for most of us men, talking on the phone just for fun and camaraderie is a bit unusual, and for a whole hour is nearly inconceivable. I am lucky. There have been men like this in my life, most of my life, and happily several of us remain quite close even though we are separated by hundreds of miles.
By the time we were saying goodbye I felt better. My friend reaching out to me quite unexpectedly had raised my spirits. By the time we hung up after our marathon call, we had agreed to meet with another friend every few weeks just for coffee or for lunch. We want to be friends following God's call to love our friends like brothers! And therein lies the lesson, which admittedly is more of a lesson to be learned by men. We need friends in our lives, throughout our lives!
The Bible has quite a few great examples of great friendships upon which we can lean for instruction.
Biblical Examples of Friendship
There are many great examples of Biblical friendships. Here are just a few:
Ruth and Naomi
David & Jonathan
Job's friends
Elija and Elisha
Paul & Timothy
The Importance of Friendship
Friends are important through every season of life, but in my experience, they are most valued as you grow older and encounter more of the challenges that come to us in the course of our lives. This is also when we achieve career success and with every step up the ladder maintaining close friendships with peers becomes more difficult. The scripture, and in particular the wisdom literature, sees friendship as a place for support, guidance, and wisdom.
Where there is no guidance, a people falls, but in an abundance of counselors there is safety. Proverbs 11:14
A friend loves at all times, and a brother is born for adversity. Proverbs 17:17
Listen to advice and accept instruction, that you may gain wisdom in the future. Proverbs 19:20
A wise man is full of strength, and a man of knowledge enhances his might, Proverbs 24:5
Iron sharpens iron, and one man sharpens another. Proverbs 27:17
God is Your Best Friend
Your friendship needs to start with God—He is your best friend! When you are close to God, He will be close to you. His friendship knows no limits.
Draw near to God, and he will draw near to you. James 4:8
Jesus Wants You to be His friend
Jesus specifically calls us as believers to be His friend, simply because He loves us and wants to have fellowship with us.
"This is my commandment, that you love one another as I have loved you. Greater love has no one than this, that someone lay down his life for his friends. You are my friends if you do what I command you. No longer do I call you servants, for the servant does not know what his master is doing; but I have called you friends, for all that I have heard from my Father I have made known to you. John 15:12-15
How to Pick Your Friends
Picking your friends, those really close friends, takes some work, first to establish, and then to maintain the relationship, but it is worth the effort. Scripture guides us to establish friendships with the righteous, and the wise. Scripture also provides guidance on what kind of people to avoid becoming close friends with those who scoff at God's wisdom, are vain, angry, or vengeful lest you become like them.
One who is righteous is a guide to his neighbor, but the way of the wicked leads them astray. Proverbs 12:26
Whoever walks with the wise becomes wise, but the companion of fools will suffer harm. Proverbs 13:20
A scoffer seeks wisdom in vain, but knowledge is easy for a man of understanding. Leave the presence of a fool, for there you do not meet words of knowledge. Proverbs 14:6-7
Make no friendship with a man given to anger, nor go with a wrathful man, lest you learn his ways and entangle yourself in a snare. Proverbs 22:24-25
Do not be deceived: "Bad company ruins good morals." 1 Corinthians 15:33
How to Treat Your Friends
Building really close friendships take time and commitment as intimate levels of trust are established. Scripture suggests we treat our friends as we would like to be treated, that we love them as brothers, and be careful with our interaction that we build each other up, leaving bitterness and slander aside.
And as you wish that others would do to you, do so to them. Luke 6:31
Love one another with brotherly affection. Out do one another in showing honor. Romans 12:10
Let no corrupting talk come out of your mouths, but only such as is good for building up, as fits the occasion, that it may give grace to those who hear. And do not grieve the Holy Spirit of God, by whom you were sealed for the day of redemption. Let all bitterness and wrath and anger and clamor and slander be put away from you, along with all malice. Be kind to one another, tenderhearted, forgiving one another, as God in Christ forgave you. Ephesians 4:29-32
Put on then, as God's chosen ones, holy and beloved, compassionate hearts, kindness, humility, meekness, and patience, bearing with one another and, if one has a complaint against another, forgiving each other; as the Lord has forgiven you, so you also must forgive. And above all these put on love, which binds everything together in perfect harmony. Colossians 3:12-14
Application:
God made us to be relational creatures. He made us to be in relation with Him and His Son Jesus. And he made us to be in relation with our brothers and sisters in Christ. We all need these close, intimate friendships throughout our lives.
Women, in my experience, are born more relational, and to them, not talking to a girlfriend for an hour would be the strange thing. Most women I know can move to a new city and have a new friend in a matter of days and close friendships within weeks.
Men, on the other hand, tend to be less relational, we tend to try to muscle through life on our own, preferring to deal with the emotions of life on our own. But that goes against the way God designed us. I am finally starting to learn the benefit of living life the way God intended.
If you don't have a close, intimate friendship then I urge you to develop one. If you already have one, great! Maintain it, nurture it, and maybe look for someone else who might benefit from your friendship.
Join the Conversation
As always, questions and comments are welcome. Do you have one or more friends who you can confide in, with whom you can share your innermost struggles? If not, what is keeping you from establishing such a friendship?
Category: Relationships | Healthy Alliances