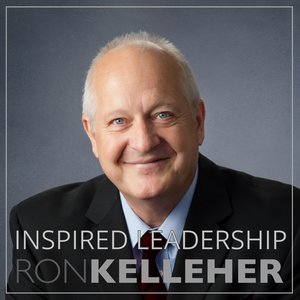 For those who would rather listen to the weekly updates via a podcast, I've got you covered!
The Inspired Leadership podcast is for Christian leaders in the marketplace who want to be the best leaders they can be. My goal is to provide you with a unique blend of practical business advice combined with solid Biblical principles. My passion is to equip you with Biblical insights, enable you to put that knowledge into practice, and encourage you to live out your faith in the marketplace so that you'll be the inspired, powerful leader God intended you to be.
All of the weekly blogs have been recorded in my Inspired Leadership podcast. You can download them individually, or better yet, subscribe so you'll never miss an update. Click on either the iTunes or Stitcher button below to see the entire inventory of Inspired Leadership podcasts:
Apple iTunes

 Stitcher

Will you do me a favor?
If you enjoy the  Inspired Leadership podcast it would be a great help to me if you would take a moment to rate it and leave a comment on either iTunes or Stitcher.
Thanks so much!
Podcast Archive
#
Title
Released
261
Can You Separate Private Integrity from Public Actions?
02/19/2018
260
What Qualities Should a Godly Leader Have?
02/12/2018
259
Two Obscure Women Whose Courage Saved a Nation
02/05/2018
258
Is Your Ability to Manage Change All That Important?
01/29/2018
257
How My Faith Walk Was Like My First Car Experience
01/22/2018
256
What to Do When You Have to Say, "You're Fired!" (Part II)
01/15/2018
255
What to Do When You Have to Say, "You're Fired!"
01/08/2018
254
The Most Important Goal You Forgot to Set
01/01/2018
253
Hark! The Herald Angels Sing
12/25/2017
252
You Can Run, but You Cannot Really Hide
12/18/2017
251
Do Real Leaders Emerge in the Midst of a Crisis?
12/11/2017
250
Is Mentoring A Rewarding Strategic Choice Today?
12/04/2017
249
Why Do We Pray As A Last Resort?
11/27/2017
248
Gratitude is Way More Than an Attitude
11/20/2017
247
Faithless Whiners and Complainers Need Not Apply
11/13/2017
246
Jesus' Five Remarkable Tests For Leaders
11/06/2017
245
What Are the Five Solas Everyone Is Talking About?
10/30/2017
244
Why "Leaders Must Be Readers" is Wrong
10/23/2017
243
What Kind of Leader Will Defend Their Principles?
10/16/2017
242
An Instructive Letter from My Back-to-the-Future Self
10/09/2017
241
How to Prepare Your Organization to Recognize A Shifting Paradigm
10/02/2017
240
Here's Another Nice Mess You've Gotten Me Into!
09/25/2017
239
The Woman Who Overcame Evil with Good
09/18/2017
238
What Does It Take to be a Godly Leader or Follower?
09/11/2017
237
If You're an Ox, Don't Team Up with A Donkey!
09/04/2017
236
Are These Trials at Work Good for Me?
08/28/2017
235
Will God Still Use Me If I Mess Up?
08/21/2017
234
The Young Leader Who Lived Through Peace, Prosperity, Reformation, and Disaster
08/14/2017
233
Christian Leaders Need to Read Their Bible!
08/07/2017
232
Who Should Climb the Ladder?
07/31/2017
231
Is it Wrong to Leave God out of the Workplace?
07/24/2017
230
How Does the Greek Worldview of Work Compare to the Biblical Worldview?
07/17/2017
229
Achieving Your God Sized, Big, Hairy, Audacious Goal
07/10/2017
228
United We Stand, Divided We Fall
07/03/2017
227
Shall I Do the Good I Know To Do?
06/26/2017
226
Remaining True to Your Principles in a Spiritual Battle
06/19/2017
225
The Insidious Gap Between What We Say and What We Do
06/12/2017
224
Effective Leadership: Employ, Equip, Empower, and Get Out Of The Way!
06/05/2017
223
Let Us Stop and Remember Whose We Are
05/29/2017
222
Is This Standing in the Way of Your Success?
05/22/2017
221
Surprise! Someone Is Preparing to Lead A Rebellion In Your Organization!
05/15/2017
220
It Turns Out You Can Teach an Old Dog New Tricks!
05/08/2017
219
Can Feedback Really Help Drive Growth in My Business?
05/01/2017
218
Is What You Desperately Need in Your Hand?
04/24/2017
217
What a Tangled Web We Weave When First We Practice to Deceive
04/17/2017
216
What Does It Take to Live the Greatest Life?
04/10/2017
215
So You Want to Fight!
04/03/2017
214
Seizing Victory from the Agony of Defeat
03/27/2017
212
Have You Worked for Either of These Kinds of Bad Bosses?
03/13/2017
211
13 Traits of Remarkable Biblical Leaders You Should Have
03/06/2017
210
Are Ordinary People Made Extraordinary by Following God's Purpose?
02/27/2017
209
You and I are on a Journey to God Knows Where!
02/20/2017
208
What is the Cause of our Deepening Cultural Divide?
02/13/2017
207
What Can We Learn From A Courageous Slave Girl?
02/06/2017
206
The Seasons of Life
01/30/2017
205
The Disastrous Effect of One Bad Apple on Your Organization
01/23/2017
204
Do You Need a Powerful Influencer in Your Life?
01/16/2017
203
Terrifying Boyhood Adventure Results in Valuable Life Lessons
01/09/2017
202
Resolutions Are a Complete Waste of Time!
01/02/2017
201
Key Learning from My After-Action Review
12/26/2016
200
For unto Us a Child Is Born
12/19/2016
199
Can Tremendous Results Stem from Small Acts of Faith and Prayer?
12/12/2016
198
Build Performance by Learning How to Use Leadership Styles Effectively
12/05/2016
197
Who Does God Call to do Great Things?
11/28/2016
196
Have We Forgotten the Real Meaning of Thanksgiving?
11/21/2016
195
Do You See Yourself in the Life of Zacchaeus?
11/14/2016
194
Do You Know the 3 E's of Expanded Leadership?
11/07/2016
193
How to Cast Worry Aside and Live a Tums Free Life
10/31/2016
192
Why Don't Some People Step Into the Promise of God?
10/24/2016
191
It Takes Character & Courage to be Used by God
10/17/2016
190
The Most Important Overlooked Quality of Leadership
10/10/2016
189
Hi-Ho, Hi-Ho! It's Off to Work We Go!
10/03/2016
188
Your Values Aren't Your Values Unless They Cost You Something
09/26/2016
187
The Principled Patriot Who Refused to Kneel
09/19/2016
186
What Do You Say When Someone Asks, "What Do You Do?"
09/12/2016
185
What Supervision Skills do You Need to be Successful?
09/05/2016
184
How Do I Trust Thee? Let Me Count the Ways!
08/29/2016
183
The Dirty Bird Theory of Superior Organizational Development
08/22/2016
182
Pride and Arrogance Lead to Demotion and Obscurity
08/15/2016
181
Pressure, Pleasure, Power, Pride, and Priorities Lead to Failure
08/08/2016
180
Time Pirates
08/01/2016
179
Are You in the Right Ministry Role?
07/25/2016
178
The King Who Achieved Much but Died of Pride
07/18/2016
177
Pray and Trust God. Has it Really Come to That?
07/11/2016
176
Can We Finally All Be One in Christ Jesus?
07/04/2016
175
Responding to the Rabshakeh Who Tries to Destroy You or Your Organization
06/27/2016
174
A Modern Day Rabshakeh Will Try to Destroy You and Your Organization
06/20/2016
173
What Unique Trait Should Christians Share with Redwood Trees?
06/13/2016
172
Situational Ethics and the Art of Dishonesty, Cheating, and Lying
06/06/2016
171
Me and My Extraordinarily Big Mouth!
05/30/2016
170
7 Surprising Things I learned from My Gen Z Students
05/23/2016
169
Ambition, Avarice and Lot's Lost Life in the World
05/16/2016
168
Why Are More Professional Relationships Crashing Every Day?
05/09/2016
167
6 Keys to Making Important Changes in Your Life Stick
05/02/2016
166
What Does it Mean to Live Intentionally?
04/25/2016
165
Do You Respond to God Like Lydia?
04/18/2016
164
Are you a fig tree leader or a thornbush leader?
04/11/2016
163
Is Integrity the Most Important Building Block of Personal Development?
04/04/2016
162
How Distrust, Conjecture, and Hasty Actions Lead to Disaster
03/28/2016
161
Our Passionate Response to Passion Week
03/21/2016
160
Six Leadership Lessons from a Woman of Valor, Conviction, and Faith
03/14/2016
159
The Temple Moneychangers–A Guide to Biblical Marketing
03/07/2016
158
The Biggest Mistake Christians Make When Planning
02/29/2016
157
The Give and Take of Extraordinary Leaders
02/22/2016
156
Presidents, Leadership, and God
02/15/2016
155
The Reluctant Leader, A Mighty Man of Valor
02/08/2016
154
Are the Best Executives, Leaders or Managers?
02/01/2016
153
Leaders are Readers: My Book List for 2016
01/25/2016
152
The Handsome Farmer Who Got Fired for Stealing and Lying
01/18/2016
151
Me, Myself, and I, the Unholy Trinity of the Selfish Leader
01/11/2016
150
How to Identify Paradigm Shifts and Explode Your Business
01/04/2016
149
3 Reasons I Failed Miserably at Achieving My Goals This Year
12/28/2015
148
What Holy Night is This?
12/21/2015
147
Is Being a Servant Leader Really a Good Thing?
12/14/2015
146
There are only Two Kinds of Leaders
12/07/2015
145
Building Positive Attitudes Builds Results
11/30/2015
144
The Five Essentials to Adding Value to Others
11/23/2015
143
The Single Most Powerful Way to End Your Day—Guaranteed!
11/16/2015
142
The Single Most Powerful Way to Start Your Day–Guaranteed
11/09/2015
141
The Four Critical Roles of a Sales Manager
11/02/2015
140
Is Character Formed In The Crucible Of Failure?
10/26/2015
139
What A Tangled Web We Weave When First We Practice To Deceive
10/19/2015
138
Should We Stand Against Authority?
10/12/2015
137
10 of the Worst Mistakes Bosses Make With Employees
10/05/2015
136
Was Ebed-melech a Courageous or Foolish Leader?
09/28/2015
135
What do you do when God tells you to do something ridiculous?
09/21/2015
134
Service IS Your Product!
09/14/2015
133
What Oops! Do Starbucks and Haggen Have in Common?
09/07/2015
132
Roadblocks—12 Impediments to Success
08/31/2015
131
How Space Mountain is Like Following Jesus
08/24/2015
130
The Higher You Climb the Harder You Fall
08/17/2015
129
What have you done for one of the least of these?
08/10/2015
128
Running the Great Race
08/03/2015
127
What Liberal Cancer is Killing Leadership around the World?
07/27/2015
126
The Single Most Important Thing You Need To Know About Potential Employees
07/20/2015
125
5 Truths Esther Taught Me about Leadership in the Face of Death
07/13/2015
124
Who's Afraid of the Big Bad Wolf?
07/06/2015
123
Are There People God Really Hates in Your Organization?
06/29/2015
122
Expect Opposition When Attempting to Accomplish Something Great
06/22/2015
121
Do You Lead Like a Trail Boss or a Shepherd?
06/15/2015
120
How to Recover When You Slip and Fall as a Leader
06/08/2015
119
Through the Looking Glass
06/01/2015
118
Whatever You Did for the Least of these Employees, You Did for Me
05/25/2015
117
5 Things I learned about building an organization from teaching a college class
05/18/2015
116
4 Types of People to Watch Out for in a Crisis
05/11/2015
115
12 Ways to Create and Enjoy Success in the Workplace
05/04/2015
114
4 Sure-Fire Ways to Fail as a Leader
04/27/2015
113
Do Not Be Overcome by Evil but Overcome Evil with Good
04/20/2015
112
A Warning of Judgement from God for all Wannabe Leaders
04/13/2015
111
4 Types of Leaders Who Rejected God and Failed
04/06/2015
110
8 Steps to Create Your Barrier Busting Enabled Organization
03/30/2015
109
Will You Answer God When He Calls You to Lead?
03/23/2015
108
What One Thing are 99.2% of Leaders Doing to Hurt Results?
03/16/2015
107
Three Key Pieces of Advice When Transferring the Mantle of Leadership
03/09/2015
106
5 Biblical Steps to Surviving Killer Stress in Your Life
03/02/2015
105
Is Selection of Leaders the Reason We Have so Many Poor Leaders?
02/23/2015
104
What Can Our Presidents Teach Us About Leadership?
02/16/2015
103
How to Fail as a Problem Solver and as a Leader
02/09/2015
102
What I Learned on a Playground that Actually Helped Me as a Leader
02/02/2015
101
People around the World are Struggling and Need God
01/26/2015
100
If God Renamed You, What Would Your Name Be?
01/19/2015
99
My Most Popular Posts of 2014 (And What I Learned from Them)
01/12/2015
98
8 Critical Attributes for Leaders You Didn't Learn About in Business School
01/05/2015
97
Is It Important to Align Our Life to God's Vision For Us?
12/29/2014
96
What Three Critically Important Questions Does Psalm 98 Answer?
12/22/2014
95
Does leadership involve both accountability and responsibility?
12/15/2014
94
4 Steps to Leadership Failure
12/08/2014
93
Nine Keys to Fulfilling Christianity
12/01/2014
92
Can We Be Thankful Today?
11/24/2014
91
What To Do When You Are Stuck Cleaning Up Someone Else's Mess!
11/17/2014
90
Are you Peter on Monday Morning?
11/10/2014
89
Lookin' For Esteem in All the Wrong Places
11/03/2014
88
I Don't Need A Job, I Need A Purpose!
10/27/2014
87
Does God Really Have a Purpose For Each of Us?
10/20/2014
86
What to do When the Future Seems Hopeless!
10/13/2014
85
9 Steps to Employee Growth through Discipline
10/06/2014
84
When Weak Leadership and Rebellion Leads to Wandering
09/29/2014
83
What To Do When Opportunities Are Blocked By Obstacles
09/22/2014
82
On the Road to Success We Must First Conquer Failure
09/15/2014
81
Understanding our Primary Priority and Making Decisions
09/08/2014
80
To Serve or Not To Serve, That is the Question
09/01/2014
79
5 Important Faith Lessons the Disciples Learned in a Storm
08/25/2014
78
5 Signs You are Rebelling against God's Call on Your Life
08/18/2014
77
Do You Have Enough Faith to Weather Life's Storms?
08/11/2014
76
Are Performance Reviews Critical To Business, Or Worthless Paper?
08/04/2014
75
Can a Peaceful Leader be an Effective Leader?
07/28/2014
74
Our Leadership Crisis is a Self-Inflicted Wound
07/21/2014
73
Man's Wisdom or God's Wisdom–Which do You Choose?
07/14/2014
72
In God We Trust, Or Do We?
07/07/2014
71
Lessons on Leadership — Part 2
06/30/2014
70
The Importance of a Personal Leadership Philosophy
06/23/2014
69
Two Kinds of Bosses You Don't Want to Work For!
06/16/2014
68
Leadership Lessons from a SEAL
06/09/2014
67
28 Lessons on Leadership
06/02/2014
66
What to do When Storm Clouds Loom in Your Life
05/26/2014
65
Five Things Every Effective Leader Must Do
05/19/2014
64
You Can't Teach an Old Dog New Tricks, or Can You?
05/12/2014
63
Nine Keys to Living Productively
05/05/2014
62
Five Easy Ways to Make Your Employees Distrust You
04/28/2014
61
Should Christians be Tolerant or Intolerant?
04/21/2014
60
Do you have morals and believe in free speech? If so, get ready for the unemployment line!
04/14/2014
59
The Single Most Important Qualification for Leadership
04/07/2014
58
21 Habits of Incredibly Successful Salespeople
03/31/2014
57
When A Friend Calls Out of The Blue and Makes Your Day
03/24/2014
56
Ten Things I Learned about Leadership from Dr. Seuss
03/17/2014
55
Can Failing Schools in the UK Teach the US About Effective Leadership?
03/10/2014
54
How to Keep Your Power as Leader from Destroying Your Character
03/03/2014
53
The Leader's Role as Arbiter and Judge—Five Important Tips
02/24/2014
52
Six Tips for Delivering Your Next Best-Ever Presentation
02/17/2014
51
Seven Steps to Developing Your Next Best-Ever Presentation
02/10/2014
50
Four Keys to Make Your Next Meeting the Most Productive One Ever!
02/03/2014
49
Our Most Important Role as Christians in a Secular Marketplace
01/27/2014
48
Ten Tips for Building an Empowered Organization
01/20/2014
47
Successful Executives Empower Employees
01/13/2014
46
Five Lessons on Handling a Crisis from Governor Chris Christie
01/09/2014
45
Do You Need Encouragement? Be An Encourager!
01/06/2014
44
Five Requirements to Finish the Race Well!
12/30/2013
43
The Downside of Happiness and
the Upside of Joy
12/23/2013
42
Five Elements of Powerful Encouragement
12/16/2013
41
Change Your Inputs to Change Your Outputs
12/09/2013
40
What Did You Say? I Wasn't Listening!
12/02/2013
39
Six Steps to Building Healthy Alliances that will Build Your Business
11/25/2013
38
Three Elements of Proper Motivation in our Work
11/18/2013
37
Five Tips for Handling the Fallout from a Fiasco
11/11/2013
36
Climbing the Success Ladder in 7 Easy Steps
11/04/2013
35
I Deserve To Be Happy! It's ALL About ME!!!
10/28/2013
34
Help me delegate! I just realized I can't do it all!
10/21/2013
33
Another Enemy! What's a Leader to Do?
10/14/2013
32
Empowered by Grace
10/07/2013
31
Power versus Empower
10/07/2013
30
Four Steps to Failure
09/30/2013
29
Mirror, Mirror On The Wall
09/23/2013
28
Is Being Prideful Really an Issue?
09/16/2013
27
God Equips, Encourages, and Enables You for His Service
09/09/2013
26
Is Our Motivation Important to God?
09/02/2013
25
The Single Most Important Investment Priority
08/26/2013
24
Envy + Jealousy = Anger Issues
08/12/2013
23
Christians Need, Receive, and Share Comfort
08/06/2013
22
Does Prayer Have a Purpose?
07/31/2013
21
Having Hope in the Face of Disaster
07/30/2013
20
Superficial Spirituality of the Rich Young Ruler
07/14/2013
19
What is Different About a Christian Heart?
07/02/2013
18
The Benefit of Being Second!
07/01/2013
17
Building on a Firm Foundation
06/25/2013
16
Life…You never know what you're gonna get!
06/20/2013
15
To Forgive, Going Above and Beyond?
06/18/2013
14
What is our purpose? What on earth are we here for?
06/08/2013
13
What to Do When You're Discouraged
06/03/2013
12
What to do When Facing Opposition
05/14/2013
11
What is God's Bigger Plan for You?
05/07/2013
10
Spring Cleaning
05/01/2013
9
Are You a Slave to the World or to God?
04/29/2013
8
Five Affirmations of the Resurrection
04/01/2013
7
Three Steps You Can Take to Grow in Wisdom
03/01/2013
6
Wisdom Comes From God
02/26/2013
5
Love One Another
02/01/2013
4
Where Is My Identity?
01/29/2013
3
Resolutions and the New Year!
01/01/2013
2
Nine Steps to Personal Revival
11/13/2012
1
Are You Good Enough to Serve?
01/31/2012