Out behind the farmhouse was the root cellar grandpa built for grandma. It was big enough to store all the delicate fruits and vegetables that needed protection from the searing sun of eastern Washington.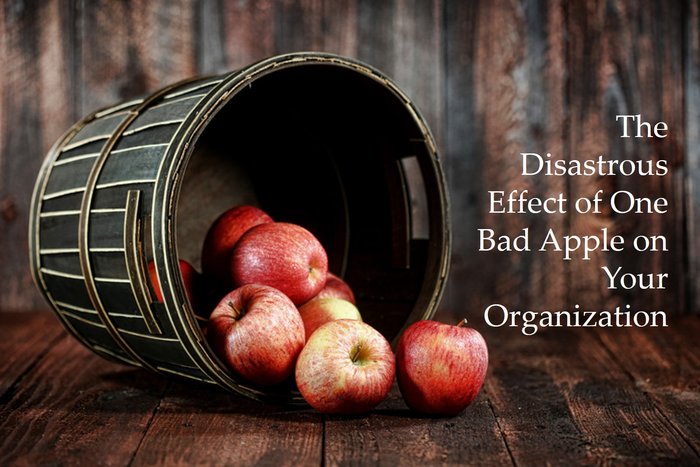 In the back of the cellar was a barrel of Washington Delicious apples. Grandma used to pick apples at nearby farms and store the apples in the root cellar. She would inspect every apple as she placed it in the barrel because, as she told me, one bad apple would cause all the rest of the apples in the barrel to rot. Thus, the wisdom of the saying, "One bad apple spoils the whole barrel."
It turns out the same thing is true for organizations. One bad apple, one person with a bad attitude, can have a disastrous effect on your organization!
How to Recognize the Bad Attitude Apple
Most of us past the age of four can identify someone with a bad attitude. They are easy to spot because their attitude is displayed through their words and actions. They are negative, critical, grumpy, impatient, arrogant, self-centered, and on and on.
In an organization, these are the people who complain about everything. They spread gossip. They talk about others behind their backs. And when the bad attitude is severe enough, they will even undermine the authority of the leadership.
I've seen it play out in large and small companies, work teams, non-profit organizations, and even in church groups. No organization is exempt from the decay brought on by the bad attitude apple.
What Causes the Bad Attitude?
It is important for us as leaders to understand what causes a bad attitude. The Bible says our actions reflect the condition of our heart.
"For as he thinks within himself, so he is" (Proverbs 23:7).
Solomon taught the actions of a man reflected his heart.
"As in water face reflects face, so the heart of man reflects the man" (Proverbs 27:9).
In other words, a bad heart causes a bad attitude. As a leader, there is very little you can do to affect change in someone else's heart.
What to do About a Bad Attitude Apple
If you've ever struggled with a bad attitude yourself, you know someone else can't force you to change how you feel. That change must come from inside you. You have to perform heart surgery!
The same is true for the bad attitude apples in your organization; they have to want to change. They have to be willing to perform heart surgery on themselves.
That said, there are three things you can and should do as a leader to help them:
1) Be a coach. A coach is an instructor or teacher. Sometimes people don't realize how their bad attitude is being expressed so let them know how their attitude is affecting the organization.
2) Be a mentor. A mentor is a trusted advisor or guide. Knowing is different from doing. By mentoring someone with a bad attitude, you can help them recognize their bad behavior and focus on being more positive.
3) Be an example. Most important of all, as a leader, you must be a role model. Your life must set an example of the right kind of attitude. Your attitude, according to Paul, should be the same as Jesus, a humble servant obedient to God.
"Your attitude should be the same as that of Christ Jesus: Who, being in very nature God, did not consider equality with God something to be grasped, but made himself nothing, taking the very nature of a servant, being made in human likeness. And being found in appearance as a man, he humbled himself and became obedient to death– even death on a cross!" Philippians 2:5-8 (NIV).
A bad attitude apple can have a disastrous effect on an organization. As a leader, you can't afford to ignore the bad apple. You need to take action before their attitude spreads to the rest of the organization. A leader guided by the Holy Spirit can be a catalyst for attitudinal change. Be a coach, be a mentor, be an example, and be the powerful, inspired leader God intends you to be!.
Join the Conversation
As always, questions and comments are welcome. Have you worked with someone who had a bad attitude? How did his/her attitude affect the organization? How did you deal with the person?
I'd love your help. This blog is read primarily because people like you share it with friends. Would you share it by pressing one of the share buttons below?
Category: Relationships | Interpersonal Relationships